SMM News: Aug. 15, market analyst Mathews (Steve Matthews) wrote that a large number of US economic data support Federal Reserve Chairman Powell's forecast that US economic growth is steady and inflation is rising. Despite strong US consumption, markets expect the Fed to cut interest rates again in September to guard against a further slowdown in the global economy, given the weak global economy.
Us succeeds in stabilizing consumption
Us retail sales rose by the biggest pace in four months in July, according to data on August 15, suggesting that the US had managed to stabilise consumption ahead of a new round of international trade tensions.
Sweet (Ryan Sweet), head of monetary policy research at Moody's Analytics, said: "prudent risk management believes the Fed should cut interest rates in September because of the downside risks posed by trade policy and the global economic slowdown. The Fed may consider future economic data before deciding whether to cut interest rates by 25 basis points or 50 basis points in September. The market is currently expected to cut interest rates by only 25 basis points.
Powell is likely to reveal some of his thoughts when he speaks at the annual meeting of central bankers in Jackson Hole, Wyoming, on Aug. 23. According to the Fed's updated public schedule on Aug. 15, Powell's speech focused on the challenges facing monetary policy.
According to the pricing of federal funds futures contracts, investors have fully digested expectations that the Fed will cut interest rates by another 25 basis points from September 17 to 18. At its July meeting, the Fed cut interest rates by 25 basis points for the first time in a decade. Powell described the move as a "mid-cycle adjustment" rather than the beginning of a series of interest rate cuts.
The following chart shows the Citi Economic accident Index, suggesting that U. S. economic reports have improved since June.
On Aug. 14, a key part of the Treasury yield curve reversed, with short-term bond yields higher than long-term yields, highlighting fears of a recession. On Aug. 15, the spread between 2-year and 10-year Treasury yields fell, barely holding positive, but remained extremely flat.
The chart below shows the spread between US 2-year and 10-year bond yields, which can be seen hanging upside down for the first time since 2008, a warning of recession.
The weakness of the global economy has prompted the Federal Reserve to cut interest rates again to guard against risks
McCarthy (Ward McCarthy), chief financial economist at Jefferies (Jefferies), said the Fed could not just worry about the situation in the United States. After 30 years of globalization, the Fed cannot act alone. It must worry about the global situation and have reason to worry about the health of the global economy and financial markets. "
Fed officials have long said they do not see the risk of a recession as imminent, in part because consumption accounts for as much as 70 per cent of the economy, and Americans continue to spend. On Aug. 14, St. Louis Fed Chairman Brad said he was watching the market and the data to be released, but there was no need for an internal FOMC meeting.
(Yelena Shulyatyeva), a senior US economist, said the latest market slump could put pressure on economic activity data in August and sentiment in September, which will be released ahead of the Fed's September meeting. While the economic data are still in line with the optimistic outlook, the Fed may find it impossible to withstand market risk and will have to act as early as September at the earliest. "
Inflationary pressures in the US, which have been low for a long time, may also be starting to rise. CPI, which excludes food and energy, rose 2.2 per cent in July from a year earlier to a six-month high, according to data released on Aug. 13.
It is worth noting that Europe's economy is not optimistic either. The German economy has shrunk because of falling exports, and British Prime Minister Johnson has promised to allow Britain to leave the European Union on October 31, anyway, and the threat of no agreement to leave the European Union continues. If this happens, it may have an impact on global financial markets and the British economy.
Next week, central bankers will gather in Jackson Hall, Wyoming for the Kansas City Fed's annual policy meeting. The discussion is usually based on a series of academic papers presented at the three-day conference, and Powell's speech is a key highlight. This year's meeting gave officials a timely opportunity to discuss the impact of a weak global economy.
Brad (Sam Bullard), senior analyst at Wells Fargo (43. 38,-0. 59,-1. 34 per cent), said: "they have to consider what impact the global recession may have on the US economy and whether falling negative yields elsewhere will be a drag on US bond yields."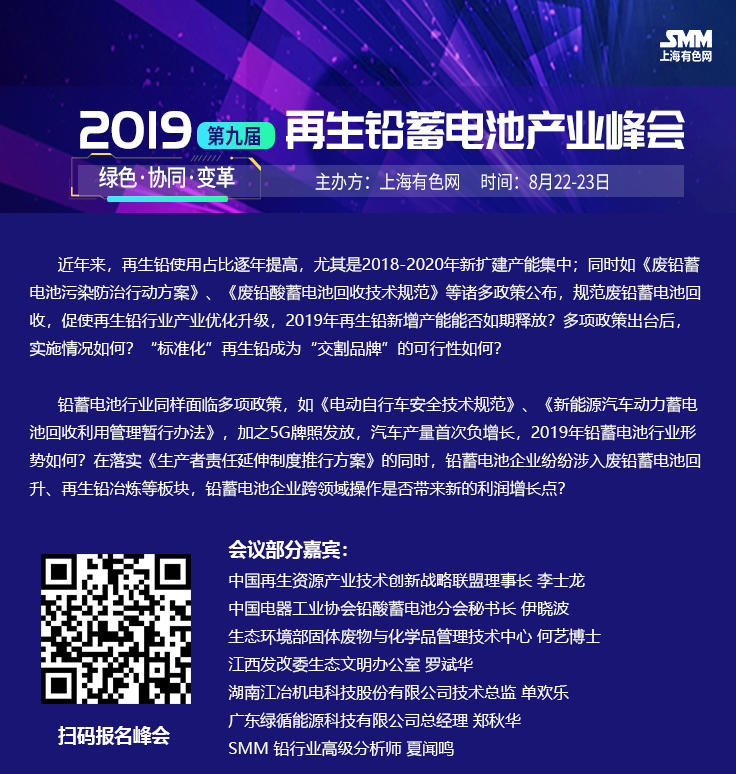 "Click to learn more and sign up for the 2019 (9th) Regenerative lead Battery Industry Summit"