SMM News: the currency war has quietly begun without interest, the Bank of Europe next month is likely to sacrifice the strongest monetary easing policy, the market has pushed up the probability that the Bank of Europe cut interest rates by 20 basis points in September to 83. 3 per cent. In this way, the ECB will almost run out of monetary ammunition, and the easing of the European Bank may come to an end. The outlook for the euro is more pessimistic, which will push the dollar and gold to 1600!
Analysts said it was a battle to cut interest rates to the lowest level and that the ECB was packing a "bazooka" for monetary policy that could push gold prices above $1600 an ounce.
Gold is back at its midday high, within walking distance of the six-year high it hit earlier this week. There had been speculation that the ECB was considering a major easing programme at next month's monetary policy meeting.
Finn (Olli Rehn), president of the Bank of Finland and member of the ECB's policy-making committee, has put forward an important and influential set of policies to be put forward by the Bank of Finland in September. 'when you deal with financial markets, it's often better to overdo it than not good enough,'he says.'it's better to have a very strong set of policy measures than tinkering with it,'he said. 'when you deal with financial markets, it's often better to go too far than not good enough,' he says. The comments rekindled gold's bullish momentum.
As investors see the possibility of a global interest rate cut, Ira Epstein, head of Linn & Associates, says everyone is now slashing interest rates to win a bottom-out gold race.
Investors should buy gold when prices fall, Ira Epstein added, as the bull market does not seem to be over soon. The environment that pushed gold to that level is still deteriorating.
Charlie Nedoss, senior market strategist at LaSalle Futures Group, said he expected gold prices to rise as investors continued to pour into safe havens.
Investors are not paying much attention to interest rate differentials. Investors are responding to growing fears in the market. The bottom line of panic is that global central banks are loose and interest rates are falling, which will push up gold prices, so who cut interest rates and how much is no longer the focus. The point is when global central bank easing will end. Phillip Streible, a senior market analyst at RJO Futures, said he expected gold to rise to $1600 an ounce in this environment.
With gold prices already fully priced for international trade tensions and the Fed's interest rate cut in September, markets are watching what the ECB will do in September.
Current expectations for the ECB rate cut in September are still 100 per cent, with a 10 basis point cut of 16.7 per cent and a 20 basis point cut of 83 per cent, compared with a 20 basis point cut of less than 50 per cent on the previous session.
The ECB's aggressive easing is likely to drag down the euro and boost the dollar, according to Huitong Finance APP, as expectations of a Fed rate cut have been digested, pushing down gold prices in the short term. After that, gold prices rebounded as a result of rising risk aversion. If the euro zone's economic locomotive, Germany's GDP, continues to shrink after that, the possibility of gold moving up to 1600 cannot be ruled out.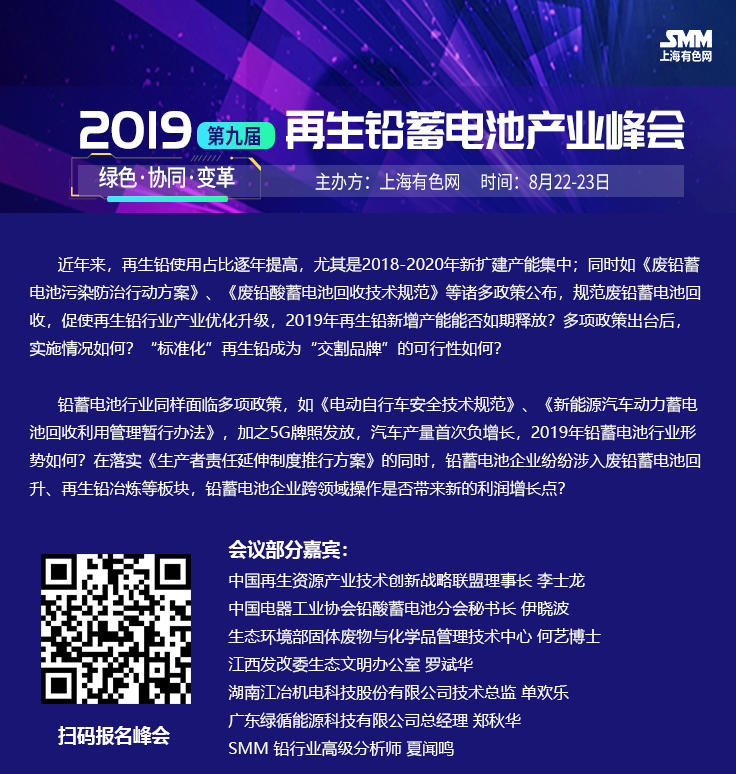 "Click to learn more and sign up for the 2019 (9th) Regenerative lead Battery Industry Summit"