SMM News: the completion of BYD Global Design Center will promote the level of Chinese automobile design to a new height, but also marks the overall Chinese independent brand cars out of the imitation stage, into a new stage of independent development and design. The design shortcomings of Chinese cars are changing rapidly.
At the inauguration ceremony of BYD's global design center, Wang Chuanfu, chairman and president of BYD Co., Ltd., said: technology is BYD's hard power, and design will become BYD's soft power. Technology and design, both hands should be grasped, both hands should be hard, so that BYD products from "technology" single-wheel drive, to "technology + design" two-wheel drive, both inside and outside, both inside and outside.
As a representative enterprise in the domestic automobile field and a leading enterprise in the field of new energy vehicles, BYD has been paying great attention to technology research and development for many years. The completion of the global design center marks BYD's upgrading of product design to a level comparable to technology.
BYD Senior Vice President Lian Yubo said that the newly completed BYD Global Design Center can be called the "Advanced equipment Exhibition Room" for transportation product design. From Italian five-axis processing equipment, to German sludge cutting equipment, and then to VR review equipment, gathered the industry's cutting-edge design tools.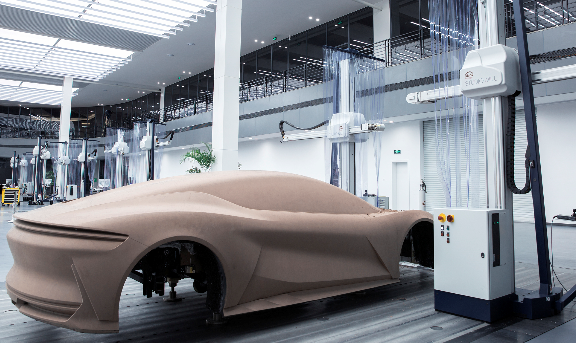 In addition to the "iron triangle" formed by three design masters, the BYD design team has more than 200 designers from more than 10 countries, such as Italy, Spain, Switzerland and Germany, and has carried out design work all over the world. has formed a pyramid design talent structure.
Wang Chuanfu pointed out that the new design center, the new design team and the new design works will provide strong support for BYD to open a new starting point for design, realize the design again, and lead the new trend of electric and intelligent design.
I remember many years ago, Zhu Yanfeng, then general manager of FAW, pointed out at the Shanghai auto show that the biggest weakness of Chinese cars was the lack of design talent. In order to train Chinese automobile design talents, FAW has also organized youth automobile design competitions.
In previous years, some models of China's own brands have often been criticized as shanzhai cars. Although imitation is the initial stage of automobile design in any country, the traces of some models are too heavy, which also leads to a lot of infringement litigation.
In recent years, with the continuous development and growth of Chinese independent brand cars, R & D strength and R & D investment have been continuously strengthened, many independent brands have changed from reverse R & D in the past to positive development and design, and combined with Chinese elements. Design a lot of new models with international level and Chinese culture, which have been widely welcomed by the industry and consumers.
By absorbing foreign excellent automobile designers and design ideas, and integrating with Chinese culture, Chinese independent brand automobile design is realizing positive catch-up. Some independent automobile brands have formed a unique design style in Chinese language, such as water ripples design of Geely Automobile, WEY brand design of Great Wall Automobile, BYD Dragon Face Dragon Design language, Guangqi Chuanqi Design language, all of which can be regarded as the classics of Chinese automobile design.
At present, FAW Group, SAIC Group, Dongfeng Automobile Group, Guangqi Group, BAIC Group, Great Wall Automobile, Geely Automobile, Chery Automobile and other domestic automobile enterprises all have their own huge automobile research and development institutions, including design centers. Chinese automobile enterprises pay more and more attention to automobile design, and automobile design is becoming an important part of China from a big automobile country to a powerful automobile country. Cars with Chinese cultural connotations will not only be welcomed by Chinese consumers, but also win the favor of foreign consumers.
With the absorption of a large number of foreign excellent automobile design talents, Chinese local automobile design talents are also growing rapidly, and a number of high-quality models have been designed.
China has become the largest automobile producer and the largest new car market in the world for 10 years in a row. Chinese cars have achieved close integration and cooperation with the world automobile market. Chinese car brands already have the ability to compete with international brands on the international stage, and with the shortcomings of Chinese car design completely overcome, we have reason to believe that car design is becoming a new business card made in China.