SMM News: Toyota on the "electrification" has a subtle attitude change.
On June 7, Toyota held a press conference in Tokyo, Japan, announcing that it would advance the "2030 plan" by five years. In other words, the world's second-largest carmaker now plans to sell 5.5 million hybrid, plug-in hybrid, pure electric and fuel cell vehicles by 2025.
Just four months ago, Toyota released a brand new Carola hybrid commercial. In the film, a new red Carola hybrid gallop in the desert, surpassing all kinds of classic cars in history, and people on board look at it as if it were from outer space.
At the end of the commercial, a pure electric car appeared. It was recharged on the only charging post in the desert, and the owner of the electric car looked anxiously at his watch.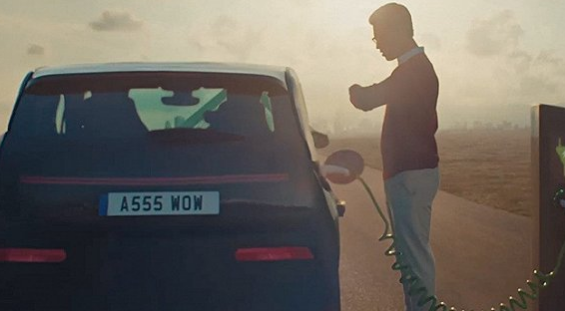 Get the camera back in the Carola car. Through the man's light smile, Toyota expressed ridicule to the outside world about pure fuel cars, but also showed disdain for pure electric cars-it seems that hybrid power is the only right way in the world.
Toyota's shift makes the outside world suspicious-what makes Toyota, which has always been sure, feel like it's going to miss the last train home?
"Toyota's attitude towards electric cars has never changed, but the only thing that has changed is the statement," Zhang Xiaolin, an automotive industry analyst, told Interface cars. "Toyota classifies the HEV as an 'electric car', but the HEV, which relies on small-capacity batteries and low-power motors as auxiliary power, is classified as a 'fuel vehicle' in the Chinese market."
It seems that the outside world "misunderstood" Toyota.
Toyota, which launched hybrid cars in 1997, has never focused on the technical route of the current mainstream electric models (PHEV and BEV).
In fact, Toyota is like Mazda, another Japanese carmaker that disdains the development of electric cars. However, the executive director of the latter bluntly said that "there is no point in the existence of electric vehicles that do not consider CO2 emissions."
Toyota has responded with the same attitude, but has never made such radical remarks. On more occasions, Toyota will explain it as "inadequate infrastructure and difficult for consumers to change in the short term."
But even so, Toyota's attitude of "mixing is king" is well known.
Hybrid technology has not only appeared in the Toyota Earth Environment Charter since 1992, but also become Toyota's moat.
Toyota's hybrid cars have long dominated the market with fuel-saving characteristics. The fuel consumption of ordinary Class A cars is 8 to 10 litres / 100 km, while the Carola / Lei Ling twin engine launched in 2015 has a minimum fuel consumption of 4 L / 100 km.
In addition, through the localization of the (TMEC) at the Toyota China Technology Center in Changshu, the Carola / Lei Ling twin model is only 20, 000 more expensive than the fuel version. In the all-new generation of Lei Ling, the twin version is only just over 10,000 more expensive than the fuel version, which can be said to be economical and affordable.
But because of the high threshold of the technology, the hybrid market has long been Toyota's dominant. This has also attracted "special attention" for it. Caijing magazine quoted a source as saying, "A car company had intended to buy the patent right to hybrid technology from Toyota, but was refused." Soon after, the relevant departments released new energy vehicle financial subsidies of the technical route, non-plug-in hybrid vehicles do not appear on the list. "
Even though Toyota hybrids have entered the lives of more than 12 million users, they still fail to reach the families of most Chinese consumers.
"at first we didn't understand hybrid and plug-in hybrid, a technical term that is too mouthful for us as consumers. All I know is that Toyota can't get a green card. " As an ordinary "Shanghai aboriginal", Xue Jun is going to buy a Roewe ei6.
Xue Jun also told Interface News that he does not care much about fuel consumption and that he buys electric cars mainly for cards rather than for saving. "I buy a class A car, less than 5000 kilometers a year, 5 gas and 10 oil a year is not much difference." He said.
In 2018, Toyota's second-generation THS hybrid system ushered in the most powerful rival in history-Honda's third-generation i-MMD hybrid system. The eighth generation Camry and the 10th generation accord, which carry these two systems respectively, have been doomed to be eternal opponents from the first day of their birth.
Although the two are neck and neck in the "10,000 club", but sales are not the root cause of the eighth generation Camry's fear of the tenth generation of the accord.
Behind the sales, what really scares Toyota is that its ingenious "planet gear" hybrid system has been calibrated by Honda with more optimized parts and a more ingenious engine.
Zhang Gang, a doctor from the Department of Automotive Engineering at Tsinghua University, who specializes in the study of electric vehicles, told Interface News: "Toyota's hybrid won at the starting line, while Honda's hybrid sprang up based on its accumulated strength and came from behind."
"the double input of the engine and motor in the Toyota hybrid system is a perfect match to the planetary gear mechanism, either in series or in parallel," he explained. "it's a Toyota hybrid." Through this structure, "the engine can drive the wheels through mechanical transmission, but the speed of the vehicle does not determine the speed of the engine, and the load of the vehicle does not determine the torque of the engine." As a result, both motors and engines are extremely efficient. "
However, the configuration of Honda's i-MMD system is relatively simple, which is a typical P1+P3 hybrid. "but Honda controls the Atkinson cycle at its best by using VTEC and cam phase variable technology for the 2.0L engine. The thermal efficiency of the engine is up to 39%. And with a lightweight PCU, to reduce the size and weight of the new motor, the smaller IPU. The comprehensive efficiency of Honda's i-MMD system has reached a very high level, "Zhang Kang said.
According to online reports, Honda's hybrid system is 30% higher than Toyota's. In response, Zhang Kang said: "it is impossible to do a number of tests without disclosing specific operating conditions." But even if the Honda hybrid is not enough to crush Toyota, it is at least on the same starting line. "
Toyota's biggest enemy in hybrid is its arrogant self-patent blockade keeps the hybrid market from spreading, and other carmakers have long since come up with new solutions.
In April 2019, Toyota announced the opening of more than 23700 hybrid technology patents. The move is seen by the industry as Toyota's "last struggle".
One Chinese car brand management, who spoke on condition of anonymity, told Interface News: "if Toyota had sold its first hybrid car in 1997 and had patented hybrid technology for 20 years, it would have begun to expire." Even if Toyota does not open patents, these patents will continue to expire and will be directly opened for use by the industry. "
"on the other hand, Tesla, who has gradually become the wind marker of electric vehicles around the world, opened 332 patents as early as June 2014, before the influx of new electric vehicles and the vigorous development of electric vehicles." He added.
According to the Interface News reporter, Tesla announced the opening of patents for all electric vehicles in February 2019. This includes efficient battery energy management systems and other technologies that are most needed in the market.
"realistically speaking, Toyota is now open to hybrid technology some of its own affectionate." The Chinese car brand manager commented.
Based on the Carola / Lei Ling twin, their "twin E +" version (the plug-in hybrid, PHEV) is Toyota's first attempt to get out of the "hybrid comfort zone"-both cars didn't even have time to adopt Toyota's latest TNGA architecture.
Compared with a plug-in hybrid, the "210000 Leiling" has become a more eye-catching label for the Leiling twin E +.
In this price range, consumers can buy Camry 2.0L gasoline version, can also add 10,000 to buy Camry double engine. And jump out of the Toyota brand, the price of 210000 can also buy the 10th generation Yaku Sharp 2.0L sharp leader version, Maiteng 330TSI DSG leading model, and even Buick Jun Yue 20T honorable model.
The biggest selling point of the Lei Ling double engine E + is that it has more power when it is fully charged, and the range of the pure electric mode is longer than that of the double engine. When there is no charging condition, it can be used as an ordinary two-engine model, fuel consumption is still very low, the official figure is 4.1 liters / 100 kilometers.
Guangzhou Shuangqing President "Ironhide" gave a positive evaluation of the car's fuel-saving ability and power distribution logic, saying that it is "users do not need to learn to use the 'fool' products." And its "one-car dual-use" compatibility is affirmed.
But even so, he doesn't think the car is worth the price. "Price is also the biggest obstacle to the audience of this car. There is a lack of configuration for this guide price, "he said." for example, the inside of the top door is still hard plastic, 210000 of the seats are fully manual, and so on. "
In the opinion of Qiu Kai, an expert on electric vehicles, Lei Lingshuang E + had a "prototype" six years ago, that is, Biadiqin. BYD Qin, which went public in 2013, sells well in Shanghai, not because locals like BYD, but because Shanghai restricts the purchase of fuel cars, saving time and money.
Ironically, the car is not being used as a new energy vehicle. Qiu Kai told Interface News: "many people do not know that many of the early Qin owners in Shanghai were driven by fuel-fueled cars, and many even removed batteries and were driven purely by engines."
In 2013, even in Shanghai, charging posts were rare. Plug-in hybrid cars are as poor as pure electric cars. BYD Qin was given this "preferential treatment".
"but this is not what it used to be. Today, there are a full range of plug-in hybrid cars on the market, and Lei Ling double engine E + has no advantage in the market."
"Leiling double engine E + is in a very awkward position," Zhang Xiaolin, an automotive industry analyst, told Interface News. "if you want a [new energy] license, people can buy purer pure electric cars, such as Tesla's Model 3, which is also close to being made in China. If you're interested in fuel economy, you can buy a gas-electric hybrid. If you want a license, and you don't want to give up the internal combustion engine altogether, you can choose a plug-in hybrid that is cheaper than the Lei Ling twin E +, with more than 100,000 PHEV everywhere. " He believes the car is more of a "policy accessory".
The domestic "double integral" policy has begun to be implemented. Car companies are not only required to complete the harsh fuel vehicle consumption reduction, but also to car enterprises to sell the products of new energy vehicles to reach a certain proportion.
In order to meet the points policy of new energy vehicles, the points provided by plug-in hybrid cars are far from enough and must rely on pure electric vehicles.
Toyota has arrived late, but it has also begun to lay out its layout.
At the press conference at which Toyota announced the implementation of its electrification strategy five years ahead of schedule, Toyota director and vice president Maori Takeshi kept saying words such as "challenge" and "if you don't like it, you'll be out." However, there is no sign of slow anxiety and radical determination between the words, on the contrary, it reveals Toyota's confidence and confidence in leading the future automobile revolution.
Tension and calm, this pair of contradictions are like double pulsars haunt Toyota, so that the outside world can not see Toyota's real attitude towards electrification.
The contradiction became a "substandard" product at the Shanghai auto show in April.
The sky blue C-HR electric version on the booth is one of Toyota's main electric vehicles and is scheduled to go on sale by the end of 2019. From the point of view of the regular detour alone, there is nothing wrong with the car.
But if you use a professional angle, such as lying down and looking at its chassis, you can see something. Large batteries hung naked under the car, making the whole car particularly prominent, almost with the naked eye, the passing of the car can not even successfully drive into some of the basement.
Yuan Qicong, a well-known car critic, described the electric version of the C-HR as a "magic change to an electric car". "the judgment is based on whether the battery fell under the car like a 'pregnant sow', and that's what the earliest BAIC and Ji electric cars modified with gasoline did." "it's not right for a new car to do that now," he commented. Especially the first line of international brands, unfortunately, this electric C-HR is such a car. "
"this should be temporarily built by Toyota in order not to show that it has been slow in the field of pure electric," he said. "this kind of 'test-oriented education' car is not recommended to buy. It would be better to buy a new car with a home-made pure electric platform."
In Toyota's vision, with the core technology of motors, PCU and batteries, any kind of electric car can be obtained on this basis. For example, on the basis of motor, PCU and battery, adding internal combustion engine is HEV; plus internal combustion engine and charging equipment is PHEV; only charging device is EV; plus fuel cell and hydrogen storage tank is FCEV.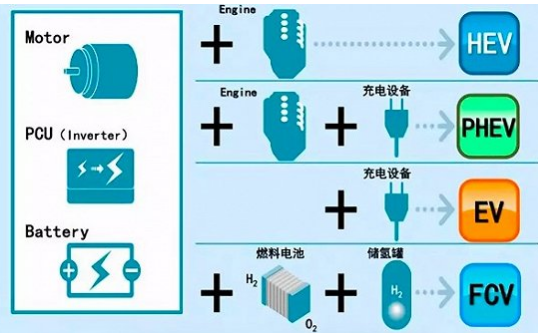 Fans like to describe Toyota as an electric car as a "dimension reduction blow" to other carmakers. However, the actual situation is that the performance requirements of batteries in HEV with internal combustion engine as the main power source are quite different from those in EV with battery as power source.
Tiepi, president of Guangzhou Shuangqing, is a senior user and supporter of Toyota, but in an interview with Interface News, he said: "if Toyota's PHEV also has an advantage over other brands because of Toyota's THS system, then on EV, the advantage will be gone."
In the view of tin, the electric vehicle products of the joint venture manufacturers are generally very young, and many details are not as good as the domestic brand electric cars. "because the actual product iteration and application of the own brand has become more mature," he said.
Although Toyota set up a dedicated "ZEV factory" for electric vehicles in 2016, led by its president, Akio Toyoda. But for now, there are no electric car products that match Toyota, a world-class car brand.
According to the latest news, Toyota will launch six electric vehicles based on the e-TNGA platform. The small car will work with Suzuki and Toyota Dafa, and the medium-sized SUV will be shared with Subaru.
But when it comes to batteries, the core technology of pure electric cars, Toyota has more than it can do.
In Japan, it works with suppliers such as Panasonic, PEVE, Tang shallow and Toshiba, while in China, Toyota will use batteries supplied by Ningde Times and BYD.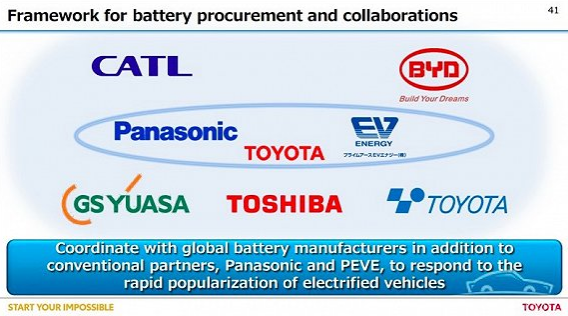 "it is clear that Toyota is ready to be 'fast' in the field of pure electric vehicles. If it can buy, it can cooperate, and it doesn't have time to spend decades building technical barriers like developing hybrid cars and fuel cell vehicles, because time doesn't allow it. " One electric car market analyst, who spoke on condition of anonymity, told Interface News.
Unable to take the lead in technology, Toyota is trying to innovate in the business model of pure electric cars. In the business model that Toyota is expected to establish, Toyota has planned a complete chain covering R & D and manufacturing, leasing, sales, testing (battery residual value), used cars, battery reuse, battery recovery and so on. Trying to abandon the traditional way of thinking from manufacturing to sales.
"this is the concept of 1 and 0. A business needs to have socially responsible thinking, but until then, consumer-oriented products are the foundation. " The analyst told the interface news reporter analysis.
In fact, Toyota's business model is not new, only in China, by a number of companies involved. BAIC New Energy and Weilai, for example, have introduced a power exchange model, which also has a battery rental business.
China Tower Co., Ltd., as well as Shanghai, Beijing, Tianjin and Hebei, Jiangsu, Zhejiang and other nearly 20 provinces and regions have carried out power battery recovery pilot business.
In addition, Ningde Times, BYD, Guoxuan High Technology, Camel shares, Air China Lithium Power, Huayu Cobalt and other battery manufacturers and material manufacturers have begun to make efforts in the field of power battery recovery.
In any case, Toyota no longer has the advantages it once had in a single hybrid field in this wave of electrification.
As more and more countries around the world announce the timing of the ban on the sale of fuel vehicles such as 2030, 2035 and 2040, Toyota's thinking of "hybrid cars as the main and electric vehicles as the auxiliary" will cover a layer of fog for its future.
In fact, Toyota's ultimate vision is not a pure electric car, but a hydrogen energy society based on hydrogen fuel cell vehicles. Zhang Xiaolin commented: "the ground is full of sixpence, while Toyota is looking up at the moon."