SMM News: Science and Technology Innovation Board officially opened the board, China's capital market ushered in a historic moment. So far (June 21), of all the 124 enterprises accepted for listing by Science and Technology Innovation Board, A total of seven enterprises are mainly engaged in the field of lithium electricity: Rongbai Technology (positive Materials), Tiannai Technology (Battery Raw Materials), Hangzhou Technology (Lithium Manufacturing equipment), Jiayuan Technology (Copper foil Raw Materials), Liyuanheng (Lithium Manufacturing equipment), Hanchuan Intelligence (Lithium Manufacturing equipment), Bozhong Seiko (Lithium Manufacturing equipment).
A few days ago, the Shanghai Stock Exchange held the 5th meeting of the Municipal Committee of the Creative Board in 2019, and Rong Bai Technology was examined and approved. Rong Bai Technology is expected to become Science and Technology Innovation Board's first landing of positive materials listed companies, is expected to land in mid-July Ke Chuangban.
According to the prospectus, Rongbai Technology is mainly engaged in the research and development, production and sales of lithium battery cathode materials and their precursors, including NCM523, NCM622, NCM811, NCA and other ternary cathode materials and precursors. Ternary cathode materials are mainly used in the manufacture of lithium batteries, and mainly used in new energy vehicles power batteries, energy storage equipment and electronic products and other fields.
It is understood that Rongbai Technology became the first domestic cathode material enterprise to achieve large-scale mass production of high nickel NCM811 in 2017. At present, the company has launched the third generation of high nickel NCM811 products, and the technology and production scale of NCM811 products are in a leading position in the world. The energy density of NCM811 power battery produced by capacity 100 technology can be increased by 25% compared with NCM523 product, and the advantage of energy density can be increased by more than 30% by subsequent optimization. In the aspect of cycle life, the number of cycles of single cell used in NCM811 cathode material has reached more than 2000 times at room temperature.
The main customers of Rongbai Technology include Ningde Times, BYD, LG Chemistry, Samsung, Lishen Battery, Bick Power, Fueneng Technology, Jetway Power and other domestic and foreign well-known power battery enterprises. In 2018, Lishen Battery, Bick Power, Ningde Times, BYD and ATL (New Energy Technology Co., Ltd.) were the top five customers of Rongbai Technology, accounting for 21.06%, 12.07%, 6.85%, 6.61% and 6.20% of revenue, respectively, accounting for 52.79% of the total.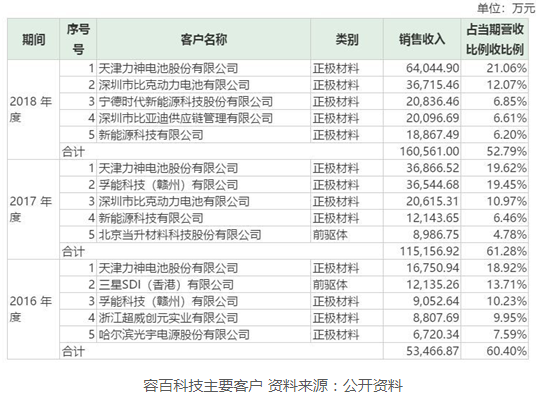 Financial data show that Rongbai Technology achieved operating income of 885 million yuan, 1.879 billion yuan and 3.041 billion yuan respectively in 2016-2018, and deducted non-net profit of 11 million yuan, 92 million yuan and 203 million yuan respectively. Of this total, revenue grew by 112.24 and 61.88% year-on-year in 2017 and 2018, and net profit by 700.94% and 121.20% year-on-year.
From 2016 to 2018, Rongbai's main business income accounted for 99.53 per cent, 99.33 per cent and 98.38 per cent of operating income, respectively, according to the prospectus. In 2016, 2017 and 2018, the sales revenue of Rongbai science and technology ternary cathode materials was 687 million yuan, 1.597 billion yuan and 2.63 billion yuan respectively, accounting for 78.01%, 85.60% and 87.90% of the main business revenue, respectively. in the past three years, the data has been growing rapidly, and the domestic market share of Rongbai technology ternary cathode materials has been stable at about 10%.
As a leading enterprise in the field of lithium battery materials, Rongbai Technology is favored by the capital market. Before Shangke Chuangban, it has carried out several rounds of financing. Investors include Jinsha River Capital, Sunshine Insurance, Changjiang Securities, Yunhui Capital, Shanghai Free Trade Zone Fund, etc., with a valuation of more than 10 billion yuan.
It is understood that Rongbai Science and Technology mainly adopts the production model based on sales and production, guided by customer orders and medium-and long-term demand expectations, formulate and implement production plans. In actual operation, the production department adjusts the production plan according to the specific order. By the end of 2018, Rongbai Technology had NCM capacity of 30000 tons / year, NCA capacity of 800t / year and ternary precursor capacity of 18000 tons / year.
This time, Rongbai Technology plans to issue no more than 45 million RMB common shares (A shares), and the total amount of funds raised will be determined according to the actual number and price of the issue. After deducting the issuance expenses, the raised funds will be used for the 2025 power lithium power materials integrated base (phase I) projects and supplementary working capital. The project introduces advanced production and research equipment at home and abroad and will build a precursor production line with an annual output of 60,000 tons of ternary cathode materials.
The data show that the total market output value of lithium battery cathode materials in China reached 53.5 billion yuan in 2018, an increase of 27.66% over the same period last year. Some industry institutions estimate that the demand for cathode materials in China is expected to reach 402000 tons by 2020. Among them, the demand for ternary cathode materials is 144200 tons, and the demand for high nickel ternary cathode materials is 97500 tons.
The industry analysis shows that the ternary cathode material is the key core material of lithium battery, and the improvement of its capacity has an obvious effect on the energy density of the whole battery. Due to the adjustment of subsidy policy, under the guidance of national industrial policy and the dual stimulus of market demand, the domestic demand for ternary materials continues to grow, and to high nickel sustainable development, which brings great opportunities to positive material enterprises.