SMM News: just over the weekend (15), the world's leading telecom operator Vodafone announced that Huawei is a major equipment supplier to launch a commercial 5G network in 15 cities in Spain.
According to a previous report by Xinhuanet, Jin Yong, chief executive of Huawei Spain, said on May 29 that although the US government issued a ban on Huawei, the vast majority of Huawei's partners in Spain chose to "fight side by side" with Huawei during this difficult period. Huawei's participation in the construction of 5G networks in Spain will not be affected by the US ban. "what has happened in recent days will not undermine Huawei's competitiveness and influence in the 5G sector."
In June, Huawei also received about half of China Mobile's core 5G orders.
In its 2018 annual report released in March, Huawei spent 101.5 billion yuan on research and development. Huawei is using its strength to explain what is getting worse and braver.
Spain's Vodafone said Friday that the 5G mobile network will first cover 15 major cities across the country, including Madrid, Barcelona and Valencia, serving about 50 percent of the local population, Xinhua reported. Over time, the coverage of the 5G network will continue to expand.
The terminals and services of the 5G mobile network are already available on the Vodafone website in Spain. At the Vodafone store in Madrid, staff said the 5G phone and service will be officially launched on the 17th, but so far many customers have come to ask, expressed a strong interest.
According to reports, Spanish 5G users will experience a download speed of 1G per second, and is expected to speed up to 2G per second by the end of this year. Compared with 4G networks, 5G networks also have significantly reduced latency, which will provide the basis for technologies such as autopilot, telemedicine, and virtual reality.
As a result, Spain became the first European country to officially launch a 5G commercial mobile network, and Vodafone's 5G network is by far the most urban 5G commercial network in Europe. It is reported that Huawei is the core supplier of Vodafone 5G network, and the two sides have maintained a long-term cooperative relationship for more than ten years. The opening of Vodafone 5G network in Spain will provide a model and reference for the company to open 5G network in more countries.
At the end of last month, EE, one of Britain's leading telecom operators, was the first to launch 5G services in six major cities in the UK, and the company reiterated that it would continue to use Huawei's equipment in some of its 5G network infrastructure.
According to Vodafone, they will continue to launch 5G network services in countries such as the UK and Germany, and will roam the 5G network in the UK, Italy and Germany this summer.
It is not easy for Huawei to achieve these achievements. With the exception of Europe, US officials have been urging Latin American countries to follow Washington and exclude Huawei from its 5G network, but Latin American countries including Brazil, Chile and Argentina have chosen to maintain close ties with Huawei, according to CCTV News. Luis, chairman of the Brazilian Telecommunications Association, said Huawei is very important to the Brazilian market.
Louis: "We are very satisfied with Huawei's entry into the Brazilian market. Huawei is able to continue to provide products and services to the Brazilian market, which we think is very important because it gives Brazilian suppliers greater competitiveness and brings greater efficiency to the Brazilian market." at the same time, such efficiency can also enhance the business capacity of enterprises through technology solutions, which is healthy and healthy competition. "
Juan Bonola, director of public relations at Huawei Argentina, said Huawei's advantage in technology and strength had not been weakened by Trump's ban and had little impact on the Latin American market.
Bonora: "if you ask any technician or expert, they will admit that Huawei is absolutely ahead in 5G technology and that [the crackdown in the United States] has not had a direct impact on our business here." some of our projects have not been suspended or cancelled. "
With regard to the unprovoked crackdown on Huawei by the United States, Spanish economist Juan Duguerres believes that the move by the United States can be regarded as lifting a stone and hitting itself in the foot, which on the contrary will have a negative impact on the companies of the United States and its western allies.
Mr. Duguerres: "to some extent, U. S. sanctions are not just against China, they will even affect companies in the United States and other Western companies that the United States calls allies."
Rosie, a former director of economic and business policy in London and an economist, further pointed out that it is completely wrong for US President Trump to try to curb China's technological and economic development by cracking down on Huawei. Responsible economic commentators in the United States do not believe that this will improve the economy, and that American consumers will eventually pay for the high tariffs of economic and trade frictions. at the same time, economic frictions will also hurt the global economy.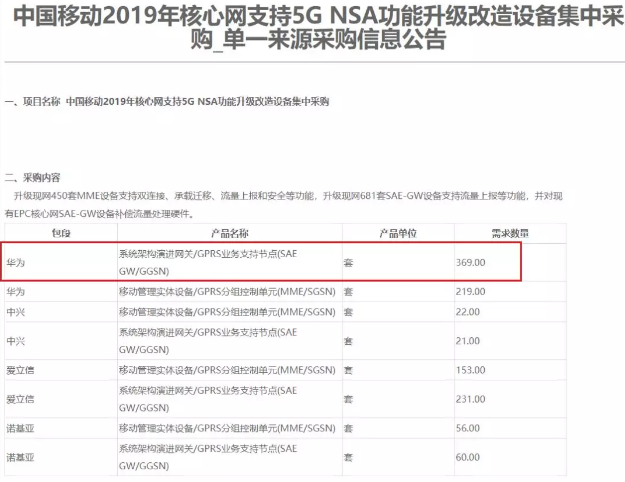 In its 2018 annual report, disclosed earlier, China Mobile expects capital expenditure of 149.9 billion yuan (excluding 5G commercial investment) in 2019, down 10.3 per cent from 167.1 billion yuan in 2018. China Mobile has said that with 5G investment, total investment this year will not exceed 2018. In terms of 167.1 billion yuan, China Mobile will not invest more than 17.2 billion yuan in 5G this year. However, judging from the scale of these tenders, China Mobile's investment in 5G exceeded expectations.
Huawei can achieve this achievement, can not do without their own strength.
Research and development costs are an important measure of the strength of a technology company. Huawei's 2018 financial report released in March showed that Huawei invested $15.3 billion (101.5 billion yuan) in research and development last year, about twice as much as five years ago. This is an increase of 149 per cent from Huawei's research and development investment in 2014. In the decade from 2008 to 2018, the cost of technology research and development is rising every year, and a total of 485 billion yuan has been invested in technology research and development over the past ten years.
Of the top 10 companies in the world with the highest R & D investment, only Amazon outpaced that pace by 210 per cent in 2018, Bloomberg reported earlier. Apple, Microsoft and Samsung all saw slower growth in R & D spending over the same period.
Guo Ping, Huawei's rotating chairman, said publicly to the media at that time:
"Huawei's revenue has grown by 26 per cent over the past five years, and net profit has grown by 21 per cent over the past five years. Cash flow during the period was 74.7 billion yuan, down from the previous year, mainly due to increased research and development and appropriate increase in inventory to deal with uncertainty."
According to the intellectual property Center of the China Academy of Information and Communications, as of December 28, 2018, Huawei accounted for 17% of enterprise 5G standard essential patent claims, while its patent application volume was 1970, ranking first.
It was noted that on June 6, on the day of the issuance of the 5G license by the Ministry of Industry and Information Technology, China Mobile issued the 2019 Core Network support 5G NSA function upgrade equipment centralized purchase single Source Purchasing Information notice, a total of 1131 sets of equipment, Huawei received 52% share, ranking first. Ericsson came in second with a 34 per cent share.
The rest of the market share was shared by Nokia and ZTE, with Nokia winning 10 per cent and ZTE 4 per cent. Datang Telecom, another domestic telecom equipment manufacturer, did not get any orders.
Among them, Huawei needs to upgrade 369 sets of system architecture evolution gateway / GPRS service support node (SAE GW/GGSN), 219 sets of mobile management entity equipment / GPRS packet control unit (MME/SGSN), and ZTE needs to upgrade 22 sets of mobile management entity equipment / GPRS packet control unit (MME/SGSN) and 21 sets of system architecture evolution gateway / GPRS service support node (SAE GW/GGSN). Ericsson needs to upgrade 153 sets of mobile management entity devices / GPRS packet control units (MME/SGSN), 231 sets of system architecture evolution gateways / GPRS service support nodes (SAE GW/GGSN), and Nokia needs to upgrade 56 sets of mobile management entity devices / GPRS packet control units (MME/SGSN) and 60 sets of system architecture evolution gateways / GPRS service support nodes (SAE GW/GGSN).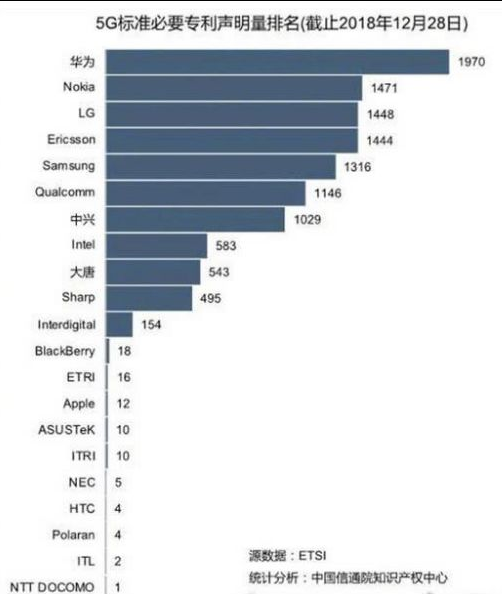 At a time when Huawei is overtaking Apple and Samsung in research and development, time Weekly says that compared with Huawei's R & D investment, there are still only a handful of global benchmarking technology companies like Huawei in China. China needs more Huawei.
"in fact, we look at last year's global R & D investment list, Huawei is also the only Chinese company in the top 50." The article said.