SMM6, 12 June 2019: on June 10, 2019, the Environmental Protection Bureau of Macun District, Jiaozuo, Henan Province issued the document "Circular of the leading Group Office of the Jiaozuo Municipal pollution Prevention and Control War on further strengthening the Control of Air pollution Prevention and Control in June" (Jiaohuan attack key [2019] 160th), requiring Jiaozuo Wanfang Aluminum to be low from June 2019 to September 2019, and at the same time stop supplying aluminum water to all third parties involved in VOCs restrictions from 8: 00 to 20:00 every day. The provision of aluminum water to exempted enterprises shall be subject to examination and approval materials.
The environmental protection incident will affect a total of seven aluminum rod production lines of the three aluminum rod enterprises downstream of Jiaozuo Wanfang, whose production capacity is expected to be halved to about 300 tons per day or 10,000 tons per month.
What will be the impact on the price of aluminum rods?
From May 11 to June 10, the horizontal market of aluminum rod processing fees fluctuated across the country. The average monthly prices of Shandong, Henan and Inner Mongolia (from May 11 to June 10) were all about-15 yuan / ton compared with the same period last month. In late May, aluminum prices rose strongly, although in the peak consumption season of aluminum rods, but the rise in aluminum prices compressed the rising space of aluminum rod processing fees, after entering early June, aluminum prices fell back to 14000 to 14100 yuan / ton, aluminum rod processing fees gradually rebounded steadily from the low, reflecting the firmness of aluminum rod consumption from the side.
Although the output affected by environmental protection factors is small in the national supply (accounting for about 4% of the national supply), it may have a certain impact on the surrounding areas of Henan, and the supply side is willing to pay a certain price. Whether the price can stand firm or not also takes into account the inventory and stock willingness downstream and whether the aluminum rods in Shandong and Inner Mongolia can supplement the supply shortage.
The aluminum price retreated in June, and the aluminum rod processing fee rebounded steadily.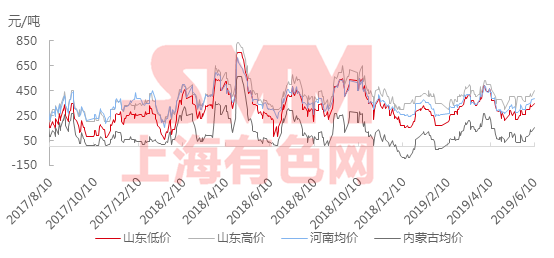 Source: SMM
Monthly Operation rate of Aluminum Cable Enterprises in China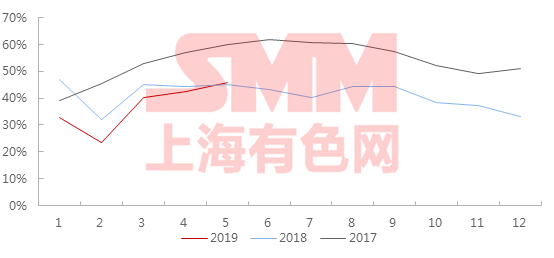 Source: SMM
(SMM Shanghai Nonferrous net Liang Xuan 021 5166 6922)