SMM News: as inflation begins to fall, Swedish central bank policymakers are feeling more and more stressed because they may soon be forced to follow the example of their overseas counterparts, who have been crushed by the market, to abandon plans to tighten monetary policy.
Market participants in the country predict that inflation in Sweden will fall below the 2% level again in a major economic report released this weekend, and will be even lower if energy prices are taken into account. Michael Glenn (Michael Grahn), chief economist at Dansk Bank, pointed out that Swedish inflation in May is likely to be more disappointing than expected, driven by foreign travel prices and recent trends in energy markets.
The weak inflation data have sounded the alarm for the Bank of Sweden, whose governor, Inves, has said he will be very concerned about whether inflation expectations continue to weaken, seeing it as an important feedback signal from the market to policymakers.
So far, however, officials at the Bank of Sweden have remained calm and restrained and have repeatedly stressed that as long as Sweden's domestic economic development does not deviate significantly from the expected trajectory, they are not too worried about a gap of about 10 per cent between inflation and the preset target. After all, the bank has been implementing a massive stimulus package for four years since the financial crisis to avoid a deflationary spiral.
Indeed, Mr Invez and his colleagues have been adamant-since December, the Bank of Sweden has said it plans to end the era of negative interest rates that have been going on for years by the end of the year. Central bankers also believe that the weak krona can help push up inflation. The data show that due to a long period of negative interest rate policy, the krona has fallen sharply from before the financial crisis. There is no doubt that a weaker krona will push up import prices, raise consumer costs and eventually succeed in raising inflation.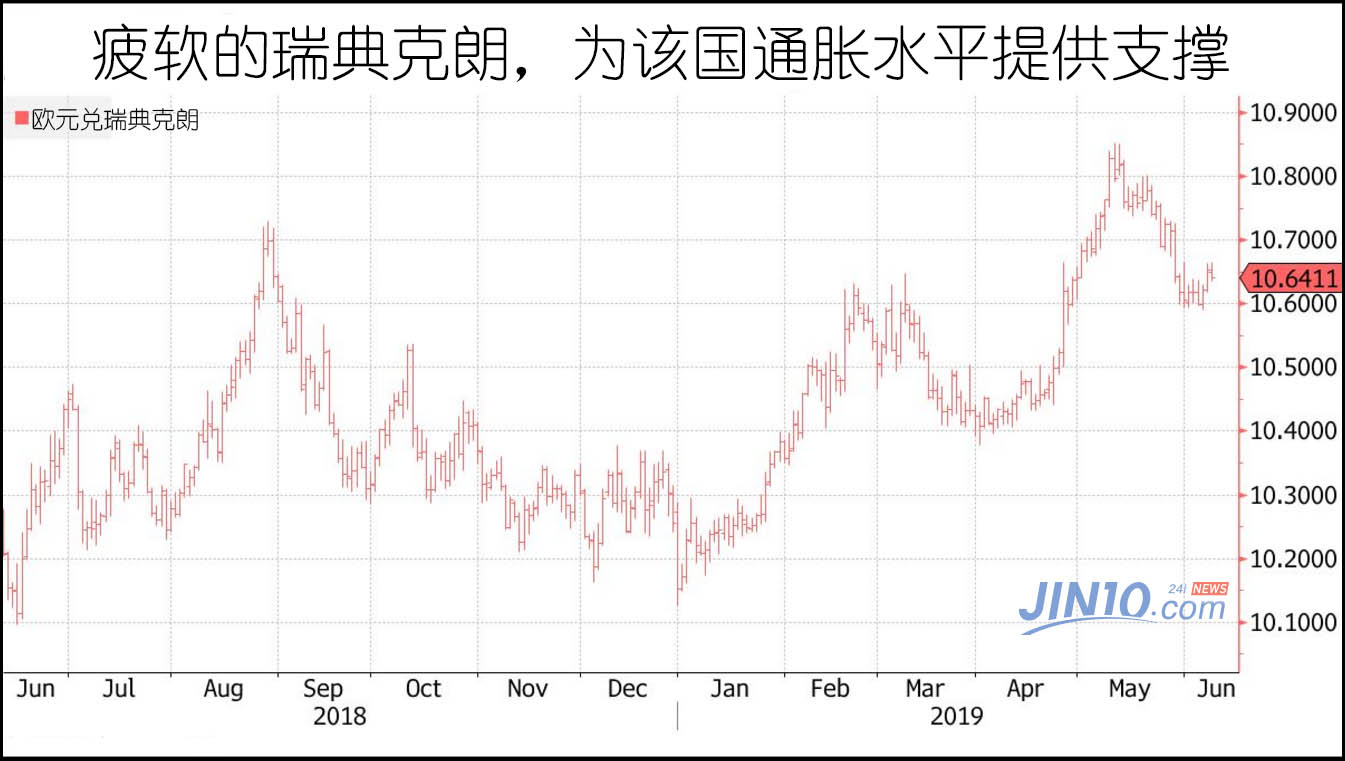 But as trade disputes slow global growth and other major central banks, including the European Central Bank, restart their stimulus packages, the obstacles surrounding the Swedish central bank are accumulating, and the weakness of the krona will help inflation. It's only a drop in the bucket. Just before the inflation data came out, a group of investment banks and analysts could not wait to make pessimistic forecasts and said the wave of interest rate cuts by central banks around the world would have a serious impact on Sweden.
Among them, Tobijoen Isaksen (Torbjorn Isaksson), chief analyst at the Nordic bank, said that if inflation fell to a low of 1 per cent after the summer, the central bank would probably not be able to raise interest rates again in this cycle. Isaksen analyzed:
"in this globalized world, the interaction between the monetary policies of central banks is so great that it is difficult for inflation to rise in terms of the current global structure. Sweden's economy has been globalized, which has had a considerable impact on GDP, productivity and inflation. I think inflation will fall later this year, that is, in the fall, and will be much lower than the Swedish central bank's forecast. "
In its latest analysis, the capital economy (Capital Economics) argues that central banks should pay more attention to the level of core inflation. The analysis points out that weak economic growth has curbed core inflation and that the Bank of Sweden is expected to maintain current interest rates until at least 2022. David Oxley (David Oxley), a senior European economist, also said there really did not seem to be any signs of recovery in terms of core inflation measures.
But what should be most frustrating for the central bank is that his family has given up hope of raising interest rates, said Johan Lov (Johan Lof), an economist at the Bank of Sweden.
"it is clear that the level of potential inflation will not meet the expectations of the Bank of Sweden. We expect inflation to deteriorate slowly, eventually forcing the Bank of Sweden to cancel its plan to raise interest rates. "
Although Mr Inves is still struggling, he told reporters in an interview in Paris last week that recent domestic data were "broadly in line" with expectations and that Sweden had its own independent monetary system and monetary policy. The central bank is confident that it will avoid interference from external factors. But the SNB still cannot ignore the impact of the actions of other central banks-especially if the Fed does start cutting interest rates in June, which will put unprecedented pressure on other central banks around the world. All in all, in such an environment, I am afraid it will not be so easy for Sweden to say goodbye to the era of negative interest rates once and for all.