SMM Network News: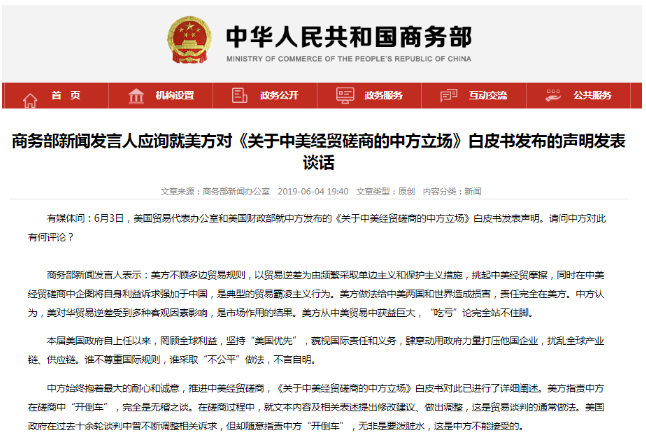 Some media asked: on 3 June, the Office of the US Trade Representative and the US Treasury issued a statement on the white paper "China's position on Sino-US Economic and Trade consultations" issued by the Chinese side. How does China comment on this?
A spokesman for the Ministry of Commerce said: in defiance of multilateral trade rules, the US side frequently adopted unilateralism and protectionist measures on the grounds of trade deficit to provoke Sino-US economic and trade frictions. At the same time, it is a typical act of trade hegemonism to attempt to impose its own interests on China in the Sino-US economic and trade consultations. The responsibility lies entirely with the US side for causing damage to China, the United States and the world. The Chinese side believes that the US trade deficit with China is affected by a variety of objective factors and is the result of the role of the market. The US side has benefited greatly from Sino-US trade, and the theory of "suffering losses" is completely untenable.
Since taking office, the current US government has ignored global interests, adhered to the "United States first", defied international responsibilities and obligations, wantonly used government forces to suppress enterprises in other countries, and disrupted the global industrial chain and supply chain. It is self-evident who does not respect international rules and who adopts an "unfair" approach.
The Chinese side has always held the greatest patience and sincerity to promote Sino-US economic and trade consultations, which has been elaborated in the White Paper "China's position on Sino-US Economic and Trade consultations." It is completely nonsense for the US side to accuse the Chinese side of "driving backwards" in the consultations. In the course of consultations, it is common practice for trade negotiations to propose changes and adjustments to the content of the text and related expressions. The US Government has repeatedly adjusted the relevant demands in the past 10 rounds of negotiations, but it has casually accused the Chinese side of "driving backwards", nothing more than splashing dirty water, which is unacceptable to the Chinese side.
China has always believed that the differences and frictions between the two sides in the field of economy and trade need to be resolved through dialogue and consultation. However, consultations are based on principles and need to be based on mutual respect, equality and mutual benefit. Such negotiations will not succeed if one party does not respect the sovereignty and core interests of the other and wants to pressure the other to make concessions in order to achieve an outcome that is only in its own interests. It is hoped that the US side will abandon its erroneous practices, move in the opposite direction with the Chinese side, manage differences, strengthen cooperation, and jointly safeguard the healthy and stable development of Sino-US economic and trade relations in the spirit of mutual respect, equality and mutual benefit.