SMM6 4-month news: recently, according to SMM research, the recent four stainless steel enterprises began to overhaul, according to statistics, steel mill maintenance in June to 200 series of stainless steel, is expected to affect the output of 50, 000 tons. It is understood that the steel mill side is difficult, the guidance price is reduced, some agents secretly drop the shipment, but the downstream demand is weak, the transaction has not been improved, 300 series steel plants do not have a large-scale maintenance plan.
The following is a survey of stainless steel enterprises surveyed by SMM: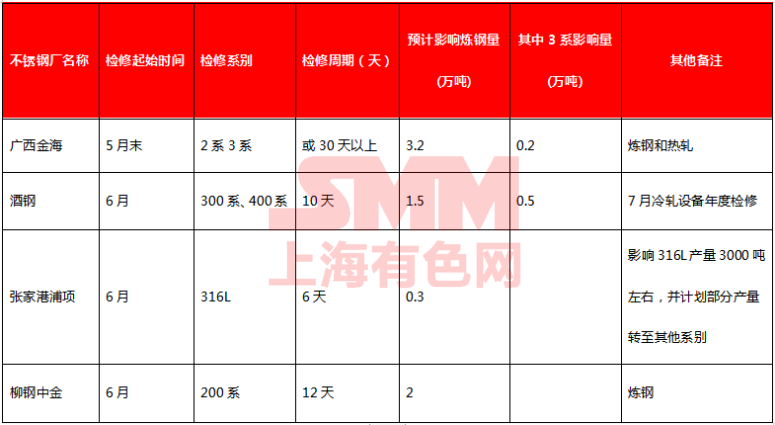 According to SMM, stainless steel prices were stable and weak in May, steel mills struggled to push prices, guidance prices were lowered, and some agents secretly fell to ship goods, but downstream demand was weak and transactions did not improve. At the end of May, the small circular reduction of social inventory in Wuxi was mainly due to the weak market terminal demand. Although some agents signed long agreements with steel mills, based on the capital pressure at the end of the month and the bearish market, at present, the net consumption is dominant, and the inventory in some steel mills is increased. There is a lot of pressure on sales.
In June, the maintenance of stainless steel plant is mainly 200 series, SMM is expected to affect the output of 50, 000 tons; There is no large-scale maintenance plan in 300 series stainless steel plants, because the 200 series is dominated by low nickel iron and scrap production, the impact of 200 series maintenance and production reduction on nickel prices is limited, the nickel fundamentals are still weak, and the general direction of nickel prices continues the weak pattern.