SMM News: Zion Market Research, an international market research organization, recently released a report on the global armored cable market, saying that the global armored cable market demand in 2018 is US $29.806 billion and is expected to reach US $41.587 billion by 2025. The compound annual growth rate for the period 2019-2025 was 4.9 per cent.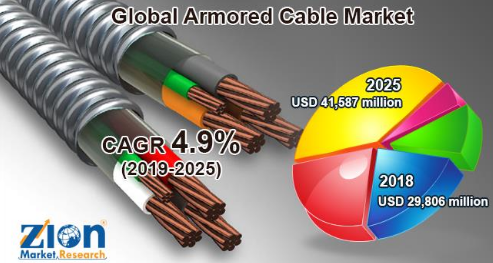 According to the report, the high demand for armored cables in the oil and gas industry is the main driver of global market growth. These cables are designed for use in the oil and gas industries, such as petrochemical and natural gas exploration, exploitation, production and refining. However, the global cable and wire industry and the periodicity of materials could be the main challenges facing the market.
From the type of armored materials, aluminum, stainless steel and other (copper, brass, etc.) materials, stainless steel occupies a large share of the market, and is expected to occupy a dominant position in the future. In underground applications in the manufacturing and transmission industries, the growing preference for durable cabling solutions is expected to drive growth in this segment in the coming years. At the same time, the growth trend of light electric vehicles in the global automotive industry will boost the demand for aluminum-based armored wires.
From the type of armour, the market includes interlock and continuous corrugated welding (CCW). It is estimated that continuous corrugated welding (CCW) will occupy the main share of the market during the forecast period. The low installation cost of CCW is driving its application in the oil refining industry. Increased investment in global offshore production platforms, refineries, liquefied natural gas facilities and petrochemical processing plants is expected to drive future demand for CCW armored cables.
According to the type of cell, the global armored cable market is divided into two types: single-core and multi-core. The multicore component is expected to show a considerable compound annual growth rate in the coming years, as it is easy to handle, flexible and cost-effective, which promotes the demand for a variety of industrial applications and increases the preference of end-users.
From an end-user point of view, global armored cable applications include construction, natural gas and oil, manufacturing, mining, communications and others (aerospace, chemical, etc.). The natural gas and oil industries contribute a major share of revenue and are expected to show a high compound annual growth rate over the forecast period. Major manufacturers in the oil and gas industry are increasingly investing in advanced manufacturing and processing technologies to reduce production costs and increase production, which in turn will boost demand for armored cables in the industry.
According to the regional market, the armored cable market in the Asia-Pacific region accounts for the main share of global revenue in 2018, with the increasing investment in infrastructure markets in China, India, ASEAN and other countries. The Asia-Pacific region is expected to continue to dominate the market by 2025.