SMM5, 23 March: according to the data just released, the initial value of Markit manufacturing PMI in Germany in May was 44.3, with an expected value of 44.8, while the initial value of Markit manufacturing PMI in the euro area in May was 47.7, the previous value was 47.9, and the forecast was 48.1. France in May Markit manufacturing PMI initial value of 50.6, the previous value of 50, expected 50. Germany's final GDP for the first quarter, announced at two points, was flat, up 0.6% from a year earlier and 0.4% from a month earlier.
French manufacturing PMI rebounded, Germany continued to decline, while Germany's IFO business sentiment index also fell to 97.9 in May, the lowest since 2015, and the German economy has been declining from bad to no improvement since 2019.
Germany's GDP was-0.2% in the third quarter of last year and 0 in the fourth quarter, nearly falling into a technical recession. It rebounded in the first quarter of this year. By contrast, the performance of PMI in the manufacturing industry has been too bad. It has plummeted since 2018, which is a bit terrible. The following chart shows the trend of manufacturing PMI in Germany in the past five years.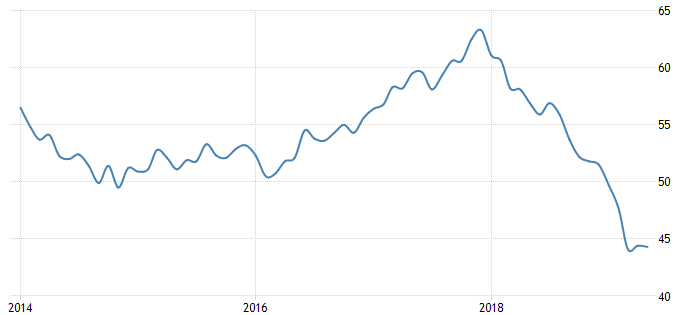 On February 7 this year, the EU also cut its forecast for German GDP growth in 2019 from 1.8 per cent to 1.1 per cent. By May 7, the EU had cut its forecast for German GDP growth in 2019 from 1.1 per cent to 0.5 per cent for just one quarter. The German economy is expected to halve again, and Germany has awkwardly become the second-slowest country in the euro zone, with Italy at the bottom, one of the five European pig countries, with an economic forecast of just 0.1%.
After the data, Williamson, chief economist at Markit, said the further decline in the market confidence index suggested that the economic environment was likely to continue to deteriorate in the coming months. Weak sales, concerns caused by geopolitical uncertainty and uncertainty facing the auto industry are all factors of concern. He noted that the figures showed that Germany could record 0.2 per cent of GDP in the second quarter, compared with 0.1 per cent in France. But growth in the rest of the euro zone is a more worrying issue.
IFO, a German think-tank, commented that the German economy lacks growth momentum, export momentum is very weak, the uncertainty surrounding business remains high, and consumption and construction remain the two pillars of the German economy. IFO, a German think-tank, does not expect the ECB to respond to the German economic situation, but will discuss Germany's stimulus package after the EU elections.