SMM News: during this period of time, many rare earth permanent magnet concept stocks in A shares rose sharply, but all of them were more fierce than Chinese rare earths (00769) in Hong Kong stocks. When the Hong Kong Hang Seng Index rose and fell 0.5 per cent, it fell 0.5 per cent. China's rare earths (Hong Kong stocks) rose 108% today and rose 130% at one point in intraday trading.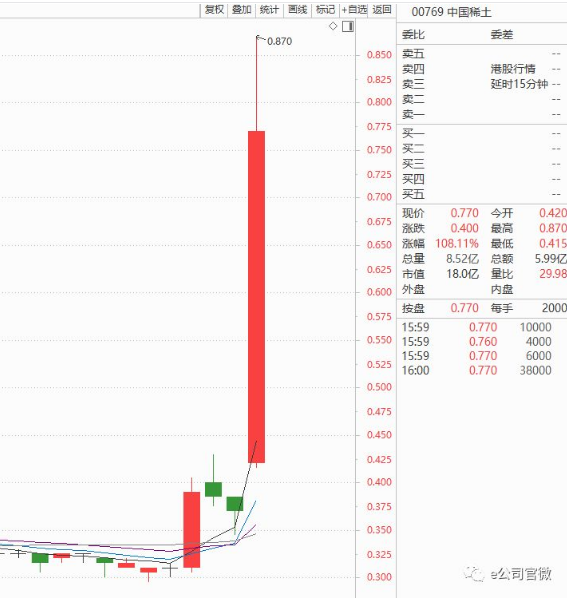 The name is often demagogue, the whole A-share, the most domineering rare earth name is the northern rare earth, Chinese rare earth gives people a kind of national character, has the resource and the market, alone the world feeling, In fact, this is an early Hong Kong-listed rare earth processing and refractory production company, in the rare earth industry has been marginalized. But the money taken by Hong Kong stocks is higher than the current market value.
Jiang Quanlong, the founder of Yixing, Jiangsu province, which is famous for its purple sand pots, sent a small factory in a local township to the Hong Kong Stock Exchange on October 15, 1999, and renamed it China's rare earths. The story of rare earths told in those days has been told in the capital markets to this day.
loss-making
"if nothing happens, China's rare earths (00769) can make a profit this year." In April last year, Qian Yuanying, chairman of China's rare earths board of directors, told reporters who came to interview. Qian Yuanying is Jiang Quanlong's wife.
This year, China rare Earths reported revenue of HK $902 million, up 42 per cent from a year earlier, a loss of HK $5.42 million and a gross profit margin of 7 per cent, up 3 percentage points from a year earlier. In terms of gross profit margins, this is a less profitable industry that has nothing to do with high technology.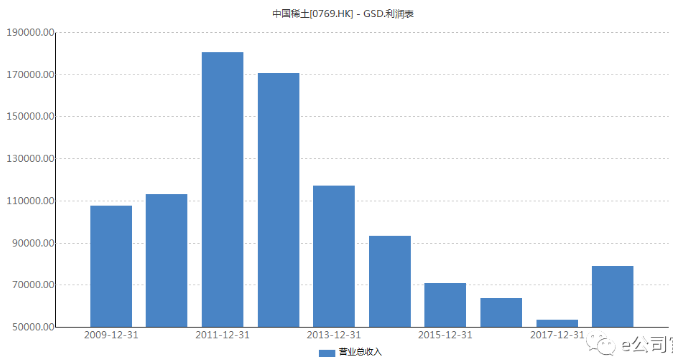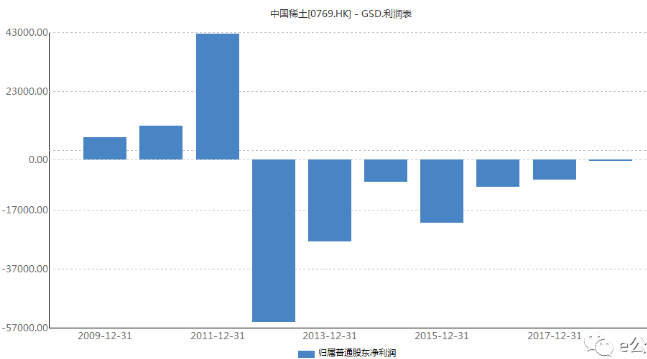 Market prices for refractories rose last year, with refractory revenues of about HK $348 million, up about 39 per cent from a year earlier, and gross profit margins rising to about 22 per cent. Revenue from the rare earths division was about HK $555 million, up about 43 per cent from a year earlier, and the company sold about 1600 tons of rare earth oxides in 2018, more than 15 per cent less than a year earlier.
The gross profit margin of refractories is 22% and the overall gross profit margin is 7%, that is to say, the gross profit margin of the rare earth part of the company is much lower than that of refractories.
Since the price of rare earths rose tenfold in 2011, the state has carried out a crackdown on the rare earth industry, and later integrated rare earth resources into six major companies. China's rare earths, which do not have resources, have in fact been marginalized.
Revenue from rare earths in China fell continuously from 2012 to 2017, with total revenue falling 69.7 per cent from HK $2.1 billion to 637 million yuan, according to the data. The loss was as high as 670 million yuan in 2012, but then narrowed to a loss of 84.78 million yuan in 2017. Revenue and profits improved in 2018, but gross margins were still very low.
In an interview with the media last year, Qian Yuanying said that the reason why it is certain to make a profit is that China has gained the right to import rare earths from overseas, so that the current production capacity of 5200 tons can be fully utilized. At present, the production of rare earth raw materials is strictly monitored, and imported rare earth minerals are not included in the mandatory plan. In 2017, China received only 1780 tons of rare earth production quota, a serious mismatch with 5200 tons of production capacity. Only 200 tons of rare earths were produced per month in the first two months of 2018.
Last year, China's imports of rare earth minerals more than doubled in the world, becoming the world's largest importer of rare earths. The two largest importers are Myanmar and the United States. At present, the Tengchong Customs in Yunnan, which Myanmar imports, has been closed. China is still imposing a 25 per cent tariff on US imports, which is bad for Chinese rare earths that use imported minerals.
Financing is higher than market value
After doubling today, the market value of rare earths in China is HK $1.8 billion. In other words, the market value of rare earths in China had been around HK $900 million for a long time. In fact, the market value of rare earths in China once reached HK $10 billion.
Statistics show that since 2006, China's rare earths have lost a total of 341 million Hong Kong dollars and paid 175 million yuan in dividends, while the placing of shares has raised more than 2 billion Hong Kong dollars and IPO has raised 122 million Hong Kong dollars, that is to say, money taken by Chinese rare earths from the capital market. It is also higher than the market value after doubling the current market value.


Given that China's major rare earth shareholders still have a large stake, it can be said that retail investors have long been used as pumps.
At the same time, the Jiang Quanlong family enjoyed a lot, parents to gamble, children to play luxury cars.
For example, in 2017, Marina Bay Sands Pte.Ltd, the operator of a Singapore entertainment establishment, filed a lawsuit in Hong Kong High Court, claiming S $18.89 million (about HK $108 million) in gambling debts from Jiang Quanlong. The complaint alleges that Jiang Quanlong owed a total of S $22.44 million (about HK $128 million) in gambling debts to a entertainment venue in Singapore between August and October 2014, but only part of the debts were repaid afterwards, and HK $108 million of gambling debts were still outstanding.
Jiang Quanlong's youngest son, Jiang Xin, is also a flirt. Jiang Xin is a member of HAC's top club. He has nearly 15 top luxury cars, such as Bugatti, Pagani's son, Pagani 760RS, Rolls-Royce Phantom, etc., with a total value of nearly 200 million yuan. Some people calculated that, based on China's most expensive rare earth, 3500 yuan a kilogram of "terbium", it would cost 57 tons to sell up to 200 million tons. Among them, the Pagani 760RS, a car sells for 41 million. Jiang Xin married an actress as his wife and has a rich love history.
Jiang Xin's meal last year caused a sensation. In the western suburbs of Shanghai, a table on the 5th cost 410000 yuan, eight people, and more than 20 dishes. Jiang Xin later called it a treat to the prince of Dubai.
False accounting storm
Shortly after the listing of rare earths in China, there was false accounting news.
Jiang Quanlong was born in 1952. Jiang Quanlong actually had only four and a half years of study experience. He began to work in a local refractory factory in Yixing around 1972. Qian Yuanying once claimed that her husband was "an expert on fire resistance in the 1980s." In 1982, Jiang Quanlong went to Kaifeng, Henan Province for development.
Jiang Quanlong showed his talent for doing business. In 1984, Jiang Quanlong and Qian Yuanying returned to Yixing with a capital of 3000 yuan, sha, and founded the collective enterprise Yixing Magnesia Refractory Factory, which wore a red hat, and transferred to the rare earth industry in 1987. Set up Xinwei separation plant; Yixing rare earth smelter was established in 1988. In the 1990s, Jiang Quanlong set up several companies and began to dabble in the environmental protection industry. In 1994, Xinwei Group was established.
When it comes to listing, Qian Yuanying said that at that time, the development of the group encountered capital bottlenecks. Jiang Quanlong found it very difficult for private enterprises to obtain bank loans at that time. At this time, some "capital market" friends suggested listing in Hong Kong. Chiang thought it was a good idea. The "rare earth concept" is popular in Hong Kong, and around November 2002, the Hong Kong Stock Exchange received a letter of complaint about the company, alleging that China's rare earths were false. At that time, the fraud of Eurasian agriculture chilling the Hong Kong market, China's rare earths also caused great shock, a number of accounting firms quit their audit business. There are also media reports that Jiang Quanlong and his wife mysteriously disappeared and fled to Australia. Later, Jiang Quanlong appeared to break the rumors, saying that he had indeed been to Australia, but only to talk about cooperation.
A shares of Chinese rare earths
A shares are also likely to usher in a Chinese rare earths. The rare Earth Plate, a subsidiary of Chinalco, disclosed its prospectus in June last year, fully named China rare Earth Co., Ltd., and plans to issue no more than 170 million shares on the Shanghai Stock Exchange. After the issue, the total share capital does not exceed 1.53 billion shares, and the sponsor is Citic Securities.
China rare Earth is the only platform for Chinalco Group to engage in the development, smelting and deep processing of rare earth mineral resources. It is one of the six large rare earth enterprise groups set up by the relevant state departments for the record. Chinalco directly owns 52.96 per cent and indirectly controls 14.62 per cent through Chinalco, with a holding of 67.58 per cent. From 2015 to 2017, the operating income of rare earths in China was 2.184 billion yuan, 3.39 billion yuan, 4.657 billion yuan, respectively, while the net profits for the same period were 117 million yuan, 89 million yuan, and 196 million yuan, respectively. In addition, the combined gross profit margins of China's main rare earths are 14.33%, 9.28% and 12.04%, respectively.