SMM, May 21 / PRNewswire-Asianet /-
At about 08:15 on the evening of April 21, a white Tesla car in an underground garage suddenly burst into smoke within seconds and ignited several cars next to it. Less than a month later, there was another spontaneous combustion of Tesla Model S in Hong Kong on May 12. 30 minutes after a Tesla Model S electric car was parked in the parking lot of San Pugang Square, it suddenly caught fire and closed-circuit television footage showed that the car exploded three times during the combustion process.
Coincidentally, Weilai car and Tesla also experienced the "fire incident" in a very similar period of time. On the afternoon of April 22, a ES8 under repair burned at the Weilai authorized Service Center in Xi'an. The ES8 was so badly damaged that the frame almost burned out. On the afternoon of May 16, there was smoke from a Weilai ES8 near Anli Road, Jiading District, Shanghai.
The spontaneous combustion of new energy vehicles has once again entered the public field of vision, and the safety of power batteries has once again been focused on.
According to public information, there were 59 new energy vehicle fire accidents in China from January 2016 to December 2018. Among them, 33 new energy passenger vehicles and 26 new energy commercial vehicles caught fire. From the beginning of 2018 to June 2018, there were a total of 6 new energy battery vehicle fires in China, but the number of fires increased significantly from June to August, with a total of 13 fires, indicating that the fire time of new energy vehicles was mainly concentrated in summer. In a number of fire models, Tesla, BAIC new energy and other domestic and foreign well-known brands of pure electric vehicles are on the list. After counting the causes of fire in new energy vehicles, we can see that the situation of charging spontaneous combustion is the most common.
Data source: SMM, Ministry of Industry and Information Technology
As early as January 10 this year, the Ministry of Industry and Information Technology has issued three mandatory national standards for the automobile industry, namely, "Safety requirements for Power batteries for Electric vehicles," Safety requirements for Electric vehicles, "and" Safety requirements for Electric passenger cars. " Clear requirements are made for the relevant rules related to the safety of new energy vehicles.
The frequent occurrence of accidents has obviously aroused the national attention to the safety performance of the new energy industry.
On May 10, the Ministry of Industry and Information Technology held a teleconference on strengthening the safety management of new energy vehicles. It was mentioned at the meeting that the recent safety accidents of new energy vehicles have shown a trend of frequent occurrence, and the whole industry must attach great importance to it, speed up the establishment of a comprehensive safety guarantee system, and improve the safety level of new energy vehicles.
On May 15, the Ministry of Industry and Information Technology announced the main points of standardization of new energy vehicles in 2019. Among them, in the field of electric vehicle safety, it is proposed to complete the post-collision safety, charging connection safety and power battery management system functional safety standards of electric vehicles, and to complete the technical review of fuel cell electric vehicles safety standards. To carry out the implementation of the three mandatory national standards of "Safety requirements for Electric vehicles", "Safety requirements for Power batteries for Electric vehicles" and "Safety requirements for Electric passenger cars".
According to SMM, accidents frequently superimpose policy guidance, and at present, the new energy vehicle industry attaches unprecedented importance to safety, and models with a fire rate of 4/10000 will be forced to recall. If the situation is serious, you will face the penalty of being directly cancelled from the recommended directory. The power battery in the core three power plants of new energy vehicles naturally needs to be checked more strictly and carefully for technical safety, which also leads to a further slowdown in the current development process of high nickel triple.
According to SMM, the output of ternary materials in China was 18880 tons in April, an increase of 52.6 percent over the same period last year.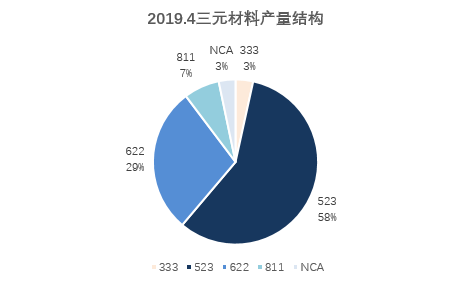 Data source: SMM, Ministry of Industry and Information Technology
On June 25, 2019, the transition period of the new energy subsidy policy officially ended. According to the changes in industry policy this year, coupled with the Tesla fire rekindled concerns about safety performance, battery factory orders were generally reduced. SMM expects demand for upstream cathode materials and smelters to weaken, while some of the high nickel ternary capacity will shift to the production of 5-series and 6-series materials. The output of lithium iron phosphate was 7910 tons, an increase of 70.1 per cent over the same period last year. Taking into account the extension of the transition period for new energy buses to August 7, there will still be further space for lithium iron phosphate on buses. With the transition period of superimposed new energy passenger vehicles approaching, the application scenario of lithium iron phosphate with cost and safety advantages is expected to continue to infiltrate, such as low mileage passenger car market, special purpose vehicle market and so on. We expect demand for lithium iron phosphate to recover in the second quarter.
SMM Cobalt Lithium Research team
Hu Yan 021 51666809
Hong Lu 021 51666814
Ning Ziwei 021 51666780
Qin Jingjing 021 51666828