SMM5, 21 March: influenced by the contents of an interview with CCTV by Huawei founder Ren Zhengfei in the morning, Huawei's concept and domestic chips rose one after another in early trading, showing a happy scene. The 5G plate rose weakly, and the heat of the A-share rare earth plate did not decrease. Open high in the morning. Early trading stock index opened low, stimulated by the major hot plates, near noon, by Hong Kong stocks Chinese rare earths affected by a number of rare earth stocks rushed to the limit, 5G also rose with the market, the afternoon market high consolidation. Rare earth concept stocks broke out today, the plate set off a tide of trading; colleges and universities, food safety, hydrogen energy and other sectors have been shown, subject stocks significantly warmer, stocks rose, nearly 100 shares rose by the limit.

The three major A-share indexes strengthened today, with the Prev up more than 1 per cent to recover from the 2900 mark. Specifically, the Prev index rose 1.23 per cent to close at 2905.97 points, the Shenzhen Composite Index rose 1.92 per cent to close at 9087.52 points, and the gem index rose 1.66 per cent to close at 1493.72 points. The market turnover is still low, with a total transaction of 479.5 billion yuan in the two cities. Industry sector rose across the board, rare earth permanent magnet plate set off a wave of ups and downs, Huawei-related concepts floating red.
Plates and individual stocks
China's rare earth gains in Hong Kong stocks expanded to 130 percent, the biggest gain in a day since listing, leading to the collective strength of rare earths in A shares, the explosion of rare earth permanent magnet plates across the board, and the sealing of Sanchuan Wisdom and Jinli permanent magnets. Ningbo Yunsheng, northern rare earths, Zhenghai magnetic materials and other plates in excess of 20 shares.
Recently, the world's first brain-computer interface special chip was officially released, successfully breaking the monopoly of the United States; Huawei concept is slightly divided, Shida Group rose by the limit, Sanchuan Wisdom, Chengmai Technology, New Asia process three boards; Xingsen science and technology, should pass the century to blow up the board one after another.
Major capital inflows into the top 10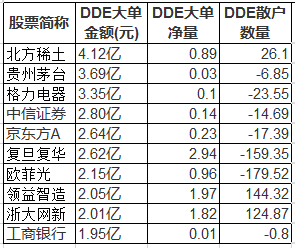 Top 10 outflows of main funds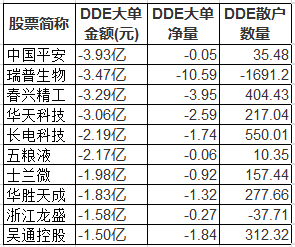 Capital flow
The main net inflow into the industry plate top five: non-ferrous smelting processing, optical and optoelectronic, securities, aquaculture, coal mining and processing
Main net inflow concept plate top five: margin financing, MSCI concept, Shenzhen Stock Connect, Shanghai Stock Connect, annual report pre-increase
The main net inflow into the top 10 stocks: Ruipu Biology, Jingfang A, ZTE, Gree Electric, Baogang shares, New Hope, iFLYTEK, Northern rare Earth, Renhe Pharmaceutical, Guizhou Maotai

Review of abnormal movement
Rare earth magnetic material plate continued to rise, Sanchuan wisdom, gold permanent magnet board, Yingluohua, Ningbo Yunsheng, Zhenghai magnetic material opened sharply
ST Kangmei fell by the limit, sealing more than 2.5 million hands. According to the news, Kangmei Pharmaceutical was warned of other risks.
Pig raising plate opened stronger, Guanghong holding rose 4%, new hope, Tianbang shares, Zhengbang science and technology have strengthened one after another.
Huawei concept is greatly divided, Shida Group single seal dead word rise limit, Sanchuan wisdom three consecutive boards, and Ruifeng optoelectronic seconds fell limit, Oriental Zhongke, Huaxing entrepreneurship plummeted
5G plate strengthened again, Oriental Communications second Board, Dongxin Peace rose 9%, vertical and horizontal communications, Bay Communications have strengthened one after another.
The college plate is strong, Fudan Fuhua board, Zhejiang University net is up 8%, China Science and Technology, Tongji Science and Technology, Peking University Medicine have been promoted one after another.
Huawei Hayes plate warmed up, Chengmai Technology and Xingsen Technology both closed the limit, Taijing Technology and Zhongke Chuangda warmed up slightly.
All three indexes rose more than 1 per cent, with the Prev index back to 2900.
5G plate burst, ZTE pulled sharply, up 6%, Fuchun shares, Yitong Century, Wu Tong Holdings, China Unicom and other collective pull up
Rare earth plate pulled sharply, North Coal Mine science and technology rose 7%, Koli far, Minmetals rare Earth, Northern rare Earth, Galaxy Magnet, Sheng and Resources and other collective pull up
Rare earth magnetic material plate broke out in the afternoon, Minmetals rare earth, Zhenghai magnetic material, Dehong shares, north mine science and technology and other collective sealing plates, Guangsheng non-ferrous, gold permanent magnet, galactic magnet have soared
Fuel cell plate warmed up in the afternoon, Sinosteel Tianyuan impact limit (superimposed rare earth), Antai science and technology, Koliyuan, CLP Xingfa, snowman shares and other collective strength
Iron ore plate rose in late trading, Jinling Mining rose 8%, Hongda Mining, Hainan Mining, Hebei Xuangong have strengthened
Today's message
[China plans to start 5G commerce nationwide from October 1] ZTE sources say China plans to start 5G commerce nationwide from October 1, with base stations on the mainland to be provided by Huawei, ZTE and Ericsson.
Ren Zhengfei spoke to CCTV at Huawei headquarters. Ren Zhengfei: the "90-day temporary license" in the United States does not mean much to us. We are ready, but we are very grateful to American enterprises. They have made a lot of contributions to us, and many of our consultants come from American companies such as IBM.
People's Daily overseas version: good toughness, full potential, vitality of China's economy is expected to be stable! On average, about 7 patents are filed per minute, more than 200000 people travel by high-speed rail per hour, and about 18600 enterprises are newly registered every day. These are gratifying figures for China's economy at the moment. The external environment is still complex, but the resilience, potential and vitality of China's economy have added certainty to the unstable external environment and injected a strong agent into the main body of the market. As the international situation changes, China's economic expectations remain stable. (People's Daily overseas Edition)
[Goldman Sachs: keep Ah shares above the target of 4300 points in Shanghai and Shenzhen in December] Goldman Sachs analyst Kinger Lau said that given the flexibility of China's policy, stable profit trends, lower valuations and lighter positions for investors, To maintain the overallocation of Chinese A-shares and H-shares in the regional allocation, the CSI 300 and MSCI China index have about 20 per cent upward space respectively. Goldman Sachs also noted that the CSI 300 index had a target of 4300 points in December, while the MSCI China index had a target of 94 points.
Today's institutional point of view
CICC pointed out that the recent correction in the capital markets may absorb the US $200 billion tariff on exports to the United States, and the remaining tariffs on exports to the United States have yet to be fully digested. The short-term and medium-and long-term effects of the spread of trade frictions to export restrictions on scientific and technological products may need to continue to adapt. In this context, industrial autonomy in key areas and domestic substitution-related enterprises are expected to receive attention, especially in technology (hardware and software), military industry, medicine and some manufacturing-related areas related to industrial safety attributes.
Lianxun Securities said that the market adjustment will be the main theme of the future period of time, is likely to run through the second quarter. The market is expected to adjust in the range of 2730 to 3050. In such a market environment, investors are advised to properly control their positions and choose defensive plates with low valuation and high performance certainty as far as possible.
Haitong Securities said that the market further downward space is limited, Prev is expected to still be 2830 to 2960 points around the box shock. At the same time, with the approach of May 28, MSCI will increase the A-share inclusion factor from 5% to 10%, northward funds are expected to intervene again, there is still a good positive impact on the financial side. Therefore, at this stage, investors are advised not to be too pessimistic. In operation, continue to maintain a cautious attitude in the short term, look at less movement and wait for opportunities to prepare for intervention on the low; the middle line will continue to choose the gradual layout of high-quality targets.
Shanxi Securities said that in the short-term dimension, the bottom position allocation fundamentals are solid, the policy preferential treatment, the more performance improvement certainty, has the hedge risk factor plate (petroleum and petrochemical, chemical industry, agriculture, forestry, animal husbandry and fishing, etc.); Offensive positions can game national policy support of strategic emerging industries, such as small and medium-sized disk shares (chip, 5G, information security, cloud computing, etc.) overshoot rebound market.