SMM News: nearly a month and a half, zinc prices continue to decline, 20, Shanghai zinc main contract down to 20550 yuan / ton, refresh more than 4 months low, almost spit back the increase so far this year. Over the past 19 years, the price of zinc has risen first and then fallen sharply, the root of which is that the logic behind it has changed. On the one hand, domestic and foreign zinc concentrate processing fees all the way up, high profits stimulate mine supply gradually loose; on the other hand, macroeconomic clouds, demand is not good, foreign inventory skyrocketed, zinc prices lost the support of low inventory.
The current basis difference of spot zinc price is further expanded in the period of falling market.
On May 20, the zinc smelter slightly cherished the sale, due to the expiration of the long order this week, the trading director single trading is more active, but the acceptance of high-priced consignors is low. Spot zinc quotations in the domestic mainstream market generally fell 180 to 220 yuan / ton, while the futures price fell sharply by 420 yuan / ton compared with yesterday. As a result, the current base spread expanded to 1140 yuan / ton.

Zinc concentrate processing fee remains high, supply of zinc market increases in medium and long term
As of May 17, the average price of zinc ore processing fees in the southern region was 6350 yuan / ton, which was maintained at this high level for one and a half months in a row, while the average price of zinc ore processing fees in the northern region was 6850 yuan / ton, which was unchanged from the previous week and 100 yuan / ton lower than that of the previous month. The processing fee for imported ore bulk orders is US $270 to 310 US dollars per dry ton, which is unchanged from the previous week. Since the second half of 2018, the processing fees for zinc concentrate at home and abroad have been rising all the way. Stimulated by high profits, domestic smelting capacity has been released rapidly. However, the bottleneck of domestic zinc smelting has been difficult to solve, superimposed refineries stop production and maintenance, and the growth rate of zinc production has failed to be realized. China's zinc production fell 0.4 per cent in April from a year earlier to 465000 tons, according to the National Bureau of Statistics. It is expected that the supply growth rate of the medium-and long-term zinc market will change from negative to positive.

Poor demand performance, low zinc inventory more than doubled
Stocks of zinc have rebounded since bottoming out in early April, more than doubling in more than a month to as high as 105400 tons. The inventory rally has been suspended for nearly a week, fluctuating at a high level in the past three months. As of 20 May, there were 104850 tons of zinc in stock.
Shanghai zinc stocks fell for nine weeks to 68808 tons, a more than three-and-a-half-month low.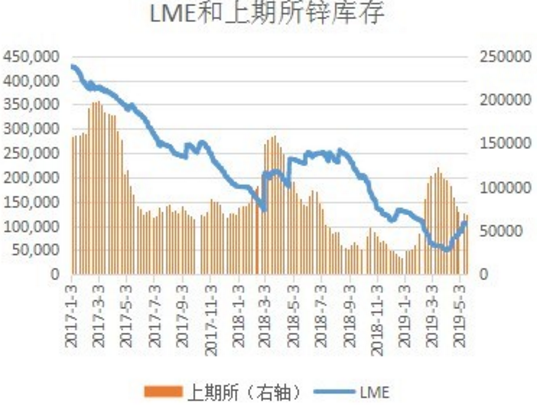 The game between long and short sides is fierce. Yongan reduces short positions and increases long positions.
Shanghai zinc main contract more than 1907 empty dragon and tiger list of the top 20 positions, today, long and short sides have increased their positions by more than 8, 000 hands, the number of short positions is slightly larger than that of bulls, the power gap between long and short is narrowed, and the power of bulls is still better. Yongan Futures, which has attracted much attention, increased its position by 1472 hands in the long direction and reduced its position in the short direction by 679 hands.