Since the Spring Festival in 2019, the price of electrolytic aluminum accessories has plummeted, falling from a record high of 12000 yuan per ton before the festival to around 8300 yuan per ton in early May. However, there are clear signs of a rebound in the price of aluminum fluoride.
Aluminum fluoride price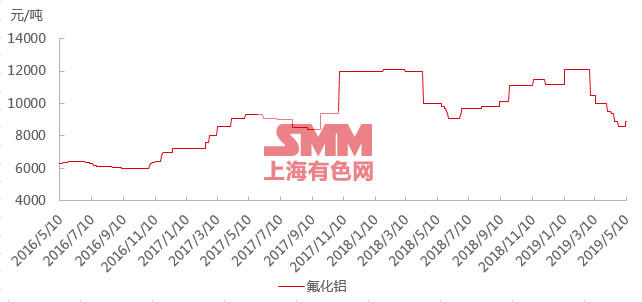 First, although the price of 8300 yuan / ton was closed at the beginning of May, the quotation of aluminum fluoride in fluorine chemical enterprises has basically returned to 9000 yuan / ton since the middle of May, and enterprises generally believe that the price of aluminum fluoride will rise by more than 9000 yuan / ton in June.
Second, the cost of aluminum fluoride has increased significantly. The demand for refrigerants increased in May, and the price of HF rose from 9000 yuan / ton to more than 10000 yuan / ton, resulting in the arrival price of fluorite powder rising from 2800 yuan / ton to 3000 yuan / ton. At the same time, alumina production capacity has been reduced by about 2.95 million tons due to the red mud problem in Guangxi recently, resulting in alumina prices rebounding to about 3000 yuan / ton from a minimum of 2700 yuan / ton in early April.
Third, after April, the rise in electrolytic aluminum prices has turned the average level of the industry from loss to profit, and the operating capacity of electrolytic aluminum has changed from a net reduction to a net increase in production, although the production of new and resumed production capacity has been slow, mostly in the third and fourth quarters. But demand for aluminium fluoride is still growing. At the end of the year, the inventory of auxiliary materials in electrolytic aluminum enterprises has decreased more, and there is also a certain willingness to replenish the warehouse.
Taken together, aluminum fluoride prices are likely to bottom out in June, enterprise quotations are expected to rise to about 10000 yuan / ton, the actual transaction will also rise to 9000 to 9500 yuan / ton.
(Shanghai Nonferrous net is easy to shine)