SMM, May 19 / PRNewswire-Asianet /-
List of capacity expansion of nickel pig iron in Indonesia in 2019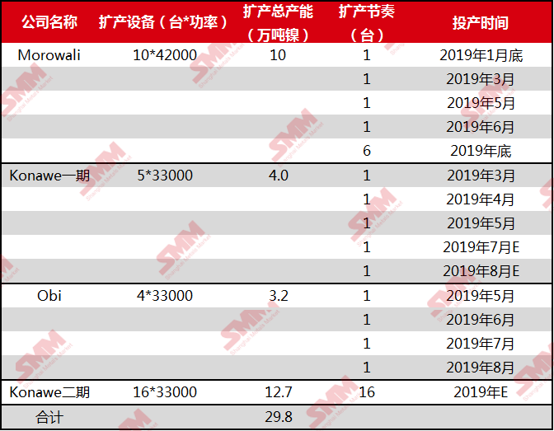 According to SMM investigation, the stainless steel plant in Konawe area of Indonesia has recently put into production 13 33000KVA ore heaters, and the remaining two 33000KVA furnaces are expected to be put into production from July to August.
The first 33000KVA heating furnace at the nickel pig iron plant on Obi Island in May has been baked and is expected to be released by the end of May.
In addition, SMM recently learned that the Konawe Phase II nickel pig iron project is already under construction, and the project plans to build 35 33000KVA RKEF production lines. The optimistic plan is to produce 16 units and 8 units within this year. According to the pace of starting production in September and 2 units in September-November, SMM put into production 10 units in December and estimated that the project will result in an increase of about 44000 nickel tons during the year. As a result, Indonesian nickel pig iron production increased by 65 per cent to 400000 nickel tons in 2019.
Konawe Phase II 2019 production (optimistic expectation)

2015-2019 E Indonesian nickel pig iron production (excluding Konawe II)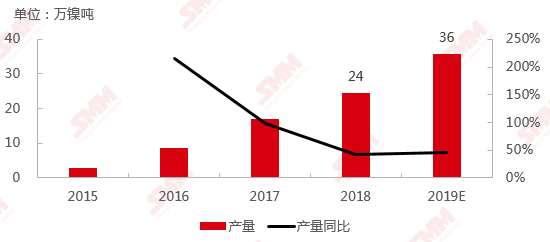 2015-2019 E Indonesian nickel pig iron production (considering Konawe II)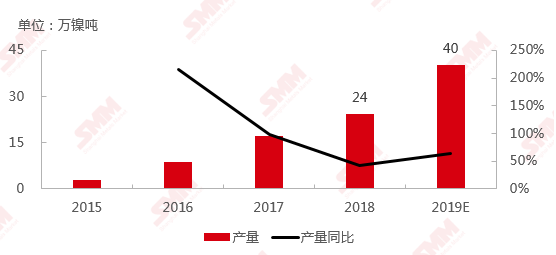 However, according to the previous Indonesian project investment experience, the actual production progress will lag behind the plan, so SMM believes that the project will not bring such a large increment this year. However, the actual progress of production is difficult to estimate, SMM will update the latest progress at any time.
For more information, please subscribe to the SMM Ni Research Group products "China Ni Industry chain General report" and "China Ni Industry chain High end report". Get the latest nickel ore, nickel pig iron (China + Indonesia), electrolytic nickel, nickel sulfate, stainless steel (China + Indonesia) related data analysis and market analysis! For order and trial, please call 021 5166 6865 QQ 2880 615019, contact: Gao Yin
(SMM sings TEL: 021 to 51666865 QQ:2880615019)