SMM5, 19 March: since the beginning of May, the stock of social aluminum ingots has dropped by 124000 tons, of which 59000 tons are exchange warehouse receipts, accounting for nearly 50 per cent of the total. What causes a large number of warehouse receipts to pour out?
SHFE warehouse receipt share fell to 24 per cent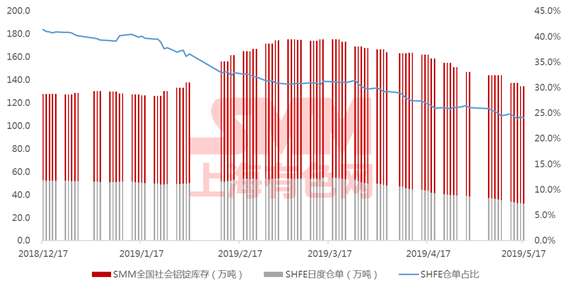 Data source: SMM SHFE
On the one hand, the contract in recent months is stronger than that in the far month: starting from the middle of April, the price difference between 1905, 1906 and 1907 contracts has gradually narrowed, and the situation of near strength and far weakness in May is very obvious. 1905 the contract has been higher than the 1906 contract of 5 to 45 yuan / ton 10 days before delivery;
Futures contracts are near strong and far weak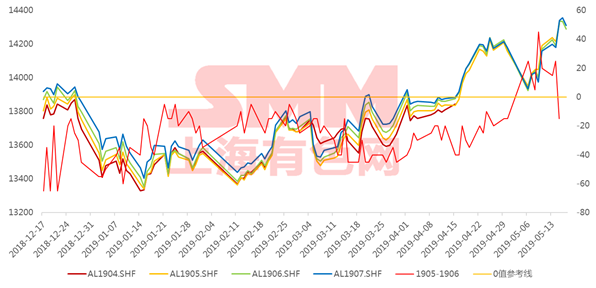 Data source: SMM SHFE
On the other hand, spot water rose: in addition to the expectation of value-added tax in March, the spot price of SMMA00 aluminum ingots rose by more than 200 yuan to the futures contract of that month, and the spot of aluminum ingots showed a discount to futures for a long time. In May, the spot price of aluminum ingots basically showed a state of 0 to 30 yuan for the current contract (according to the average spot price of SMM A00 aluminum ingots).
Most of the spot in May showed a rising water situation.
Data source: SMM SHFE
Aluminum futures hanging upside down, superimposed spot water, holding warehouse receipts in the hands of traders are more willing to cancel warehouse receipts sold in the spot market.
(SMM Shanghai Nonferrous net Liang Xuan 021 5166 6922)