SMM, May 16 / PRNewswire-Asianet /-
With the continued negative growth of automobile production and sales this year, the demand for galvanized sheet for automobile continues to cool down, and as trade uncertainty intensifies, export demand boosted by the increase in export tax rebate quota for galvanized sheet in November of 18 years will also be affected. At the same time, the domestic real estate policy has not been relaxed, and the growth space of real estate zinc demand this year is relatively limited. After excluding these two main sectors, With infrastructure, ships, photovoltaic and other main zinc consumption has not increased brightly at present, what is the expected galvanizing consumption in May?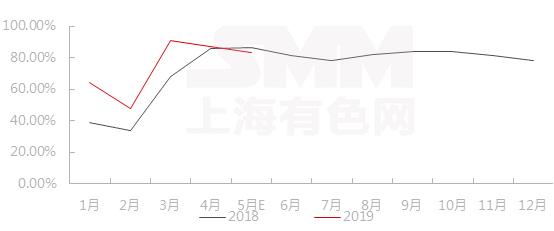 According to the SMM survey, according to the enterprise production schedule, the galvanizing start-up rate in May was 83.08%, down 3.75% from the previous month and 3.51% from the same period last year. There was no burst point in the flat demand for galvanizing in May.
First, some large galvanized pipe plants in North China said that the planned output will decline slightly, but will still maintain more than 10% overproduction level, but the enterprise also bluntly said that the demand forecast fell more obviously in May and will face greater pressure to accumulate finished product inventory.
Second, the price difference between hot coil-thread and hot rolling-cold rolling has narrowed, and the side reflects the weakness of the demand for plate and coil. The enterprises with weak demand for galvanized pipe and galvanized structural parts have been under inverted cost hanging pressure since the middle and late April. The reduction of processing fees for galvanized structural parts in the north is significant as evidence, highlighting the weak position of galvanized consumption.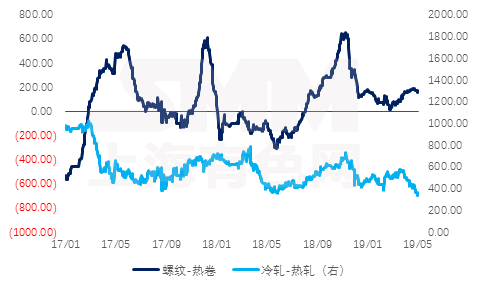 Third, municipal works, highway / expressway guardrail, urbanization construction and other orders from late April to early May due to the impact of funds and black base material prices, the release is still relatively slow. Enterprises reflect that if orders are still not effective in May, with the gradual rise of temperatures in the north, outdoor operations become more difficult, there is a further post-demand to the third quarter may be, enterprises do not have a greater optimistic forecast for May demand.
Third, high-speed rail, rail and tower orders are relatively stable, because the release area is more scattered, and the relevant regional galvanizing capacity is relatively not concentrated, so orders for small and medium-sized enterprises are expected to be stable in May.
Overall, galvanized consumption in May will be further cooled than in April, and the strength of infrastructure support needs to be carefully observed.