SMM News: China National Offshore Oil Group Co., Ltd. (hereinafter referred to as CNOOC) will add a new listed company.
On May 10, the issuance and Supervision Department of the China Securities Regulatory Commission announced that CNOOC Energy Development Co., Ltd. (CNOOC Development) will accept IPO (Initial Public Offerings, on May 16. The initial public offering of a joint-stock company) will be reviewed.
If IPO goes well, CNOOC will become the seventh listed company in the CNOOC system. It will also become the third listed company in the upstream engineering technology and services sector of CNOOC.
In the engineering and technical services sector, CNOOC already has two listed companies, CNOOC Services (601808.SH) and Offshore Oil Engineering (600583.SH).
According to the prospectus, the three professional companies have their own division of labor in the exploration, development and production of offshore oil and gas. CNOOC clothing is concentrated in the exploration and development link; offshore oil engineering is concentrated in the development link; the main business of offshore oil development is concentrated in the production link, some of which serve the exploration and development link.
CNOOC plans to raise 3.733 billion yuan in IPO, of which 1.5 billion yuan will be used to repay loans and bank loans. The rest of the funds were used for seven projects, including the trial platform construction project, the Curtis LNG transport ship project in Queensland, Australia, and the submarine pipeline inspection project.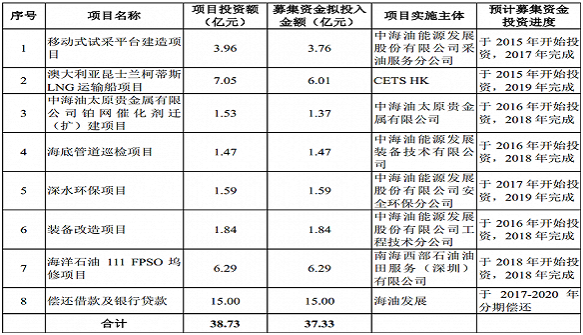 The reason why CNOOC has used nearly half of the funds raised to repay loans and bank loans has something to do with the decline in operating results it has faced in previous years. Its net profit continued to fall from 2014 to 2016, with net profit falling by more than 60 per cent in 2016 compared with the same period last year.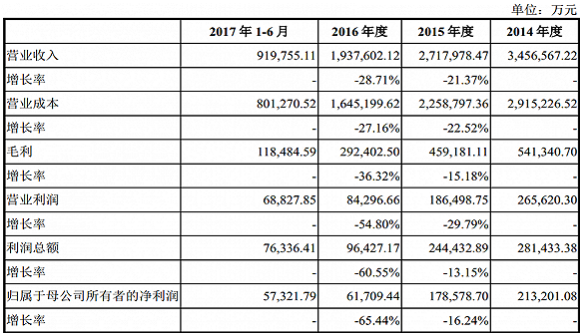 CNOOC Development was changed and established on the basis of CNOOC Base Co., Ltd., which was registered on February 22, 2005. it completed the registration of industrial and commercial change in Beijing Administration for Industry and Commerce on June 20, 2008. the registered capital is 6 billion yuan.
As the actual controller of the development of CNOOC, CNOOC has increased its capital in order to promote its listing. In December 2015, the registered capital of offshore oil development increased to 8.3 billion yuan.
According to Tianyan data, CNOOC accounts for 97.78% of the total share capital of CNOOC, and CNOOC Investment Holdings Limited, a wholly owned subsidiary of CNOOC, holds a 2.22% stake in CNOOC.
The main business of offshore oil development includes the provision of energy technology services, FPSO production technology services, energy logistics services, safety, environmental protection and energy-saving products and services. It has jurisdiction over 18 units, such as Oilfield Construction Engineering Company, Oil production Technology Service Company, Human Resources Service Company and CNOOC Tianjin Chemical Research and Design Institute.
Among them, energy technology services and FPSO production technology services are the two core businesses, accounting for more than 60% of their annual capital expenditure. FPSO, (floating production, storage and unloading device), which can process and store crude oil, is called "offshore oil plant".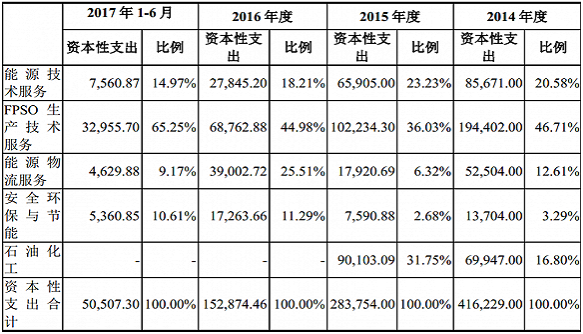 CNOOC also has four other listed companies: CNOOC (00883.HK), China Shipping Chemical (3983.HK), Shandong Haihua (000822.SZ) and CNOOC Nexen (Nexen, Toronto Stock Exchange NXY).