SMM News: despite the disappointing performance of silver over the past few years, one investment bank has not given up on silver.
Bank of America Merrill Lynch (Bank of America Merrill Lynch) commodities analysts said in a note on Friday that they expected silver prices to stabilize at about $15 and rise to $15.90 by the end of the year. That means silver will rise by about 8 per cent by the end of the year.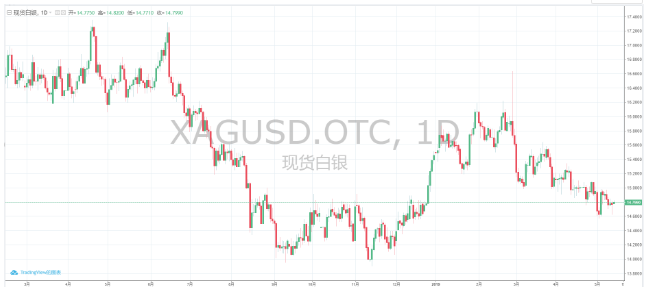 At present, the ratio of gold to silver is at its highest level in decades, around 88. This means that silver has been performing poorly relative to gold. The average ratio is around 60.
In fact, silver has not been doing very well recently and has been falling in recent months, at its lowest level so far this year.
However, analysts at Bank of America Merrill Lynch remained bullish on silver as supply continued to shrink and investment demand remained stable. Bank analysts said:
Although fundamentals remain volatile, we are beginning to see signs of stabilization as production falls and the development of the photovoltaic industry increases demand for silver, which did not exist a decade ago. Our analysis shows that if the silver owned by investors remains stable, the price of silver could stabilize at about $15 an ounce.
Analysts also pointed out that the silver ETF situation shows the potential strength of the market. They explained that despite the mediocre performance of silver, investors were reluctant to sell silver.
We note that there has been little change in silver ETF holdings so far this year, suggesting that prices should be supported at about $15 an ounce.
While investment demand has remained stable, BofA Merrill Lynch does believe that silver's industrial demand will face resistance. Industrial demand accounts for about half of the silver market.
Bank of America Merrill Lynch said weak car sales would reduce demand for a large portion of the silver industry in North America. However, analysts added that the trend could be short-lived.
Goldman Sachs, on the other hand, has a completely different view from Bank of America Merrill Lynch. Goldman Sachs advised investors to short silver in a report late last month. Goldman Sachs said in its report:
Gold and silver are traditional safe havens. Previous studies have shown that silver tends to outperform gold when fears of a recession reach extreme levels. But given that the current macro environment is "neither too cold nor too hot", Goldman Sachs does not expect demand for silver to be particularly strong.
On the other hand, silver's industrial fundamentals are underperforming and industrial demand is stagnant. At the same time, when geopolitical risks are high, silver will not benefit from central bank buying, but gold will.
Peter Hug, head of global trade at Kitco metals, believes the potential weakness in global economic growth is a drag on silver prices.