SMM News: Wednesday (May 8) in the Asian market, spot gold prices continued to rise further, has hit $1286 / ounce. The recent resurgence of trade concerns has weighed on risky assets, boosting demand for safe havens. At the same time, the data showed that the people's Bank of China was still increasing its gold reserves, adding to bullish confidence.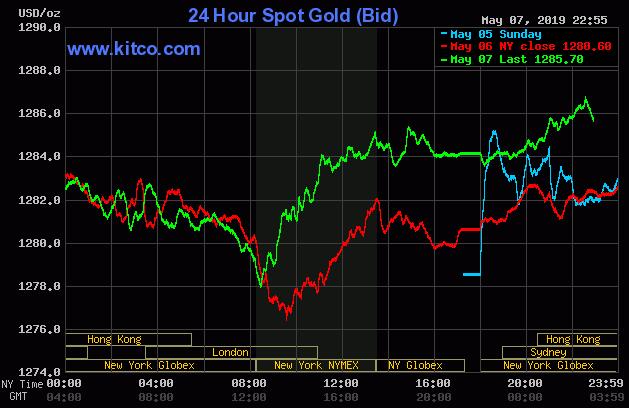 The decline in U. S. stocks intensified significantly on Tuesday, with the Dow closing down 473.39 points, or 1.8%, at 25965.09, the biggest drop since Jan. 3. The index was down 648 points earlier in the day. The s & p fell 1.7 per cent to 2884.05. The Nasdaq composite index, which is concentrated in technology stocks, fell 2 per cent to 7963.76. Companies with greater trade exposures, such as chipmakers and industrial companies, fell the most.
The CBOE volatility index, known as the "panic index", rose more than 41 per cent on Tuesday, refreshing to 21.76, the highest level since January 23.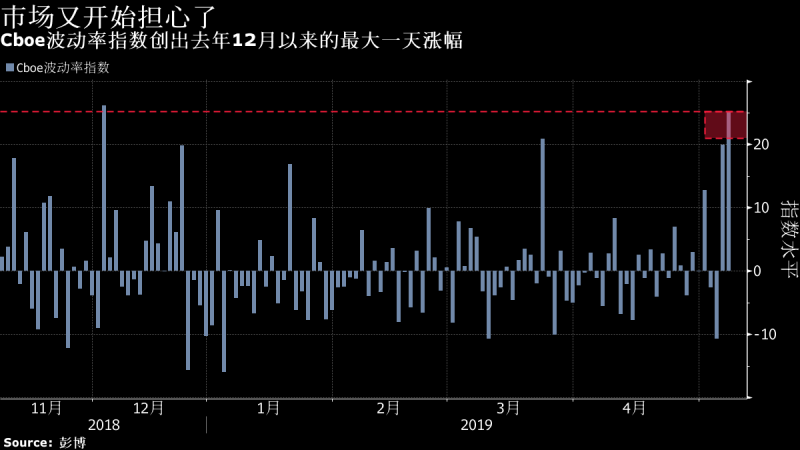 "the stock market fell to maintain support for gold. We believe that the allocation of gold in the final portfolio will increase. " Daniel Ghali, commodities strategist at Dow Securities, said.
Asian stocks now followed the overnight decline in US stocks after the start of trading on Wednesday, while fears of trade frictions intensified, keeping the yen, the safe haven currency, near recent highs against other major currencies on Wednesday.
Peter Fertig, an analyst at Quantitative Commodity Research, said, "President Trump's tweet caused a shock wave. Stocks fell further, and gold was seen as a safe haven in this environment. Since yesterday, there has been uncertainty in the market, which has pushed gold prices higher. "
Dow Securities analysts commented that in other environments of market turmoil and increased risk, the return of gold to the $1300 / oz mark is a high probability event, and unless the trade situation warms up, the market will continue to be volatile. This is a good support for gold.
Jim Wyckoff, a senior analyst at Kitco Metals, also said that when US stocks suffered a sell-off, gold prices began to turn as the fall in the stock market led to safe-haven demand for gold. Safe-haven demand may also be partly due to the situation in Iran and, of course, Trump tweets that surprised markets, which could help gold maintain its rally throughout the week.
It is worth mentioning that, in addition to risk aversion, the gold buying spree of the world's leading central banks has also filled bulls with current confidence. China's gold reserves rose for the fifth month in a row, the biggest increase since 2016, data released on Tuesday showed as central banks around the world increased their holdings of gold for the fifth month in a row.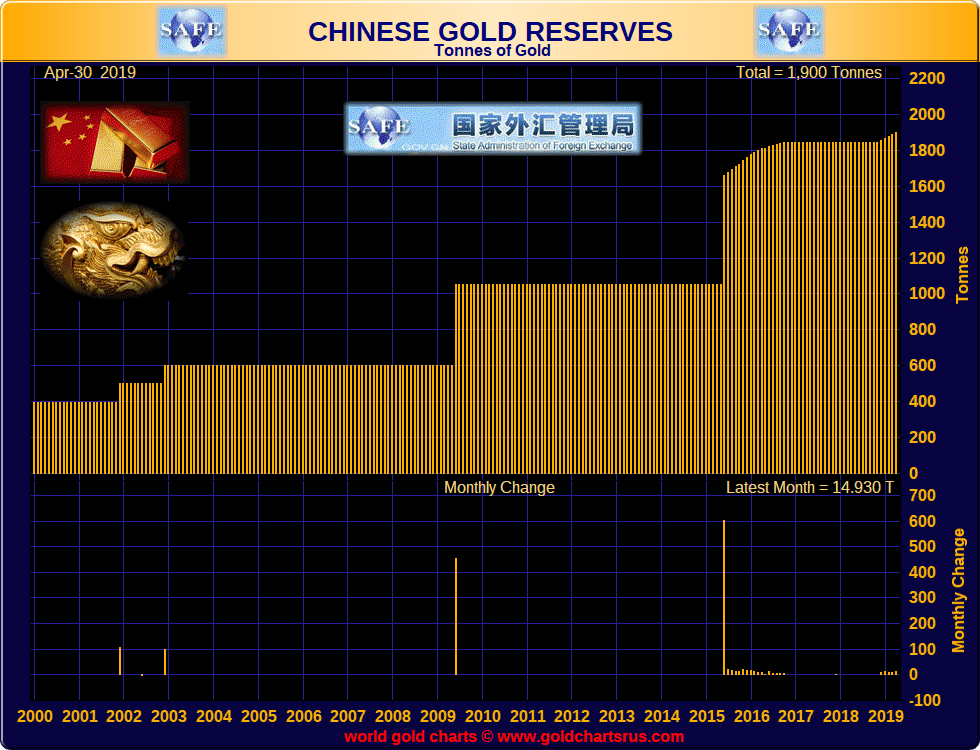 Gold reserves rose to 61.1 million ounces in April from 60.62 million ounces a month ago, according to data released on the people's Bank of China's website on Tuesday. In tonnage terms, gold reserves rose 14.9 tons last month, after a cumulative increase of nearly 43 tons in the four months to March.
Bloomberg pointed out that the latest data from the people's Bank of China could indicate that it will continue to increase its gold holdings steadily in the future, just as it did almost every month between mid-2015 and October 2016.
Central bank purchases could be a key factor in supporting gold prices. Gold purchases by central banks, led by Russia and China, reached their highest level in six years in the first quarter of this year as countries struggled to diversify their reserve assets outside the dollar, according to the World Gold Council.
Citigroup expects official gold purchases to reach 700 tons this year, assuming China maintains its current rapid buying trend and Russia matches at least about 275 tons of purchases in 2018.