SMM News: according to global electric vehicle sales figures released on the EV Sales website, global electric vehicle registrations rose 53 per cent year-on-year to 224335 in March this year, making nearly 500000 electric vehicles sold worldwide in the first three months of this year. It is up 58 per cent from the same period last year, and its Chinese electric vehicles account for 50 per cent of global deliveries.
In March, global electric vehicle sales accounted for 2.8 per cent of total new car sales, with pure electric vehicle sales growing by 77 per cent year-on-year and accounting for 74 per cent of the global new energy vehicle market.
Car sales Top 20: Tesla Model 3 breaks the record again by a long way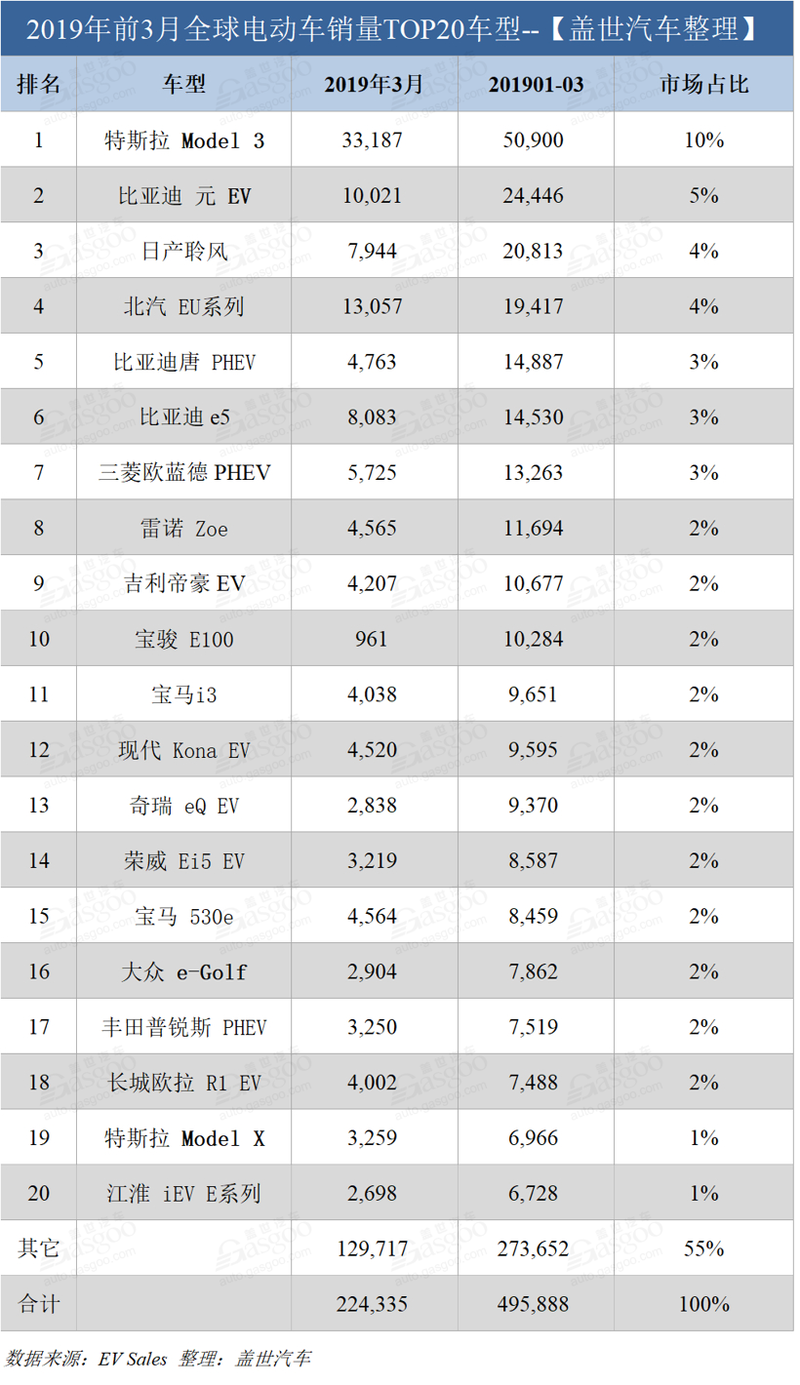 In terms of models, the best performance in March was Tesla Model 3, which topped the list with record sales of 33187 vehicles, bringing the cumulative global sales of the first three months to 50900, which also won the championship. And twice as much as the second-place BYD yuan EV (24446 vehicles). Nissan leaves ranked third with cumulative sales of 20813 vehicles. Outside the top three, the interesting ones are as follows:
BAIC's EU series sold a new record in March, selling more than 13000 vehicles worldwide, bringing its cumulative sales in the first three months to 19417, jumping seven places to fourth place.
Another Chinese electric car that has climbed the rankings is BYD e5, which rose four places to sixth. In addition, BMW's two models have set new records, of which BMW i3 registered 4038 vehicles in March, with a cumulative sales of 9651 vehicles in the first three months of this year, rising one place to 11th. BMW 530e rose five places to 15th with sales of 4564 vehicles in March.
Hyundai Kona continues to climb in the sales rankings, has reached 12th place, and is expected to have more room for improvement in the future.
It is also worth mentioning that Mitsubishi Oland PHEV sales in March (5725 vehicles) since 2015 since the best monthly sales performance; Two other cars re-entered the top 20 best-selling list. One is the Toyota Prius PHEV, which has returned to being Toyota's best-selling model with monthly sales of 3250 vehicles. Great Wall Euler R1 EV benefited from being back in the top 20 with record sales of 4002 vehicles in March, while its sister model, the Euler iQ5 EV Crossing, also ranked 21st, and is expected to see Euler regularly in the top 20 in the future.
Brand sales Top 20: BYD Tesla fiercely competes for champion BAIC to make a comeback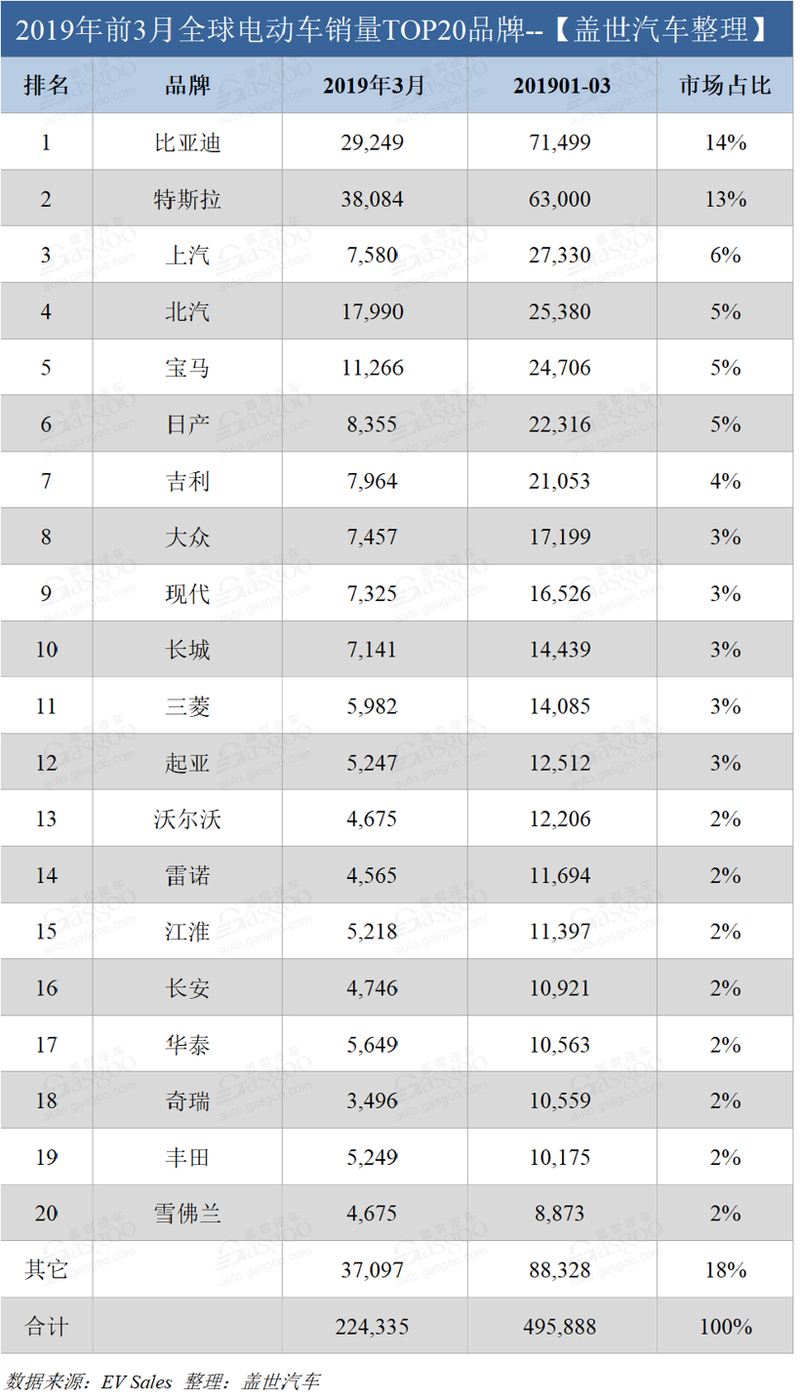 In March, the Tesla brand was far ahead with its sales of 38084 vehicles, but BYD's performance (29249 vehicles) should not be underestimated. In terms of cumulative sales in the first three months, BYD once again beat Tesla to win the sales title. But Tesla is also gradually narrowing the gap with BYD, and competition between the two brands is expected to intensify in the second quarter of this year.
In the competition for third place, SAIC is still in a leading position, with a cumulative sales of 27330 vehicles in the first three months. But BAIC has also gradually narrowed the gap, and after a downturn at the start of the year, the brand has made a comeback, jumping seven places to fourth place with its March sales results, coveting the bronze medal position from SAIC.
In addition, two carmakers recorded record performance in March, with Great Wall climbing to 10th place on the back of its March sales of 7141 vehicles, thanks largely to the impressive performance of the Euler brand. Kia's March sales (5247 vehicles) also hit a record high, thanks in part to the strong performance of the Niro.
At the bottom of the list, we saw Renault rise one place to 14th, while Chinese electric car brands Jianghuai and Huatai climbed to 15th and 17th, respectively.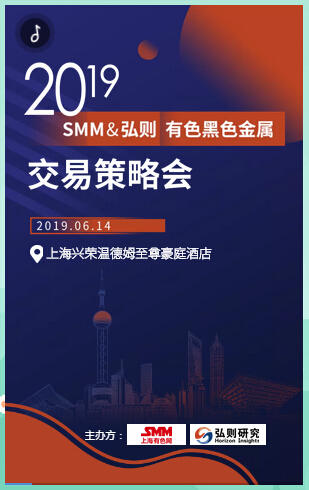 "Click to enter the registration page