SMM4 26 June news:
China exported 72000 tons of silicon metal in March, according to customs data. After the impact of the Spring Festival holiday was completely eliminated, exports rose 92.2 per cent in March from a month earlier, down 1.9 per cent from the same period last year.
……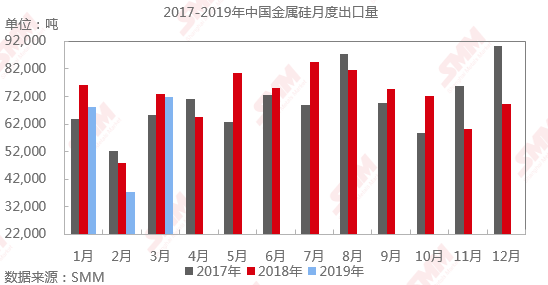 In January, foreign downstream concentrated stock, after a month of consumption, inventory gradually fell back, in March some rigid demand orders returned to the market to supplement transactions. After entering April, due to the successive decline in silicon prices, foreign buyers wait and see more cautious procurement, response to the domestic market performance in the port warehouse shipments are more obvious year-on-year decline. Supported by rigid demand orders, exports are expected to remain at about 670,000 tons in April.
If you would like to know more about the market information and market trends, or have other information needs, please dial 021 # 51666895, contact: Ms. Yang.