There will be an inflection point in the price laid by the expectation of resuming production.
SMM4, 22 March: from January to October 2018, the global zinc market had a supply surplus of 401000 tons, compared with a shortage of 504000 tons in the same period in 2017, according to data released by the World Bureau of Metal Statistics (WBMS). In the past three years, the production capacity of foreign zinc mines has shown recovery growth, with increments in three mines of Vedanta Company in India, Antami Mine in Peru and DugaldRiver in Australia. The International lead and Zinc Group expects world zinc production to be 13.03 million tons in 2018, compared with an increase of 6.4 per cent to 13.87 million tons in 2019. It is estimated that foreign zinc concentrate will increase production by 800000 tons in 2019, double the increase of 400000 tons last year. On the domestic side, following the resumption of production in Xuanghua, Hunan Province last year, the resumption of production by smelting enterprises has also been increasing since the beginning of this year. After Zhuzhou Metallurgical Line 2 # was officially put into production in March, production in Sanli, Hunan Province also resumed at the end of March. In April, the zinc industry in Hanzhong resumed production in advance, and in May, Zhuzhou smelter will carry out the formal production of Line 1 #. In addition, Chihong Yongchang, Dongling and Hanzhong zinc industry will resume production or put into production one after another. The period from June to August is expected to be the centralized release period of domestic refining capacity. It is estimated that the new output of zinc mine in 2019 will be about 150000 tons. In 2019, the pressure of accumulation at home and abroad will increase, the resumption of production is expected to lay the price will appear inflection point!
Weak domestic demand
Downward pressure on the economy has increased. The overall PMI index of the global manufacturing industry has continued to decline, indicating that the overall global economic growth rate has continued to slow down, as well as the general environment in which trade frictions are difficult to solve for a short period of time. The consumption of zinc downstream, from real estate to automobile, is a drag on consumption, which limits the production of zinc enterprises.
Real estate contributes about 50% to zinc consumption. According to statistics, the transaction area and number of commercial housing units in large and medium-sized cities decreased by 6.6% and 7.4% respectively in 2018 compared with the same period last year. The working meeting of the political Bureau of the CPC Central Committee just held on 19 April this year once again emphasized the policy of "housing does not speculate." Real estate continues to be one of the important objectives of policy regulation in 2019, and it is difficult for real estate to return to the era of barbaric growth. The old path of relying on GDP for real estate development will not go on. The increase of regulation and control measures will make the zinc market more pessimistic about its dependence on real estate, and the decline in the growth rate of the domestic real estate market in 2019 will be a more obvious drag on the consumption of zinc ingots.
Zinc accounts for about 25% of consumption in the automotive industry. According to data released by the China Association of Automobile Manufacturers, as of November 2018, the cumulative value of automobile production and sales in China showed negative growth for two consecutive weeks compared with the same period last year. In October, the country's car sales totaled 22.871 million units, and in November it was 25.4197 million vehicles. It fell 0.24% in October from a year earlier and 1.65% in November from a year earlier. From the perspective of car production, car companies gradually began to shrink production capacity in 2018, the global economic downturn, cyclical industries have been seriously affected, car sales have also been affected to shrink. In 2019, the automotive industry is expected to maintain a negative growth pattern, the demand side will be difficult to play a positive role in zinc prices, from a certain process to reduce the support for zinc prices. Real estate regulation and negative growth in the automotive industry will lead to continued weakness in zinc ingot consumption this year, resulting in a continuous decline in zinc prices.
Inventory increase becomes the direct inflection point of price decline
As of April 18, 2019, LME zinc stocks stood at 73575 tons, an increase of 7225 tons over the previous trading day. Skyrocketing inventories have led to a sudden plunge in zinc prices, becoming a direct inflection point for price declines.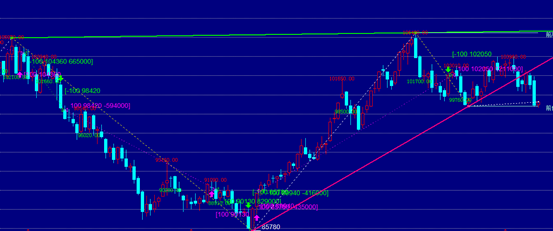 Policy Tip (Policy name is "perimeter call")
Wu Anjun's quantitative hedge system shows that zinc prices are above 23000, effectively falling below the upward trend line on April 10, 2019, and programmed to open short positions at 21940 on April 17, 2019 (see chart below). Therefore, we should revolve around the 21940 point, in the Shanghai zinc main contract 22000-23000 / ton range every high (every 21940 points) batch layout empty order, of course, with the programmed automatic calculation of the high point position will be relatively more accurate. If the stop loss of 24000 / t is effectively exceeded, the target position is 16000 / t.
Brief introduction to Wu Anjun:
Good at colored, black and other futures varieties, with the combination of fundamentals and quantitative technology interpretation, and provide operational guidance.
Wu Anjun focused on quantitative research for the whole decade, developed a number of quantitative hedge systems and participated in the national futures competition to achieve steady profits. Good at finding the correct medium-and long-term multi-empty direction from the fundamentals of each variety, using the quantitative model to carry on the whole procedure transaction. On the basis of accurately grasping the general trend of the market, more accurately capture the entry point and exit point, often double or several times the profit effect.
Declaration:
Wu Anjun's point of view is shared with you and does not constitute investment advice for you. Operate accordingly, at your own risk!
For guidance from Wu Anjun, please contact:
Wu Tingting: 021 51595784 13795448891