SMM, 19 Apr-China's unforged aluminum and aluminum exports in March 2019 were 546000 tons, an increase of 20.8 percent over the same period last year, and the total export volume in the first quarter was 1.442 million tons, an increase of 13.6 percent over the same period last year. But it is worth noting that the Shanghai-London ratio averaged 6.7 in the first quarter of 2018, compared with an average of 7.3 in the first quarter of 2019.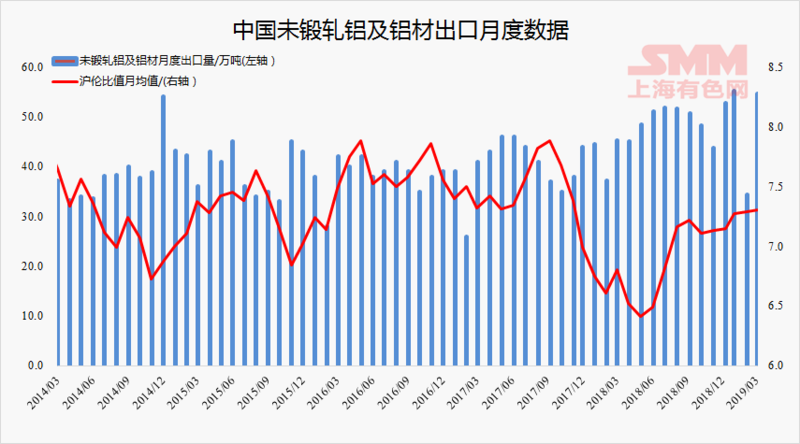 At present, the Shanghai-London ratio has reached about 7.6, and SMM believes that the ratio has been rising since May 2018, but the reasons for the no obvious decline in aluminum exports are as follows:
One. Export data are sometimes delayed relative to the signing time, with some long orders in March, some orders signed in January and production orders from February to March.
Two. Chinese aluminum enterprises began to take the initiative to adjust the customer structure in the second half of last year to expand the proportion of overseas customers. There are two reasons. Under the tight monetary policy last year, the cash flow in the middle and lower reaches of the industrial chain is extremely tight, and the repayment situation of overseas customers is obviously better than that of domestic customers. 2. Last year, Chinese aluminum processing enterprises took advantage of the historically low internal and external price gap to add a lot of overseas customers. When export profits are squeezed, in the long run, domestic aluminum enterprises will not immediately give up these customers.
Third, the export of regular aluminum is not a loss, for processing enterprises only to earn more and earn less, profits have been squeezed. The calculation of aluminum export profit is more complex, which is quite different from the export profit and loss formula of the common industry researchers in the market.
4. Since the second half of last year, the domestic aluminum processing fees have fallen relatively rapidly, especially the hot rolled coils, which have also directly affected the increase in the proportion of export orders. Simple assumptions: before the domestic processing fees fell, the 7.5 ratio earned 300 yuan from exports overseas. Sell it to China for 500 yuan; However, after the domestic processing fee fell, under the same 7.5 ratio, the export earned 300 overseas, and the export domestic also earned 300 or even 280.
However, as the ratio continues to rise, the enthusiasm of enterprises to give priority to overseas orders is weakening, the decline of export orders is only a matter of time, and there is a good chance that there will be feedback on the export data (departure volume) in the second half of the year.