SMM4 18 April: Minmetals Resources Co., Ltd. (MMG) published on its official website on April 17, 2019 first quarter production report, according to the report, the company produced a total of 114369 tons of copper and 57151 tons of zinc in the three months ended March 31. Compared with the output data of Minmetals Resources in the first quarter of 2018, copper production increased by 30% and zinc production increased by 21% in the first quarter of 2019.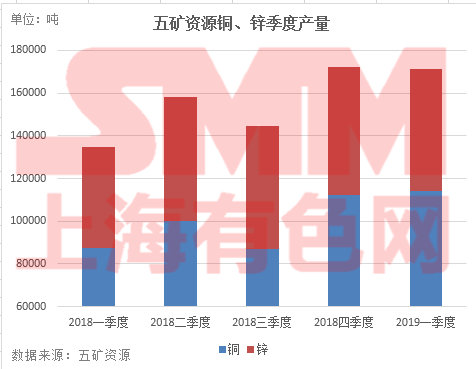 Communities on the Yavi section of the national road 136km from the mine, and later roadblocks at the mine entrance, limited the transport of Las Bambas in and out of logistics during the quarter.
Gao Xiaoyu, chief executive of MMG, said: "the performance of Dugald River continues to be strong, producing 38665 tons of zinc in zinc concentrate, up 35 per cent from the same period last year. Importantly, the mine team achieved this performance in response to the impact of extreme floods in northern Queensland. "Las Bambas produced 101452 tons of copper concentrate in the first quarter of this year, an increase of 17 per cent over the same period last year, while managing the impact of continued disruptions in concentrate transport.
Following a meeting with representatives of the community, the Government, mediators and churches in Lima on 6 April 2019, as well as a meeting between the Government and the Challhuahuacho region, community representatives agreed to remove the roadblock. Logistics into the mine were fully restored on 11 April and transportation of concentrate resumed on 13 April.
Floods around the Dugald River mine and damage to the Cloncurry to Townsville transport railway had a temporary impact on production and concentrate transport during the quarter. Spare truck transport arrangements and the opening of the Hughenden temporary railway facility resumed concentrate transport to the port of Townsville.
Driven by the strong performance of mining and mineral processing, Rosebery produces 18486 tons of zinc in zinc concentrate during the quarter. Affected by the decrease of ore grade, the restriction of entering the pit and the decrease of mineral processing capacity, Kinsevere produces 12539 tons of copper in the quarter.
MMG expects to produce 250000 to 270000 tons of zinc and about 450000 tons of copper in 2019.