SMM4, 17 April: today (April 17), iron ore opened sharply lower, although the intraday slightly recovered, but continued to decline in the afternoon, finally closed at 621 tons / yuan, down 3.8 per cent a day. Recently, iron ore changed its rising trend in early April and fell for four days in a row, closing on April 17, spitting out all the gains since April 4.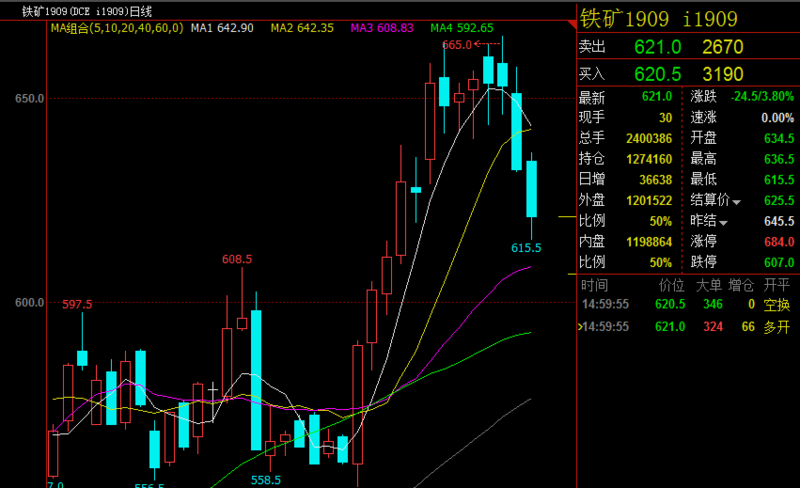 Supply gradually recovered in May
On April 16, Vale issued a notice saying that the local court had decided to partially suspend the injunction issued by the Santa Barbara court on March 22, 2019. The decision will allow the Brukutu mine, the largest iron ore mine in the Brazilian state of Minas Gerais, to resume operation within the next 72 hours, with an annual production capacity of 30 million tons. This has helped ease global iron ore shortages caused by supply disruptions in Brazil and Australia. "Click to view details
At the same time, due to the suspension of operations in the port and railway operations of Rio Tinto and BHP Billiton due to hurricanes Veronica and Wallace in Western Australia, iron ore exports from Rio Tinto and BHP Billiton dropped sharply. At present, the impact of hurricanes in Australia is over, and shipments in Brazil have rebounded. There will be a return to production capacity of 30 million tons of iron ore.
Small decline in demand or stability
Xu Guangrui, executive director of the Guoxin Future Science and Technology Research Institute, said in an interview with reporters yesterday that in 2019, he will continue to step up efforts to make up for the shortcomings in the field of infrastructure, so as to lay a solid foundation for building a well-off society in an all-round way in 2020. Taking into account the target scale of the 13th five-year Plan set in the fields of railway, highway, airport, and rail transit, it is possible to achieve ahead of schedule this year, and the growth rate of infrastructure investment is expected to return to about 10 percent this year. The overall cumulative investment scale is expected to reach 20 trillion yuan, black downstream demand has steadily recovered, and infrastructure projects have been steadily promoted.
According to SMM research, under the stimulation of profits, the blast furnace operating rate is generally high, the blast furnace start in May will continue, but some cities issued non-heating season production limit documents. It is reported that Linfen City recently issued a notice on differentiated production control in key areas of the non-heating season, from April 15, 2019 to September 30, 2019, to one city and three districts (Yaodu District, Xiangfen County, Hongdong County). Linfen Development Zone) related enterprises to implement differentiated production control. Strictly comparing with document No. 3 of Linfa [2017], document No. 2 of Linfa [2018], Coking, iron and steel, coal washing, casting, brick and tile, concrete mixing and other industries environmental protection treatment plan and "Linfen 2018 key industries volatile organic compounds (VOCs) pollution prevention and control work plan". Focus on iron and steel (including continuous casting and ferroalloy), coking, cement (excluding grinding stations), casting other VOCs-related industry classification to implement differential control.
As far as the iron and steel industry is concerned, the proportion of 30 to 50% of the differential production limit will be implemented, and the production will not be restricted if the class A conditions are met, and if the class C conditions are not reached, the production will be stopped. Affected by this, SMM predicted that the future iron ore demand is likely to stabilize in a small decline, ore price operation range or part of the pressure down.