SMM4 17-according to the latest SMM statistics, Indonesia's nickel mine export quota announced a total of 56.28 million wet tons, of which the current quota is still in force for 26.85 million wet tons.
Indonesian miner TPI this month won an export quota of 1.6 million wet tons of nickel, which is located in morowali, 's planned shipments in the near future.
Indonesian miner Anfang brother won an export quota of 1.87 million wet tons of nickel in March. It does not have a smelter cooperation project, and the mining area, located in East Sulawesi, is already planned for shipment in April.
Indonesian miner Fajar recently received a new quota of 1.07 million wet tons, of which more than 300,000 wet tons have been used up, according to industry insiders.
(Silkroad Nickel), an Indonesian mining group, said on April 9 that the construction of its nickel smelter and its supporting facilities in (Sulawesi), Sulakusi Island, Indonesia, had been approved for environmental protection. According to SMM, the construction of the smelter project has not yet begun, and the nickel ore quota is being applied for, and the exact quantity needs to be further known.
SMM collated the recent news and previous quotas, as follows: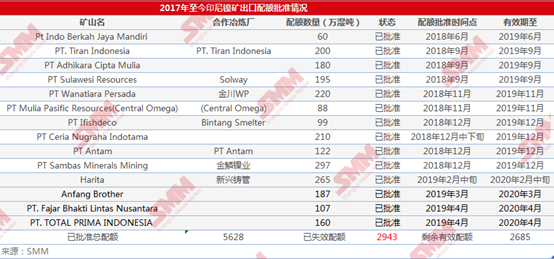 (note: expired quotas are not displayed)