SMM4, 17 March: yesterday's US dollar concussion rose and recaptured the 97 mark, mainly because of the dovish position of ECB policy makers to crack down on the euro, coupled with market fears of a German recession, according to a survey conducted by Bank of America Merrill Lynch on Tuesday. Shorting European stocks was considered the "most crowded trade" for the second month in a row, with trade wars the biggest tail risk and economic growth concerns dominating, with investors managing $547 billion in assets, according to the survey. The dollar closed at 97.084, up 0.16%. Most of the metals closed down under pressure, including nearly 3%, mainly due to the two consecutive days of sharp increase in LME zinc inventory. SMM analysis shows that LME ushered in monthly centralized delivery this week, and the rapid expansion of Back structure led to the inflow of social inventory. To form a certain suppression of Lun Zn, Lun lead closed down nearly 1.2%, Lun Al, Lun Ni, Lun Xi closed down nearly 0.5%, Lun Copper fluttered weakly. Most of the domestic metal market is also green. Shanghai zinc closed down nearly 2%, thread closed down nearly 0.8%, Shanghai nickel closed down nearly 0.4%, Shanghai tin closed down nearly 0.3%, Shanghai lead closed down nearly 0.2%, Shanghai copper was weak floating green. Shanghai aluminium closed up nearly 0.5 per cent.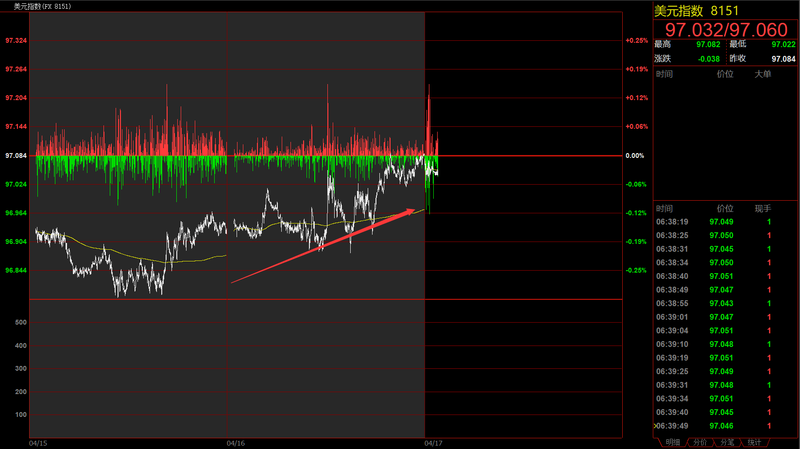 The ZEW: index, a German think-tank, has improved, mainly because of the hope that the global economic environment will not be as bad as previously assumed. The delay in Brexit will help boost the economic outlook.
Us industrial output month-on-month in March, previous value: 0.1%, expected: 0.2% Today:-0.1%.
Us industrial output monthly rate in March: us manufacturing output remained unchanged after falling in the previous two months, the biggest drop since 2017 in the first quarter as a whole. The manufacturing slowdown was due to a $1.5 trillion tax cut last year that spurred capital spending, but now the stimulus has disappeared.
In the early morning of the next day, it was announced that the US API crude oil stock for the week of April 12 was-3.1 million barrels, with analysts expecting + 1.7 million barrels, compared with a previous value of + 4.09 million barrels. In the week of April 12, the United States API Cushing area crude oil stocks-1.6 million barrels, the previous value-1.28 million barrels. In the week of April 12, API gasoline stocks in the United States were-3.6 million barrels, compared with a previous value of-7.08 million barrels. In the week of April 12, API refined oil stocks were + 2.3 million barrels, compared with a previous value of-2.4 million barrels.
Financial blog zero hedge review of US API data for the week: WTI crude oil rebounded as investors tended to see global supply tightening rather than rising inventories. However, the media pointed out that crude oil stocks have been at their highest level since 2017, and there is a four-week trend of increase. Ashley Petersen, an analyst at Stratas Advisors LLC, points out that everyone is waiting for the next step in inventories and that the momentum that has fuelled the oil market has dried up.
Important overnight financial data are as follows:


2019 (fourth) Ni-Co-Li-mn Industry chain Summit-Global Lithium Technology Symposium invites cathode materials and lithium battery enterprises to explore the new trends of industrial chain development, interpret industry policy trends, and analyze future price trends! Review 2018 with 90% of the bosses, purchasing and general workers in the industry, look forward to 2019, and imagine 2020!
Meeting details: 2019 (fourth) Ni-Co-Li-mn Industry chain Summit (click on the link to see details)
[2019 Ni-Co-Li-mn Industry chain Summit]
Boutique meeting, New year feast!
Summit consultation, Mr. Yu