4.15 minutes of SMM internal aluminum morning meeting
Disk surface: on Friday, the aluminum day weak shock operation, followed by the U. S. index lower and surrounding metals began to rise low, finally closed at $1864 / ton, up $5 / ton. Shanghai Aluminum main 1905 contract on Friday night horizontal finishing, finally closed at 13850 yuan / ton, up 10 yuan / ton from the day closing price, the center of gravity is basically the same as the previous day.
Macro: (1) Economic data release: China's social financing scale increment in March released data 2.86 trillion, the previous value of 730 billion, expected 1.85 trillion; China's M2 reported 8.6 per cent in March, up 0.6 per cent from a year earlier, in line with better-than-expected growth in social finance; M1 reported 4.6 per cent in March, which continued to pick up significantly from a year earlier and is now doubling from a month earlier; and M0 rose 3.1 per cent from a year earlier. China's trade account figures for March were US $32.64 billion, the previous value was US $4.12 billion, and expected to be US $5.7 billion. China's exports in March were 21.3%, 6.3%, and-16.6%, respectively, compared with the same period last year. In the United States, one-year inflation expectations at Hegen University in April were 2.4 per cent, up from 2.5 per cent, and the initial inflation expectations for five years in April were 2.3 per cent and 2.5 per cent, respectively. (II) Public information policy: the General Department of the National Energy Administration issued a letter soliciting comments on the relevant requirements for the construction and management of wind and photovoltaic power generation in 2019 (draft for comments). In 2019, the total subsidy budget for new photovoltaic projects is 3 billion yuan, of which 750 million yuan is used for household photovoltaic (equivalent to 3.5 million kilowatts), and the subsidy bidding projects are organized according to the total subsidy of 2.25 billion yuan (excluding photovoltaic poverty alleviation).
Fundamentals: cost side, last week SMM aluminum fluoride quotation reduced by 100 yuan / ton to 9400 yuan / ton. On the consumer side, according to customs data, China exported 546000 tons of unforged aluminum and aluminum (including raw aluminum, aluminum alloy and semi-finished aluminum products) in March, up 59 percent from a two-year low of 340000 tons in February, the second highest on record. Compared with the same period last year, 452000 tons increased by 21.3 percent, and the macroeconomic environment improved under the influence of events such as the easing of trade frictions between China and the United States. Inventories are expected to continue to fall slightly today.
Spot: last Friday, the trading price in Shanghai was between 13820 yuan and 13840 yuan per ton. For the current month, the flat water rose to about 20 yuan per ton, which is only 20 yuan per ton higher than that on Thursday. Friday, the market is more abundant than the supply of goods, because the market offer price is on the high side, the shipowner is active in shipping. Trading between traders and middlemen is very active; Due to the approach of the weekend, downstream manufacturers today to receive goods compared with the previous few days significantly increased, procurement enthusiasm increased. The deal in East China is good as a whole.
Summary: in early April, domestic electrolytic aluminum kept slow but continued to go to storage. In late April, SMM predicted that the operating rate of downstream processing enterprises such as aluminum profiles, aluminum sheet, strip and foil will pick up, and the amplitude and speed of electrolytic aluminum storage may increase. Therefore, at present, driven by continued consumption, we maintain our expectations of a strong short-term trend in aluminum prices. Today is the last delivery date of the aluminum futures month, spot aluminum prices are expected to fall slightly by about 10 yuan / ton.
(SMM Li Hao 021 5166 6863)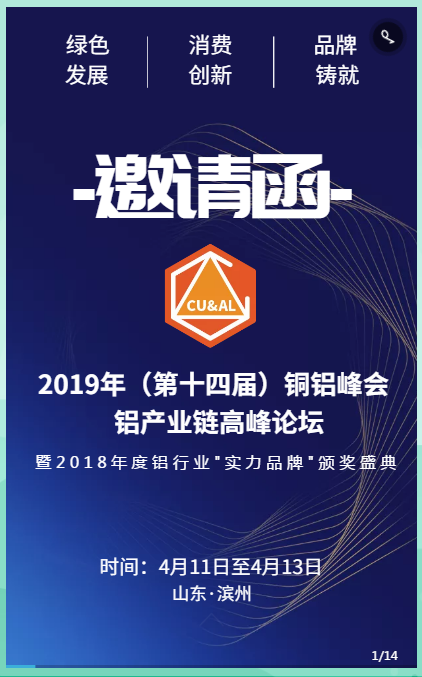 "Click to enter the registration channel of the 14th SMM Aluminum Industry chain Summit.