According to foreign media reports, in order to protect the environment and solve the problem of air pollution, the Chinese government has implemented a series of policies to restrict the import of scrap copper since last year, of which the "waste Seven" policy will be fully implemented this year. At the CESCO Global Copper Industry Conference, producers discussed the topic of further tightening of global copper concentrate supply due to restrictions on imports of scrap copper from China.
According to SMM data, spot copper concentrate processing and refining costs (TC/RC) have fallen all the way from an average price of US $92 / tonne at the beginning of this year to US $69 / tonne in recent days, reflecting the tight situation of copper concentrate in the market. As the new production capacity of Chinese smelters advances, the demand for copper raw materials is increasing, and the competition for copper concentrate is further intensified in the context of the tightening of the global mining end.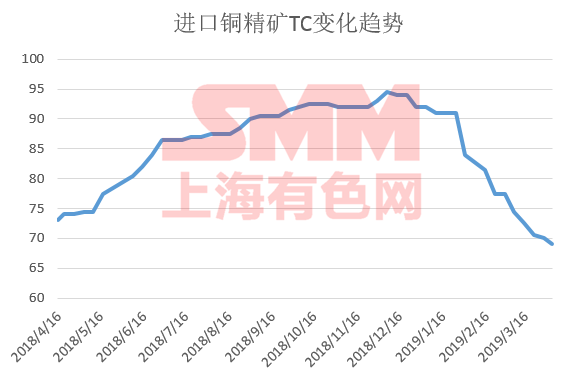 "View SMM exclusive copper concentrate spot TC historical data
Zhang Xizhong, vice president of the recycled Metals Branch of the China Nonferrous Metals Association, said that in 2017, China imported 3.55 million tons of copper scrap and 1.49 million metal tons, most of which came from the United States.
But China's imports of scrap copper fell 32 per cent to 2.4 million tons in 2018 as a result of trade disputes between China and the US and China's tighter environmental policies. After the "scrap seven" policy this year, China's scrap copper imports fell more than 50 per cent to 64622 tonnes in February from a year earlier, and imports of scrap copper are likely to fall further in the second half of the year.
In response to a further reduction in scrap copper imports, copper producers are working to find copper concentrate for primary smelting.
However, overseas mine supply has also been disruptive this year, such as the shift from open pit to underground mining at Freeport's Grasberg copper and gold mine, which halved production in 2019 compared with last year. Several strikes have led to increased supply-side interference rates, such as the Las Bambas copper mine in Peru, owned by Minmetals Resources, which has been blocked by local communities, disrupting the normal transport of ore and preventing it from entering the market.
The supply of copper concentrate is tight for a number of reasons, so the copper concentrate delivered in the second quarter of this year has been snapped up by traders at a price of between $50 a tonne and 5 cents a pound.