SMM completed the investigation on the start-up rate of commercial prebaked anode in March. The start-up rate of commercial prebaked anode in March was 54.9%, which was 3.07% lower than that in February. In terms of enterprise scale, the starting rate of large enterprises (annual capacity > 250000 tons) decreased slightly by 0.4% compared with the previous month, and that of medium-sized enterprises (10 ≤ annual capacity < 250000 tons) decreased by 6.44% compared with the previous month. The operating rate of small enterprises (with an annual production capacity of less than 100000 tons) decreased by 5.39 per cent compared with the previous month.
Fig. 1 Regional trend of prebaked anode prices from 2016 to 2019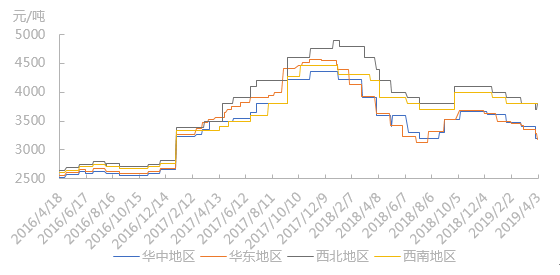 Source: SMM
The rate of start-up in March was larger than that in February, and the rate of operation of small and medium-sized carbon enterprises decreased more obviously.According to SMM research, there are two main situations for enterprises to reduce production: the first is that due to the strict investigation of environmental protection after the two sessions of the National Congress, a small number of enterprises do not meet the standards of ultra-low emissions. Can only passively reduce production; The second, because the marginal profit of prebaked anode is low or even turn to loss, enterprises choose to reduce production actively in order to control the cost. However, for the anode enterprises that have resumed operation in Zhengzhou since late March, there are few pieces of finished anode products in March, so this increment can hardly contribute to the increase of commercial anode start-up rate in March.
SMM maintains its previous view that commercial anode prices (figure 1) currently have no obvious support on both sides of supply and demand. On the supply side, oil coke prices continue to be depressed, according to SMM research, with the exception of some refineries in Shandong Province due to inventory fluctuations and prices rose slightly, petrochemical and other refineries oil coke prices fell in March compared with the previous month. There is no significant improvement on the demand side. According to SMM, most electrolytic aluminum enterprises purchase anodes or stocks at high levels on demand. In terms of price, after the game with carbon enterprises in April, the basic purchase price of Weiqiao prebaked anode continued to drop by 150 yuan / ton, the current exchange rate is 3030 yuan / ton, excluding the impact of tax reduction (3180 1.16) * 0.03 82 yuan / ton, the actual decline is nearly 70 yuan / ton; According to SMM, some electrolytic aluminum enterprises also have reduced demand, superimposed with reference to Weiqiao price, it is expected that the prebaked anode in each area will have different degrees of decline in April. As the price reduction of Weiqiao is still large and the punishment of quality inspection has been strengthened, several carbon enterprises in Henan and Shandong have decided to stop or reduce the supply of anode. To sum up, we expect small and medium-sized enterprises to continue to reduce commercial pre-baked anode production in April, and the start-up rate will decline slightly.