Since 2019, the price of aluminum fluoride has experienced ups and downs, first rose to a new high of 12000-13000 yuan / ton before the Spring Festival, and then fell rapidly after the festive season. By April 3, the market quotation had dropped to 9500 yuan / ton. However, the scope for aluminum fluoride prices to continue to fall is relatively limited. If the price of HF rises as a result of the improvement in the demand for refrigerants, driving up the price of fluorite from the raw material side, the price of aluminum fluoride will rebound slightly to a certain extent.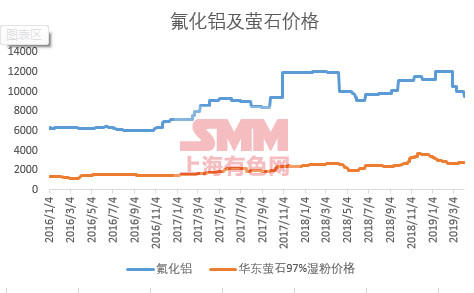 First of all, the price of aluminum fluoride rose before the festival. After 2019, due to the cold weather, the northern fluorite mine and fluorite processing plants generally stopped production and holidays, resulting in a significant reduction in the supply of fluorite. At the same time, HF prices unexpectedly rose. As a result, the price of fluorite rose to a new high of more than 3500 yuan per ton in recent years, and as a result, the price of aluminum fluoride also rose to the highest level this year.
After the Spring Festival, because of the warmer weather, the fluorite processing plant opened earlier and the supply recovered faster. On the demand side, because the price of aluminum is low, the willingness of electrolytic aluminum enterprises to purchase aluminum fluoride is low. At the same time, the peak season of HF demand for refrigerants has not arrived, so that the fall in HF prices led to a significant fall in the price of fluorite. The price of aluminum fluoride dropped rapidly from 12500 yuan / ton to 9500 yuan / ton.
However, at present, aluminum fluoride, HF profits have been relatively thin, the author believes that the sharp decline after the festival is difficult to continue, aluminum fluoride prices may usher in a bottom rebound. The specific reasons are as follows:
1. The fluorite mine in Inner Mongolia was delayed due to a safety accident and was originally scheduled to open at the end of this month.
3. The demand for refrigerants has been weak, the traditional peak season demand is more general, the market generally believes that the peak season is postponed to May, when the demand for HF increases, driving up the price of fluorite, affecting the price of aluminum fluoride. However, HF prices have limited room to rise, as HF prices rose to a high at the end of last year.
4. Some aluminum plants found that the price of aluminum fluoride is on the low side, the willingness to hoard goods is limited, and the demand has increased.
Therefore, in addition to a small number of holders due to financial constraints due to pressure to sell goods realized, the overall aluminum fluoride prices temporarily stopped falling, and may have a small rebound in May.
(Shanghai Nonferrous Network Yi Liang 021 20707892)