2019 since the beginning of the year, anode prices have fallen by more than 100 yuan for three consecutive months (figure 1), and the commercial anode market has been in the doldrums. With the end of the month approaching, SMM expects the base purchase price of Weiqiao prebaked anode to continue to fall in April.
Fig. 1 Regional trend of prebaked anode prices from 2016 to 2019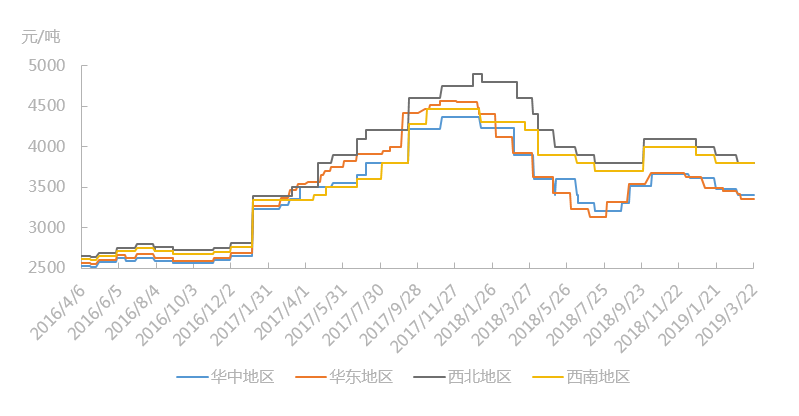 Source: SMM
First of all, from the cost point of view, the petroleum coke market fell more and rose less in March, and the price of coal tar pitch was low. On the whole, it can not support the anode price from the raw material end.
Secondly, the demand for commercial anode in downstream electrolytic aluminum plant is still not high. Most aluminum plants purchase on demand or even have sufficient inventory. At present, the days of anode inventory in a large aluminum enterprise are more than 30 days, and the unloading of the purchased anode is slow after arriving at the plant. Not only are there many high levels of inventory in aluminum plants, but now carbon enterprises are also under great pressure to go to storage. According to SMM research, some carbon enterprises are trying to sell hoarding anodes to electrolytic aluminum plants at prices lower than the average market price. Considering that the purchase price is less than the cost of anode production, individual aluminum plants will choose to purchase a certain amount of anode.
In addition, on the supply side, after the two sessions, the intensity of environmental protection inspection is still strict. Shandong and Henan provinces have individual carbon plants that have been required to limit production because of ultra-low emissions, affecting their output in March. Excluding environmental protection and production restrictions, several enterprises have also chosen to reduce production because of cost control. However, the production capacity of environmental restrictions has been affected since the beginning of last year's heating season, and the effect of production cuts in March will not be immediately reflected, so it will not be able to boost commercial anode prices in April in terms of production cuts.
To sum up, there is a high probability that the commercial anode price will still go down in April. However, it is about to enter the traditional peak season of the petroleum coke market in May, when the average price of petroleum coke can hold steady or even rise, or help merchants to narrow the decline in anode prices.