SMM, March 22 / PRNewswire-Asianet /-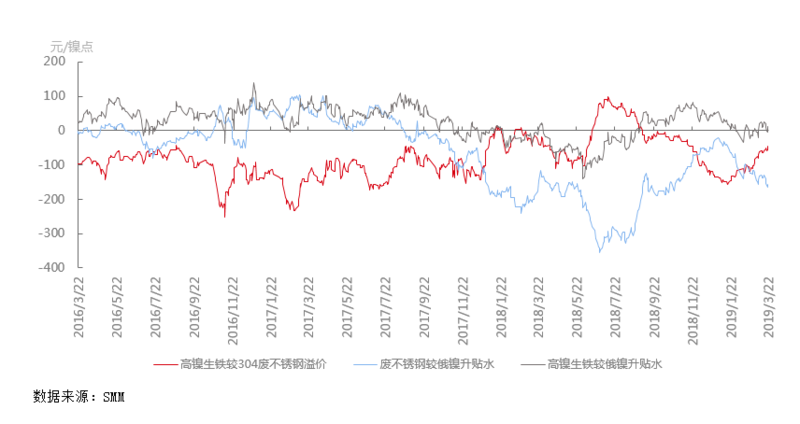 Recently, due to the decline in stainless steel prices, and ferronickel due to tight supply, the price is relatively strong, high nickel pig iron than waste stainless steel sticker continues to narrow, the sticker has narrowed from the highest discount 156 yuan / nickel point to this Friday discount 44 yuan / nickel point.
In the process of communication between SMM and the market, it is understood that this aspect is due to the shortage of nickel and iron supply in March, the supply is limited, and the price is strong. On the other hand, due to the inflow of some scrap stocks into the market, the drop in the price of stainless steel is a drag, making the scrap economy continue to improve.
Relevant sources also said that in the case of a reduction in imported waste and no large increase in domestic supply, the supply is still tight as a whole, and the recent resumption of production of some intermediate frequency furnaces has also increased the demand for waste. At present, a sharp fall in scrap prices is unlikely, and the economy of high nickel iron may fluctuate in a relatively stable range at a later stage.
For more information, please subscribe to the "China Ni-Cr stainless Steel Industry chain General report" and "China Ni-Cr stainless Steel Industry chain High end report" of SMM nickel research group products. Get the latest nickel ore, nickel pig iron (China + Indonesia), electrolytic nickel, nickel sulfate, chromium ore, ferrochromium, stainless steel (China + Indonesia) related data analysis and market analysis! For order and trial, please call 021 5159 5864 QQ 2880 950818, contact: Wu Ruoyao
(Wu Ruoyao TEL: 021 5159 5864 QQ: 2880950818)