SMM recently completed the investigation on the start-up rate of domestic commercial prebaked anode enterprises in February. The start-up rate of commercial prebaked anode in February was 57.97%, which decreased by 0.99% compared with January. In terms of enterprise scale, the start-up rate of large enterprises in February was 59.6%, which was stable compared with January; the start-up rate of medium-sized enterprises was 61.17%, down 1.17% from January; and the start-up rate of small enterprises was 32.36%, down 5.39% from January.
There are two main reasons for the slight decline in the start-up rate in February compared with the previous month. First, the price of prebaked anode still goes down in February, and the enterprise chooses to reduce production actively for the sake of controlling the cost. Second, February is still in the autumn and winter heating season, and on the eve of the National two sessions, environmental protection inspection efforts are only strict, some carbon enterprises follow the local government orders to reduce production.
Reviewing the start-up of commercial prebaked anodes in the autumn and winter heating season from 18 to 19, the start-up rate in December was 60.32%, with the largest month-on-month decline, mainly because small enterprises with an annual production capacity of less than 100000 tons and two medium-sized enterprises in Henan stopped production one after another in that month. Significantly lower the start-up rate. The starting rate in January and February was still lower, but the decline was moderated, and the output reduction of anode caused by environmental protection was narrower than that in November and December. And most of the carbon enterprises still maintain normal production during the Spring Festival, so the Spring Festival factors have little impact on the starting rate in February.
It is expected that the start-up rate of commercial prebaked anode in March will still be slightly lower than that in February for three reasons. First, the heating season ended in most parts of the country in mid-March, but some carbon enterprises will not choose to return to prebaked anodes due to cost pressure, and SMM learned in the March survey. Some carbon enterprises with normal production have also reduced production due to the continuous low market price of prebaked anodes (figure 1). Second, the demand side is still weak, in February electrolytic aluminum plant production reduction slightly narrowed, but still in the state of net production reduction; Third, at present, most of the downstream electrolytic aluminum plants have a slow return, and some aluminum enterprises have become stricter in quality inspection of anodes purchased abroad, thus increasing the punishment for defective products, resulting in some carbon enterprises taking the initiative to apply for a reduction in supply due to financial pressure. It is expected to have some impact on March production.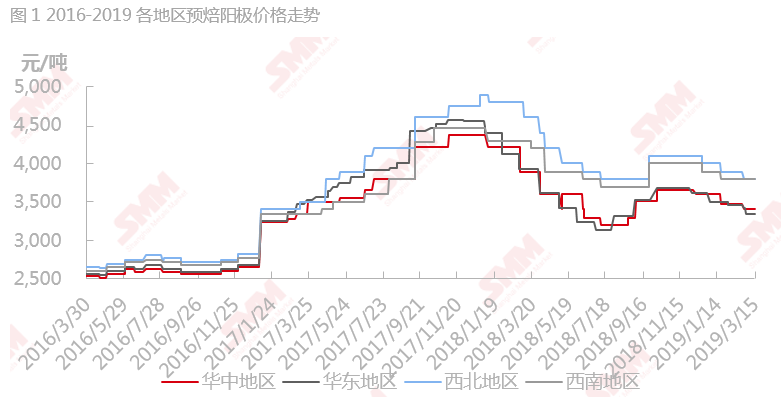 Source: SMM