China's unforged aluminium and aluminium exports fell 6.83 per cent in February 2019 from a year earlier and 37.86 per cent from the previous month, according to customs data. From January to February 2019, exports totaled 895000 tons, an increase of 9.56 percent over the same period last year. The increase was mainly due to January's contribution. SMM said in a previous article that unforged aluminum and aluminum exports in January reached a new record of 552000 tons in nearly four years.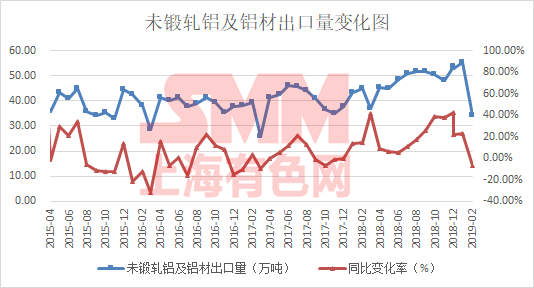 Source: general Administration of Customs, SMM
Unforged aluminum and aluminum decreased in February compared with the same month last year, mainly due to the following points:
In January, the yuan appreciated slightly from January. Although the value of the renminbi has been largely on the path of devaluation since the second half of 2018, the renminbi appreciated in February from January. From the offshore RMB trend chart, we can also see that the monthly K line of offshore RMB in February is significantly lower than that in February. The appreciation of RMB has a certain inhibitory effect on exports.
2. The planning of shipping and shipping schedule before the Spring Festival has been affected to a certain extent, exports have slowed down, and enterprises have a holiday during the Spring Festival, export business is at a standstill, thus reducing the volume of aluminum exports. As can be seen from the picture above, as the Spring Festival approaches in February every year, there is a significant decline in the export volume of unforged aluminum and aluminum materials. When the Spring Festival holiday this year is earlier than that of previous years, the export volume is affected by holiday factors. There is a certain degree of rationality in its decline.
3. Under the background of uncertain trade environment, the export pre-diversion of some of the February export commodities in the first two months led to a significant decrease in the export volume of unforged aluminum and aluminum materials in February compared with the same period last year. SMM had previously said in his article that Sino-US trade frictions had developed to a more sensitive stage between December and January, against a backdrop that exporters tend to pre-position exports to avoid risks to avoid losses caused by tariffs falling to the ground. Under such circumstances, the goods that aluminum exporters originally planned to export in January or February may be advanced to the completion of exports in December last year or January this year, diverting the February export volume of a branch, resulting in a significant decline in unforged aluminum and aluminum exports in February. It also fell from a year earlier. On the other hand, during February, China and the United States held six meetings on the theme of trade negotiations, especially after the fifth Beijing Conference, both sides issued some positive signals. The market expects the two sides to agree on a high probability. Expected to improve the context, aluminum enterprises export tensions have also eased.
Today (March 9), Ni Yuefeng, director of the General Administration of Customs, said that in early March (as of the early morning of 9 March), China's total volume of imports and exports increased by 24.7 percent compared with the same period last year, and was full of confidence in the next stage of trade. SMM believes that there is a certain seasonal rationality for the decline in unforged aluminum and aluminum exports in February. According to previous years, there is a high probability that exports in March will increase compared with February. However, it is still necessary to pay attention to the changes of overseas demand for aluminum and export trade environment in China.