SMM, March 8: according to data released by the General Administration of Customs on Friday, China's unforged copper and copper imports in February were 311000 tons, down 11.65 percent from the same period last year, and the cumulative import volume from January to February was 789000 tons. This is down from 794000 tons in the same period last year.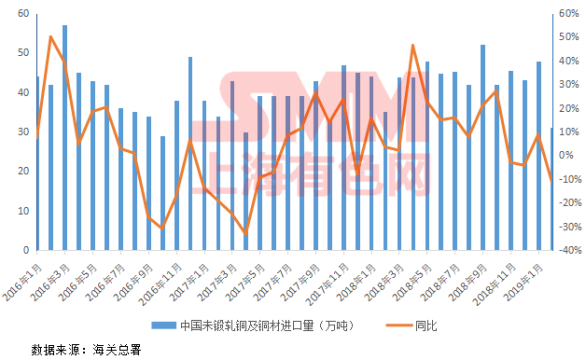 According to the data, China exported 343000 tons of unforged aluminum and aluminum in February, with a cumulative export volume of 896000 tons from January to February, up from 816000 tons in the same period last year.
Zhang Huawei, copper analyst at Soochow Futures, said unforged copper and copper imports fell in February from the same month to the previous month, in line with market expectations. Judging from the import profit and loss situation in February, the import loss was more than 1,000 yuan for most of the time, and the import copper premium continued to fall, reflecting the weak import demand. From the point of view of the import of copper concentrate, with the growth of domestic smelting capacity, the growth of domestic output has partially replaced the demand for imported copper. Copper concentrate rose 24.9 per cent in the first two months and 13.7 per cent for the whole of last year. In addition, under the heavy pressure of trade friction between China and the United States, downstream household appliance enterprises have also produced and exported ahead of time, and some of the demand has moved forward, resulting in the demand of the raw material side also partially moving forward. From the situation of copper processing enterprises, the operating rate is at a low level compared with the same period over the years, which also reflects the relative weakness of domestic copper consumption.
SMM said that the import volume of unforged copper and copper products in February is basically at a low level for the whole year. Due to the influence of the Spring Festival and the off-season consumption, February is mostly a period of excessive accumulation, and the decline in imports from the same period last year is more related to the closure of the import window. In February, imports were at a loss for a long time, especially in the last half of the year, with a loss of more than 1000 yuan per ton. The weak domestic downstream demand closed the import window, and some smelters turned to exports. At the same time, the demand for refined copper is suppressed by the expansion of refined scrap price difference, and refined copper accounts for 70% of unforged copper and copper. It is important to note that imports in the first two months of this year were roughly the same as last year, and traders' early stock in January was also one of the reasons for the month-on-month decline in February. The future market pays attention to the start of downstream consumption and inventory changes.