The US dollar held steady against most major currencies on Wednesday, with commodity currencies the Canadian dollar and the Australian dollar falling to two-month lows on Wednesday as policymakers from the Bank of Canada and the Bank of Australia were expected to keep interest rates unchanged or even cut rates for the foreseeable future. In response to economic weakness, traders reduced their holdings of both currencies. Gold prices held steady just above the five-week low hit last day as the dollar fell slightly and stocks fell slightly as investors waited for further signals about the health of the global economy. Crude oil futures were mixed after US government data showed an unexpected surge in crude oil inventories last week, although gasoline stocks fell for the third month in a row to support oil prices. Overnight non-ferrous outer market green manure red thin, the market is not big, Lunxi led down 0.77%, Lun copper, Lun aluminum fell more than 0.4%, Lun Ni slightly fell, Lun Zinc, Lun lead slightly increased. The overall decline in the internal market, Shanghai aluminum fell 0.4%, Shanghai tin, Shanghai lead fell more than 0.3%, Shanghai copper, Shanghai nickel fell more than 0.2%, Shanghai zinc rose slightly.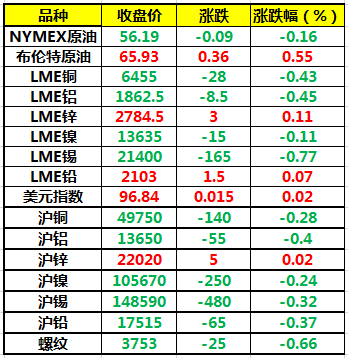 (for more details, please order "SMM Metal Breakfast" to see ~!)


[SMM Copper Morning News] the slowdown in economic growth has raised concerns in the market that the performance of Shanghai copper has been negative for four years.
"[SMM Aluminum Morning News] the strength of the US finger is still lower than that of the main moving average group.
"[SMM lead Morning News] Shanghai high closing 4 consecutive negative rising market has come to an end.
"[SMM Zinc Morning News] the integer position of re-measurement of zinc in Shanghai is still not stable enough to complete the main exchange of zinc in Shanghai.
"[SMM nickel Morning News] the nickel price runs to the key platform position and continues to have insufficient upward driving force.
"[SMM Tin Morning News] the US dollar is under pressure.
"overnight financial data review: the dollar is standing still, EIA inventories are skyrocketing, colored internal and external disks are green.
"Today's financial data outlook: today's focus on China's February trade import and export data as well as the ECB interest rate resolution
[nickel stocks continue to fall to multi-year lows] LME data on Tuesday showed nickel stocks fell ten straight to 196410 tons, refreshing the low level since July 19, 2013. Shanghai nickel stocks fell for eight weeks to 11005 tons, the lowest level since June 5, 2015, according to data released in the previous period. "View detail
[Goldman Sachs: the future of gold and silver or "bullish"] Goldman Sachs (GoldmanSachs), the top investment bank, has turned to a tepid attitude towards the commodity composite index, but the bank is still bullish on gold and silver. And raised expectations for silver in the latest commodities report. In a report released on Monday, March 4, Goldman Sachs commodity analysts across the board raised their forecasts for commodity prices for the next three, six and 12 months, Huixin reported. Analysts now expect gold to rise to $1350, $1400 and $1450, respectively.
Today's focus