SMM3, April 4: recently, SQM released its fourth quarter financial report, according to the announcement, as of December 31, 2018, the company's net income was $439.8 million, 2018 operating income of $2.2658 billion, higher than 2017. SQM CEO Ricardo Ramos believes the lithium market continues to grow at an unprecedented rate, with demand for lithium growing by more than 25 per cent in 2018 as a result of the growth of the electric vehicle market. Electric vehicle penetration will reach 2% in 2018, and these levels are expected to increase significantly in the future.
In 2018, the company announced the third phase of lithium carbonate expansion in Chile, increasing production capacity to 180000 tons per year in the next few years, and will assess capacity, production and sales based on market conditions and strategy. In Australia, the company continues to advance the Mount Holland lithium project. A recent milestone in the project was the receipt of the necessary exemption from the Minister of Mining and Oil of Western Australia for expenditure requirements related to mining rights. The company expects to complete the feasibility study in the second half of this year, when there will be a better estimate of the capital expenditure and cost of the project.
Revenue from lithium and derivatives totaled $734.8 million as of December 31, 2018, up 14.0 per cent from $644.6 million in 2017. Of this total, lithium and derivatives revenues were $233.9 million in the fourth quarter of 2018, up 30.4 per cent from $179.4 million in 2017.

The lithium market continued to grow strongly in 2018, with total demand growing by more than 27%, according to the company. Demand growth, driven mainly by demand related to electric vehicles, will reach 2 per cent in 2018 and is expected to double over the next five years, and demand in 2019 should be at least 20 per cent higher than total demand in 2018.
The average price of lithium in 2018 was more than 25 per cent higher than last year and SQM was able to earn a significant premium to many of its competitors over the same period. New supplies are entering the market, which could affect the company's ability to maintain that premium in 2019. However, there are several different quality lithium grades on the lithium market, and not all products are sold at the same price. The company believes that all lithium supplies entering the market are not necessarily suitable for all customers, and SQM will focus on providing customers with high-quality lithium batteries in 2019. The company will also rebuild some inventory this year, so it believes sales in 2019 may be slightly higher than in 2018. As at 31 December 2018, the lithium and derivatives division accounted for approximately 53 per cent of SQM's combined gross margin.
2019 (fourth) Ni-Co-Li-mn Industry chain Summit-Global Lithium Technology Symposium invites cathode materials and lithium battery enterprises to explore the new trends of industrial chain development, interpret industry policy trends, and analyze future price trends! Review 2018 with 90% of the bosses, purchasing and general workers in the industry, look forward to 2019, and imagine 2020!
Meeting details: 2019 (fourth) Ni-Co-Li-mn Industry chain Summit (click on the link to see details)
[2019 Ni-Co-Li-mn Industry chain Summit]
Boutique meeting, New year feast!
Summit consultation, Mr. Yu
18516238893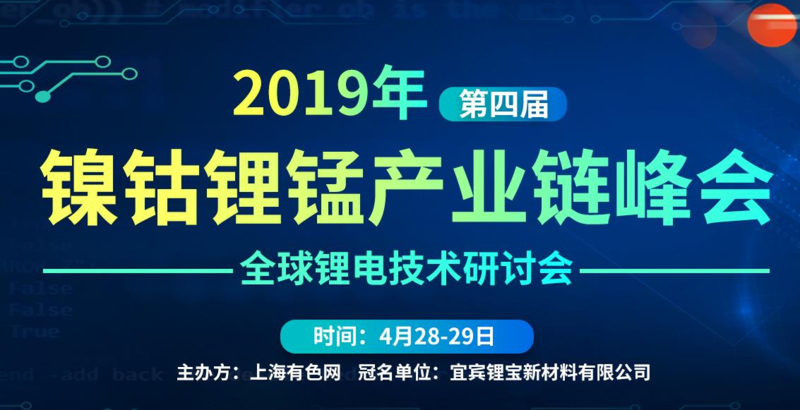 "Click on the registration page