SMM2, March 25: copper, because of its wide range of applications and excellent conductivity, is used in a variety of products, from consumer goods, cars to semiconductors. Global demand for copper reached 23.6 million tons last year and is expected to reach 30 million tons by 2027, growing at an average annual rate of 2.6 per cent.
As previously shared, renewable energy requires several times as much copper as traditional energy. Wind farms in western Texas, California and other state capitals, for example, need as much as 15 million tons of copper.
2018 Renewable Energy breaks Historical record
A breakthrough in renewable energy has arrived. Today, wind turbine technicians and solar panel installers are the fastest-growing jobs in the United States, and they have their own value. According to a report released by Bloomberg New Energy Finance, the amount of renewable energy purchased by companies has more than doubled from 2017 to 2018. Last year, companies around the world bought 13.4 billion watts of electricity, surpassing the previous record of 6.1 billion watts in 2017. Sixty-three per cent of these purchases took place in the US, with Facebook alone buying 2.6 billion watts of renewable energy, three times as much as AT & T in second place.
In the next few years, renewable energy is expected to enter a white-hot stage of development. The following picture is from McKinsey's Global Energy Outlook 2019, and analysts believe that by 2035, renewable energy production will account for "half of all energy production." At the same time, it will be cheaper than other sources of energy derived from oil and gasoline. By 2050, renewable energy will account for 3/4 of all energy consumption, mainly wind and solar energy.
If you are very interested in this emerging trend, you can start to get really involved now. I think one of the best ways is to get in touch with high-quality, efficiently managed copper mines and funds, which play an important role in copper mining.
China will take the lead in the transition from internal combustion engine vehicles to electric vehicles
We haven't talked much about electric cars so far. They're famous copper consumers. As I have shared before, electric cars consume three to four times as much copper as traditional internal combustion engine cars.
China leads the world in electric vehicles, and that status will continue. In the fourth quarter of last year, China accounted for 60% of global electric car sales and 50% of charging stations, according to Bloomberg. As of last year, electric vehicles accounted for 7% of new car sales in china, up 118% from 2011, according to the Bloomberg new energy financial report. Over the next decade, China will enjoy 40% of the global electric car market, followed by Europe (26%) and the United States (20%).
Not only does China have state-level subsidies for electric vehicles, but its "new energy vehicle" points system has also encouraged carmakers to engage in electric vehicles. The system sets a target for electric vehicles, requiring carmakers to earn points by selling them. Bloomberg New Energy Finance said it was "the most important electric vehicle policy in the world and is reshaping the car industry's electric car program."
And accelerating the development of electric vehicles is based on a series of measures in China, that is, the accelerated implementation of the "National sixth Phase vehicle Pollutant Emission Standard" under the "Blue Sky Defense" action plan against pollution. As we are now seeing in parts of Europe, China will soon ban the production of the most polluting diesel engines.
Many Chinese cities are aware of the dangers of environmental pollution and have begun to limit the sale of fuel vehicles. In 2018, China's Shenzhen and Shanghai led the world, selling more than 165000 electric vehicles, more than Norway and Germany combined.
With demand for electric vehicles high, China's copper imports climbed to 479000 tons in January, the second highest in history.
Morgan Stanley is bullish on copper prices and copper producers-Freeport McMullen Copper and Gold Co., Ltd.
All the changes that have taken place have convinced me that 2019 is not only a glorious year for copper, but also significant for copper producers. The price of copper has risen 6% so far in 2019, trading at close to $2.8 a pound, down 67% from its all-time high of $4.62 a pound in February 2011.
Last week Morgan Stanley, along with Citibank and Goldman Sachs, was bullish on copper's rally. The investment bank expects copper prices to rise 14 per cent in 2019, based on supply shortages and promising Sino-US trade disputes.
On the copper side, Morgan Stanley is bullish on Freeport McMullen Copper and Gold, while Goldman Sachs recently bet its chips on Rio Tinto. Piyush Sood, chief analyst at Morgan Stanley, said Freeport "remains the most sensitive to copper prices among its peers and, coupled with its good trading liquidity, we think it will become a large stock in the copper sector." The company's shares rose seven percent after the news was released last Wednesday.
Singapore-based DBS also believes there is a shortage of copper. Analysts expect supply to run a deficit every year between now and at least 2022 and is likely to be the largest since 2004.
Matt Geely, chief executive of Nevada Copper, said: "Copper is the king of electrification trends and affects the development of the global economy. We have seen a steady increase in demand for copper over the years. "
To meet growing demand, four U. S. copper projects will open next year, the first such project in decades, according to the website. Ivanhoe Mines is currently developing the Kamoa-Kakula copper mine in the Democratic Republic of the Congo, which is known as the second largest copper mine in the world. "you need a telescope to see the price of copper in 2021," the source said. "
: Frank Holmes, is currently chief executive and chief investment officer of San Antonio-based Global Investment Corporation, an investment adviser. The World Precious Metals Fund (UNWPX) and the Gold and Precious Metals Fund (USERX), which manages the Global Resource Fund (PSPFX), including the Global Resource Facility (PSPFX), were named Mining Fund Manager of the year by Mining Magazine in 2006.
(note: if copyright issues are involved, please contact SMM and we will deal with "View the original text" in a timely manner)
Notice: will the copper market supply tighten in 2019 as the market expects, and where is the growth point of copper demand under the downward pressure of the economy? Can new energy drive a surge in new demand, and can copper prices rise in 2019 as many investment banks expect? Let's see how macroeconomists and industry professionals interpret it at the 14th SMM Copper Industry chain Summit on March 27-29. "Click to enter the registration channel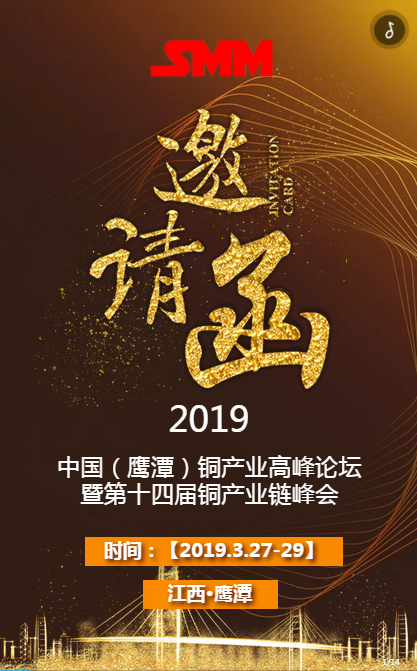 "Click to enter the registration channel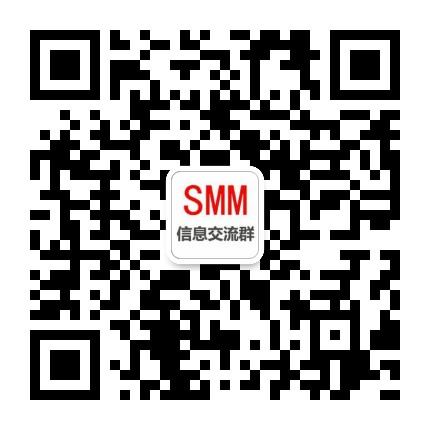 Scan QR code, apply to join SMM metal exchange group, please indicate company + name + main business