The Eurasian Economic Commission issued notice No. 2019 / 152/AD24 on January 10, 2019. on 15 January 2019, the Eurasian Economic Commission issued notice No. 2019 / 2019 on 10 January 2019, Announcing the final result of anti-dumping on aluminum alloy wheels originally imported from China into the Eurasian Economic Union customs territory: ruling that there is dumping of imported aluminum alloy wheels originally from China, The import of the products involved in the case has caused substantial damage to the relevant industries of the Eurasian Economic Union, and there is a causal relationship between dumping and substantial damage. Therefore, it is suggested that anti-dumping duties be imposed on imported aluminum alloy hub products originated in China for a period of five years. The tax rate is 33.66%.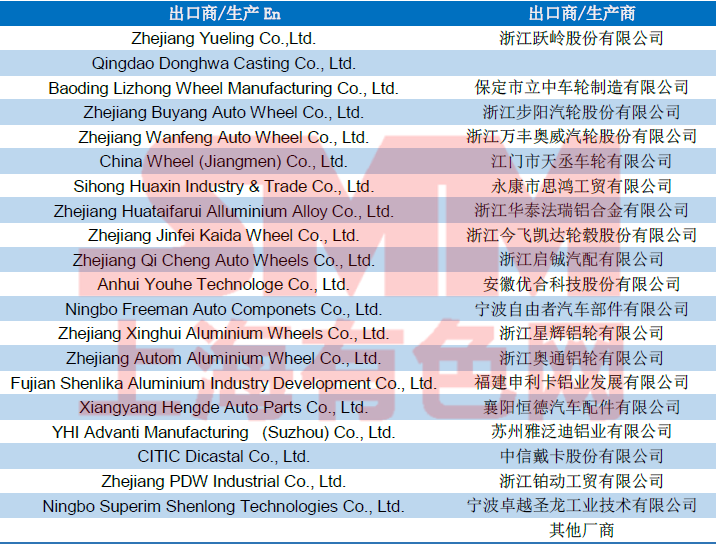 The members of the Eurasian Economic Union are Russia, Belarus, Kazakhstan, Armenia and Kyrgyzstan. The five countries have imported a large number of Chinese aluminum wheels from Russia. From January to November 2018, the top 20 countries and regions in China's aluminum hub export destinations accounted for 93.4% of the total annual exports in 2018, of which only 1.4% were exported to Russia, while the other four countries were not in the top 20. In 2017, Chinese exports of aluminum wheels to Russia accounted for 1.5 per cent of total exports. Therefore, SMM believes that the impact of Eurasian Economic Union's levying anti-dumping duties on China's aluminum wheels on the total export volume of China's aluminum wheels is relatively limited.
Second, the final anti-dumping ruling from the official documents did not specify the time of implementation, this SMM will continue to pay attention to this.
The following are some of the countries / economies sorted by SMM that impose anti-dumping duties on imports of Chinese aluminum wheels and their corresponding duty rates:

In addition to the "double reverse" tax imposed by these countries on Chinese aluminium wheels, the US has imposed a 10 per cent tariff on imports of Chinese aluminium wheels since September 24, 2018. The United States, as the largest export destination of China's aluminum wheels, accounts for about 50% of China's total aluminum hub exports.