SMM, January 11 / PRNewswire-Asianet /-
As the FOB price of Ni1.65% nickel mine in Indonesia approaches the FOB cost of some high-cost mines, the downward momentum of nickel mine price continues to weaken obviously, and there are signs of stopping the decline in the near future. The cost of laterite nickel mine in Indonesia varies according to the height of different mines, mainly in all kinds of hidden cost, transportation distance and so on. The cost of mine FOB is between US $20 and US $28 / wet ton, of which US $25 / wet ton is the mainstream, and the cost distribution is as follows:
Cost distribution of medium nickel deposits in Indonesia in 2018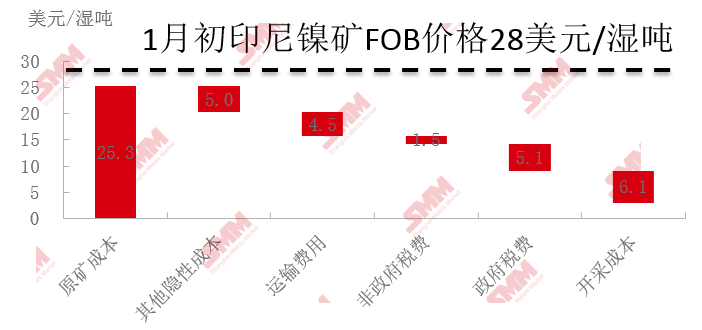 2. The decline in mining prices has led to a downward shift in costs, driven by production cuts in nickel pig iron plants.
The Ni1.65% nickel mine fell about $4 per wet ton in December from a month earlier, and the cost moved down by $400 per metal ton (30 yuan per nickel spot). As a result, the cost line of Inner Mongolia nickel pig iron EF process, which was at the high end of the cost, decreased from 950 yuan / nickel point to 920 yuan / nickel point. According to the current factory price of nickel pig iron, the profits of high-cost factories are repaired, losses are turned into profits, and production reduction drives away.
矿价下跌导致成本下移 25天前矿-高镍生铁利润修复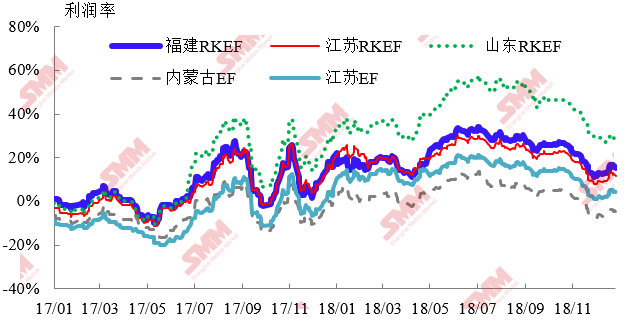 After profit repair, the output of high nickel pig iron remained stable in December.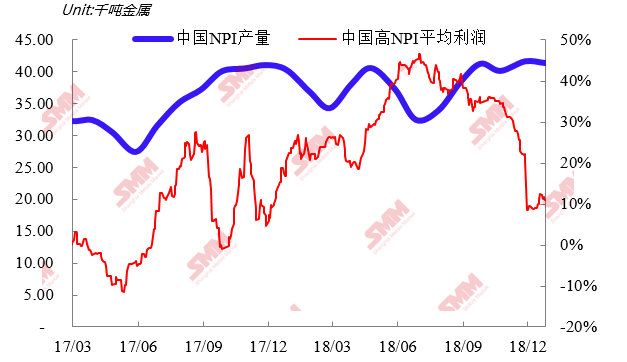 3. Domestic supply of high nickel pig iron is still tight
Domestic production increased: the domestic production of high nickel pig iron in December was stable compared with November, and a large 48000KVA, which was put into production in East China in early December, is now out of iron and is expected to reach production within half a month to one month. Production is likely to continue to increase slightly in January. But the supply of high-nickel pig iron from Indonesia has declined: a steel mill in Indonesia cut production due to force majeure from October to November 2018, resulting in excess nickel pig iron being transported to domestic steel mills. When it resumed production in December, all of its nickel pig iron production remained in Indonesia, reducing the amount of the project entering the Chinese market.
According to SMM research, there is a shortage of domestic spot resources, and some orders for nickel pig iron plants have been signed until March. It is expected that high nickel pig iron will still be in short supply and maintain a higher water supply than electrolytic nickel before the large amount of new production capacity in Indonesia and China.
For more information, please subscribe to the SMM Ni Research Group products "China Ni Industry chain General report" and "China Ni Industry chain High end report". Get the latest nickel ore, nickel pig iron (China + Indonesia), electrolytic nickel, nickel sulfate, stainless steel (China + Indonesia) related data analysis and market analysis! For order and trial, please call 021 5166 6865 QQ 2880 615019, contact: Gao Yin
(SMM sings TEL: 021 to 51666865 QQ:2880615019)
Tip: SMM built question answering platform has been online, you have any industry questions can be asked in this platform, there will be professional analysts to make a detailed interpretation for you! "Click to view details