SMM, January 1 / PRNewswire-Asianet /-
During the period from 2010 to 2013, the output of domestic nickel pig iron plants increased rapidly, and downstream stainless steel plants also preferred to use nickel pig iron instead of pure nickel. At one point, NPI accounted for 61% of the consumption of nickel raw materials. As a result, the proportion of primary nickel used has been reduced to 15%. However, after 2014, domestic nickel pig iron plants lack of nickel ore raw materials, superimposed the impact of environmental protection, nickel pig iron production dropped sharply, the proportion of NPI dropped to less than 50%, and the proportion of primary nickel consumption returned to more than 20%.
Proportion of consumption of different nickel raw materials for E stainless steel in China from 2010 to 2021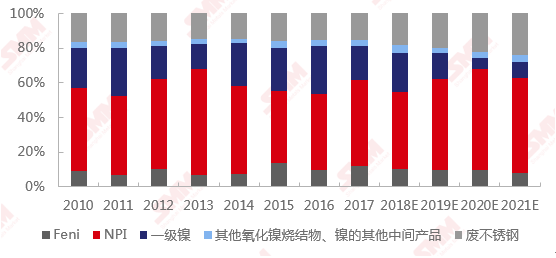 In 2018, the proportion of NPI consumption fell to 44%, mainly due to Indonesia's Qingshan stainless steel production capacity increased to 3 million tons in 2018, so that the production of nickel pig iron remained in Indonesia, China imported nickel pig iron from Indonesia significantly reduced. This reduction is made up for by grade I nickel and waste stainless steel. On the other hand, the domestic output and import of primary nickel decreased in 2018, and the consumption mainly came from social inventory.
Thanks to the vigorous ban on intermediate frequency furnaces in Dainan in May this year, the supply of waste stainless steel has increased substantially and the price has gone down. Stainless steel plants have increased the use of waste stainless steel, especially the Qingshan system. At one time, the proportion of waste stainless steel in some Qingshan steel plants reached about 70%. However, at the end of 2018, with the reburning of intermediate frequency furnace capacity, the proportion of waste stainless steel decreased again.
Other oxidized sinter and other intermediate products of nickel account for a small proportion and little fluctuation, stable at 5%.
SMM believes that after 2019, with the rapid expansion of global nickel pig iron production, the use of nickel pig iron in stainless steel plants will return to more than 50 per cent, resulting in a extrusion of around 9 per cent of primary nickel consumption in 2021. At the same time, with the establishment and improvement of the waste stainless steel recovery system, the domestic supply of waste stainless steel will increase rapidly, accounting for 22% of the consumption.
For more information, please subscribe to the SMM Ni Research Group products "China Ni Industry chain General report" and "China Ni Industry chain High end report". Get the latest nickel ore, nickel pig iron (China + Indonesia), electrolytic nickel, nickel sulfate, stainless steel (China + Indonesia) related data analysis and market analysis! For order and trial, please call 021 5166 6865 QQ 2880 615019, contact: Gao Yin
(SMM sings TEL: 021 to 51666865 QQ:2880615019)
Tip: SMM built question answering platform has been online, you have any industry questions can be asked in this platform, there will be professional analysts to make a detailed interpretation for you! "Click to view details