SMM, December 21 / PRNewswire-Asianet /-
According to the Bureau of Statistics, SMM estimates national copper production at 17.2767 million tons in 2018. It can be clearly concluded from the following figure that the top five cumulative output of copper in China are Jiangxi, Zhejiang, Anhui, Jiangsu and Guangdong, accounting for 18.04%, 15.12%, 14.59%, 13.92% and 13.43%, respectively. The cumulative output of these five provinces accounts for 75.09% of the country's total output.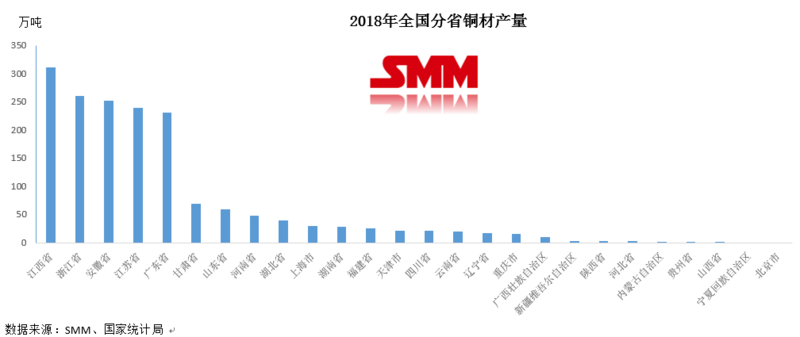 Jiangxi Province ranks first in copper production in the country, with an estimated output of 3.1167 million tons this year. Because Jiangxi Province has the largest smelter Jiangxi copper industry, has natural geographical advantages; in addition, some enterprises using scrap copper processing due to Jiangxi Province tax subsidies make its processing output ranked first in the country.
The annual output of Zhejiang Province, Anhui Province, Jiangsu Province and Guangdong Province is relatively close this year, at 2.6118 million tons, 2.5211 million tons, 2.4043 million tons and 2.3197 million tons respectively. It can be seen that the distribution of copper processing enterprises in China is still dominated by the Yangtze River Delta and the Pearl River Delta, which is more suitable for terminal consumption distribution centers. However, because some smelters and terminals are also gradually improving their industrial chain, some copper processing has improved inland, and we can see that there are more copper projects in the southwest in the future. Such as Jintian Group, Hailiang shares, Jinlong Precision Copper Tube Group and so on have dabbled in. (SMM Dai Cheng Yao)