SMM December 18: yesterday, the LME spot contango structure suddenly expanded significantly, from the previous day's discount of $3.75 / ton to $27.50 / ton, after nearly two months of maintenance of the back structure finally showed a significant change.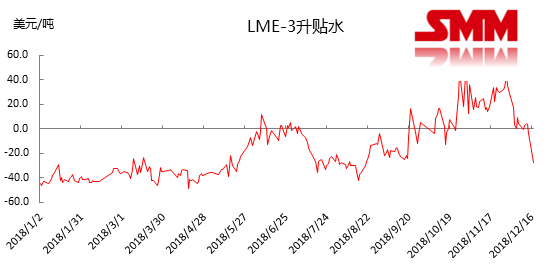 Starting in mid-August, the LME 0 to 3 liter discount rose by about $90 per ton in four months, from a minimum discount of $42 / ton to a maximum of $44.50 / ton, along with the continued decline in LME copper stocks. After mid-September, China's import loss widened to a high of about 1500 yuan / ton, and the Yangshan copper premium price rose to an average price of US $120 / tonne before falling back to a minimum of US $62.50 / ton, and the market returned to a light level.
In early December, after two months of sharp back structure suddenly narrowed to flat, market sentiment was boosted, Yangshan copper premium finally stabilized, and there was a small recovery. Since then, the week will remain flat hovering up and down, do not see a clear direction, yesterday, LME spot contango structure suddenly significantly expanded seems to let everyone for Yangshan copper premium renewed hope.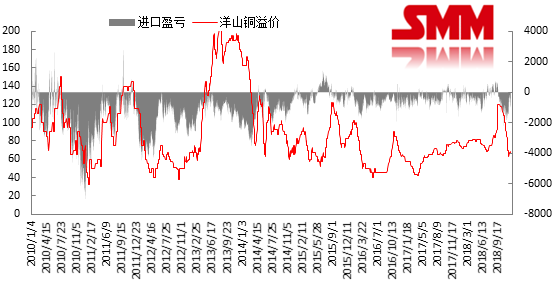 SMM believes that in the short term, the structure of contango may continue, driving the transformation of LME structure to contango: first, it is difficult to support the structure of back in a period of off-season consumption; In addition, in the early period of large losses in imports, domestic smelters turned to exports, our current statistical total of about 80, 000 tons, although there is not much embodiment in overseas inventories, but its hidden dangers for the formation of LME spot prices.
The total inventory of LME has continued to decline, currently only 121800 tons, a decrease of 38 percent compared with the same period last year, and at a low level in nearly a decade. The hidden danger of the export volume of stocks in China's smelters and the low level of stocks have nearly hit bottom, so there is limited room for further decline. At the same time, from the proportion of write-off warehouse receipts, it has also been decreasing in the past two months, accounting for only 13.6% at present, indicating that there is still the possibility of copper being shipped out of the LME warehouse.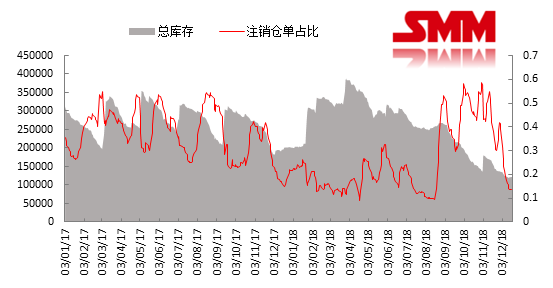 As far as we know, the Yangshan copper market has not seen an increase in transaction price due to the change in structure, only that the unilateral quotation of the holder has been raised, and the actual demand is still very poor, which coincides with the settlement period of the last two weeks at the end of the year. There have not been too many waves in the market. At present, there are only signs of improvement, and we still need to pay attention to the trend of the later stage of the LME structure whether or not substantial changes can take place, but we should pay attention to the technical renovation of overseas codelco smelters and the centralized overhaul of refineries in the second quarter of next year. If it interferes greatly with the output of electrolytic copper, it will be beneficial to the tendency of LME to back structure to a certain extent. (SMM Wei Xue)