SMM, Dec. 3-Chilean copper production fell 3.2 percent in October from a year earlier, due to smelter overhauls and declining ore grades, according to data released by Chilean government agencies on Friday. According to (INE), Chile's National Bureau of Statistics, copper production in October was 495923 tons. According to the Bureau of Statistics, the production reduction was due to maintenance work at the smelter and a decline in the grade of the ore.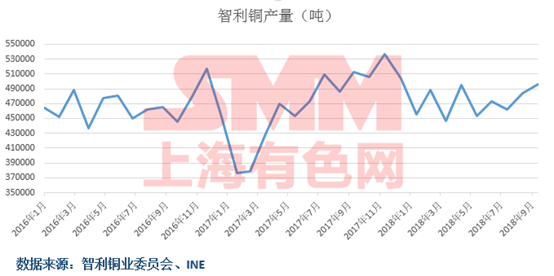 The increase was mainly due to a strike by BHP Billiton's Escondida, the world's largest copper mine, in February and March 2017, with Chilean copper production near 370000 tons per month in February and March last year at the lowest level in recent years. The 44-day strike by the mine workers was triggered by the breakdown of negotiations on a labour agreement between the company and the workers. Last year's strike shook the global copper market and cost BHP about $1 billion in profits. It is also because codelco production levels increased in 2018.
Although the news of partial strikes in small mines occurred from time to time in 2018, many of the world's top mining unions, including Escondida, Los Pelambres and Ministro Hales, successfully signed new labor agreements, and the basic tone of 40 wage negotiations in overseas mines throughout 2018 was stable.
Looking ahead to 2019, Chile's National Copper Council, (Cochilco), said recently that it expected Chile, the world's largest copper producer, to produce 5.76 million tons of copper this year, up 4.7 per cent from the previous year. In 2017, copper workers went on strike for a long time, affecting copper production. In addition, Chilean copper production will grow by 3.1 per cent and 1.4 per cent in 2019 and 2020, respectively. Global demand for refined copper will rise slightly by 1.3 per cent this year and 2.3 per cent next year, and the decline in global production will lead to a slight shortage of supply, Cochilco said.
Chilean Mining Minister Pablo Terrazas said the market fundamentals remain solid. He said the supply and demand situation showed that a shortage of copper supply was inevitable between 2018 and 2020, even if the extent of the shortage was limited.
Fitch said in a recent report that Chilean copper production is expected to increase by 2 per cent to 5.4 million tons in 2018 as a result of increased production at major mines (SMM expects to be around 5.7 million tons). Chile will achieve steady production growth of 4 per cent next year as the risk of labour strikes is reduced and mines escalate, warning that falling ore grades pose a downside risk to its long-term forecasts.
Chile, as the world's largest copper producer, is expected to reduce production in many mines next year. The stable increase in output in Chile this year and next year has stabilized the pattern of global copper supply and demand. SMM expects copper supply growth to rise to 3.3 per cent in 2018 from minus 1.0 per cent in 2017, and expects copper supply growth to slow again to about 2.4 per cent in 2019, with mineral copper growth of about 500000 tons. The main factor is Grasberg, the world's second-largest copper producer, which expects copper production to fall next year, mainly as a result of the transformation of mines. The largest increment is the Cobre Panama mine owned by First Quantum, which is expected to be 150000 tons.