SMM 11月23日讯: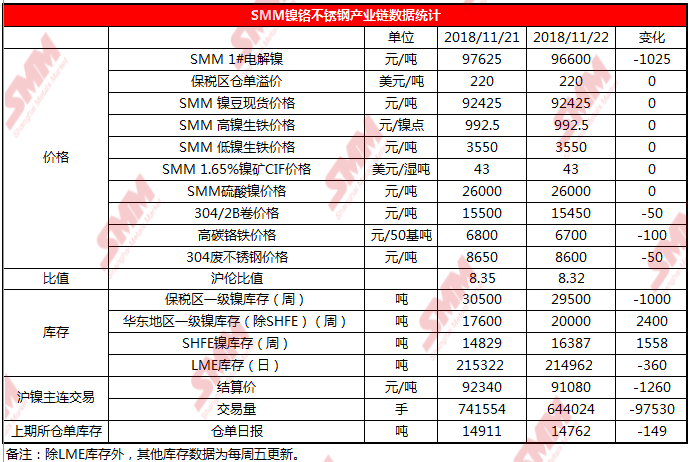 U. S. stocks closed, European stocks and U. S. stock futures fell, Dow futures fell more than 150 points, the dollar fell for two days. Saudi Arabia hinted that production hit an all-time high in November, with crude oil plummeting 1.4%, returning to record lows. China is exempt from three years of enterprise income tax and value-added tax on interest income from bonds of overseas institutions. China's foreign exchange share fell by more than 90 billion yuan in October from a month earlier, to an eight-year low.
Supply and demand details:
On the demand side, the initial output of the SMM survey of 3 series stainless steel samples in November was 1.22 million tons (here is the stainless steel sample production data), which is basically the same as in October, and there will be a risk of decline in stainless steel production in December. SMM research learned that Guangqing Technology, Beihai Chengde, Dongfang Special Steel will arrange a small reduction in December, conservatively estimated to reduce the reduction of at least 40, 000 tons of 3-series stainless steel in December. The main reasons for the reduction include poor sales, routine repair of the furnace and so on. (3) the profits of steel mills transmitted by social inventory accumulation are narrowing, and the reduction of steel mills is gradually taking place.
First-class nickel substitute nickel pig iron end, nickel prices continue to fall sharply will lead to a sharp decline in high nickel pig iron prices, pay attention to the sharp decline in prices, in the cost of high-end nickel pig iron production. SMM expects production cuts at nickel pig iron plants in Inner Mongolia and Liaoning due to the withdrawal of profits. According to SMM cost model, the cost of high nickel pig iron in EF process in Inner Mongolia this week is 973 yuan / nickel point, and the transaction price of high nickel pig iron is 985 yuan / nickel point. At present, nickel pig iron still has profit, but after the price continues to fall, it is not far from the first round of nickel pig iron production reduction. Of the nine factories in Inner Mongolia, five are EF, accounting for about 62 per cent of Inner Mongolia's high nickel and iron production in October. In addition, the expansion of NPI by major Chinese companies may be delayed by one quarter.
In terms of inventories, nickel stocks were 214900 tons, down 360 tons from yesterday; on Friday, the last period of 16400 tons, an increase of 1558 tons from the week before last. Stocks in East China increased by 2400 tons to 20, 000 tons on Friday compared with the week before last, while stocks in the bonded area totaled 29500 tons, down 1000 tons from the week before last.